The State Grid Corporation of China (SGCC) probably isn't a familiar household name to most of us, but it is in fact the world's largest electric utility company. SGCC supplies electrical power in 26 states across China, with the utility behemoth's IT systems playing an essential role in providing safe and reliable power – and thereby furthering the economic development and livelihood of citizens through those regions.
SGCC also stands as the seventh largest company in the world, according to Fortune's Global 500 ranking for 2015. Historically, SGCC's IT architecture has included a vast array of database, middleware, and storage needs, serving over 100 IT systems, 500TB of data for each of the 26 states served, and 1,000+ hosts in each state. To manage these hefty requirements, SGCC had mainly used closed, proprietary vendor offerings as the backbone to the utility company's IT systems.
Huanyu Zhao, database administrator and OpenStack operations team leader at SGCC, recently spoke at the OpenStack Summit in Austin. Huanyu opened his presentation with before and after images of himself – as a young man at the onset of his career juxtaposed with his current appearance – and joked that the stresses from over 10 years of DBA experience were responsible for hair loss and never having the time to exercise. Zhao's more optimistic about the future, though, noting that since SGCC began using OpenStack that he's had the bandwidth to take better care of himself.
Zhao expanded on the technical challenges SGCC faced prior to the move to OpenStack, when the company's IT architecture relied upon legacy solutions. The proprietary software being used was difficult and costly to scale, demanded expensive license and service fees while limiting the company's control over their own data, and drove the company toward vendor lock-in (which only perpetuated these issues).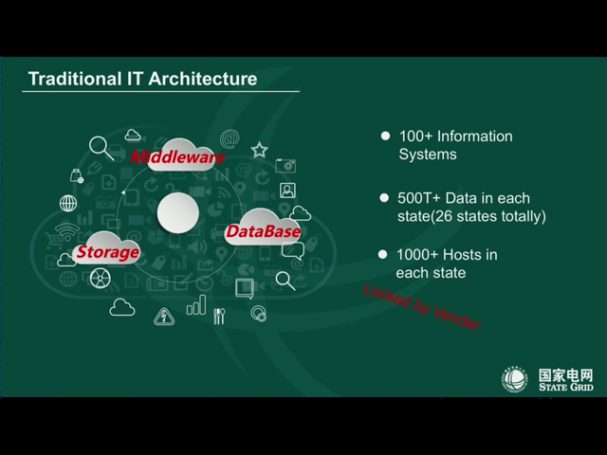 Inspired by new cloud-based technology and the desire to better control the company's investments into IT systems (and free itself from vendor lock-in), the Zhao's team started work on building a self-controlled private cloud, beginning with a move from vendor-based storage to open source. Over the past three years, SGCC has executed a transition from Unix-based IT systems to OpenStack and the cloud.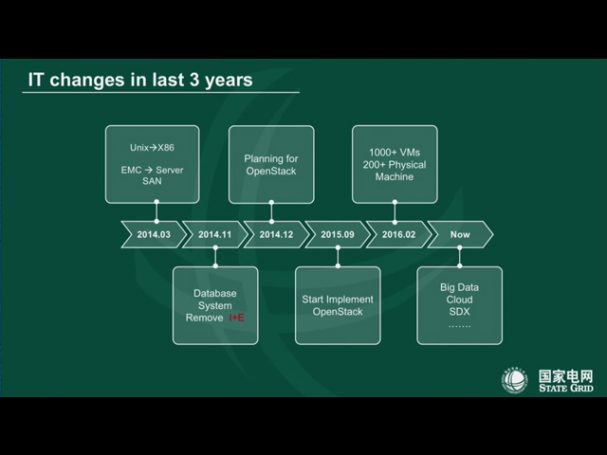 The company began planning to implement OpenStack in December 2014, and broke ground on the implementation in September 2015. By February of this year, SGCC was running over 200 physical machines and more than 1,000 VMs with OpenStack, and has near-future plans to extend OpenStack to more of its IT systems. Of particular note: the utility company is working toward utilizing a big data cloud and leveraging SDX to realize software-defined networking and storage. Zhao went on to tout the major draws of the switch to OpenStack being the platform's flexibility, its vast customization potential, and its compatibility in working with other applications and services, such as Docker, Zabbix, Ansible, and others.
For help with this transition, SGCC partnered with EasyStack, a leading OpenStack service provider in Asia that focuses on the needs of enterprise private clouds. EasyStack also made available public and private APIs that gave SGCC a 100% open and unlocked solution, with full control of their own data.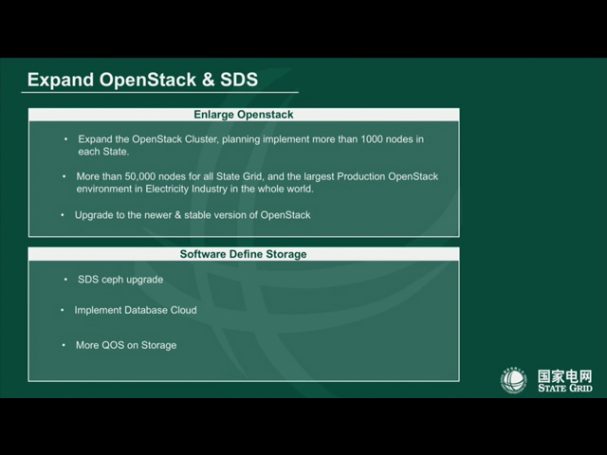 SGCC's network logic makes use of several OpenStack projects, including Nova, Glance, Keystone, Neutron, Ceilometer (Telemetry), Swift, and Cinder. An internal network communicates between VMs, while an external network provides data service for users. SGCC's storage network uses Ceph exclusively. The company also has a deployment network and management network for use whenever needed.
OpenStack has provided SGCC with an almost automated operation, freeing up personnel and resources for investment in more forward-looking projects (or, as Zhao joked: "creating more time for holidays.")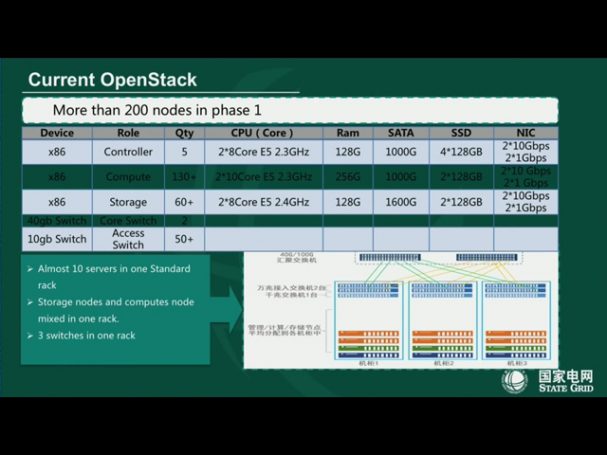 SGCC's future plans include expanding the use of OpenStack and software-defined storage to implement more than 1000 nodes in each of the states SGCC serves. Within five years, SGCC expects to have over 50,000 nodes across the company, making it the largest production OpenStack environment for the electricity industry in the world. On the software-defined storage front, SGCC plans to upgrade Ceph, implement a database cloud, and make quality-of-service improvements to the storage network.
Hear additional details of SGCC's OpenStack implementation by viewing the 30-minute presentation on the OpenStack Summit Site.
Cover photo: Three Gorges Dam hydroelectric power plant in Hubei. // CC BY NC