When it comes to OpenStack, companies in China have taken a seat at the table.
In the November board meeting, China Telecom, Inspur and ZTE were approved as the newest Gold Members increasing the proportion of companies from China to one third of the Gold Member representatives. They join 21 other global organizaitons, including 99cloud, China Mobile, Deutsche Telekom and City Network who were recently added as Gold Members at the OpenStack Summit Barcelona board meeting.
"China is a huge market where we have the second highest number of OpenStack developers," said Anni Lai, head of global business development at Huawei and Huawei's Gold Member representative on the Foundation's board of directors. "However, due to the location, time zone, and cultural differences, Chinese developers and users face tremendous challenges being integrated into the core OpenStack community and Foundation." 
With the increased representation from Chinese companies on the board, Lai says she hopes the impact of the OpenStack community in China, which is the second largest in the world, will be better understood.
This increased investment in OpenStack is not limited to supporting the Foundation; users from industries ranging from telecom to automotive to IT to energy are investing in the OpenStack software to power their businesses.
In his Barcelona Summit keynote, OpenStack Foundation executive director Jonathan Bryce discussed one of the world's largest telecoms, China Telecom and the scale of its environment. 
China Telecom brought online two new data centers and the combined space of those data centers is 2 million square meters, 497 acres. Their plan is to get to the point that OpenStack is controlling the infrastructure as they bring these data centers online.  
Putting things in Texas terms-China Telecom plans to deploy 500 acres of OpenStack. #OpenStackSummit pic.twitter.com/HjJfB5zD40

— Gina Longoria (@LongoriaGina) October 26, 2016
"China Telecom has a large number and large scale data centers with various infrastructures," said Yufeng Zhang, China Telecom System Integration deputy general manager. "By joining the [OpenStack] Foundation as a Gold Member, we can accelerate the communication with the Foundation and other Foundation members about telecom related features and promote the process of building China Telecom's technology architecture." 
Other OpenStack users from China include: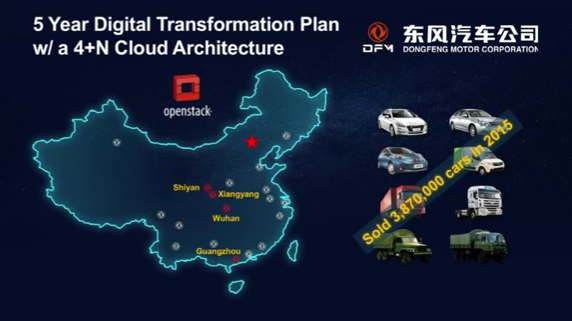 China seems to be running ahead quickly on @OpenStack deployments https://t.co/kpmRv1NLxw

— John Fruehe (@JohnFruehe) October 26, 2016
In addition to , Lai also serves on the Foundation board of directors and is actively involved in planning the first OpenStack Days China, the most recent event which drew 2,400 attendees, another testament to the strength and growth of the OpenStack community in China.  
"I believe having more representation from China in the Foundation will help the OpenStack community and Foundation understand Chinese developer and user community and share the value the Chinese OpenStack community brings," she says. 
https://www.flickr.com/photos/clement127/15766904704/ // CC
BY
Latest posts by Allison Price
(see all)