OpenStack Days China will take place in Bejiing July 24-25. This year's event, expected to set attendance records, features speakers including OpenStack Foundation's Jonathan Bryce, Alan Clark and Lauren Sell and is sponsored by companies including Huawei, EasyStack and Intel.
OpenStack is very hot in China right now — almost all of the major IT vendors and telcos in China are part of the OpenStack community: China Mobile, China Telecom, Huawei, Inspur, 99Cloud, EasyStack, UnitedStack and ZTE are currently Gold members of OpenStack and many more Chinese companies are corporate sponsors of OpenStack. Last year, the first OpenStack Day China event drew 2,400 attendees.
What are the expectations for this year's event?
"We have a lot more support from the Foundation and technical leaders including Foundation CxOs, VPs, TCs, UCs, and PTLs," Huawei's Anni Lai tells Superuser. "I think the content will be a lot more technical and interesting. I look forward to hearing more interesting real-life use cases." In terms of future outlook, Lai says that because so many telcos will be have OpenStack running on their public and private clouds she expects that "their deployments will be huge, in the area of thousands of physical nodes."
To get ready, check out this session from the recent Boston Summit. A panel put together by Lai features Shane Wang, individual board director and engineering manager at Intel, 99Cloud's Huang Shuquan, Shi Kui from EasyStack and Yangly from the China Electronics Standarization Institute (CESI.)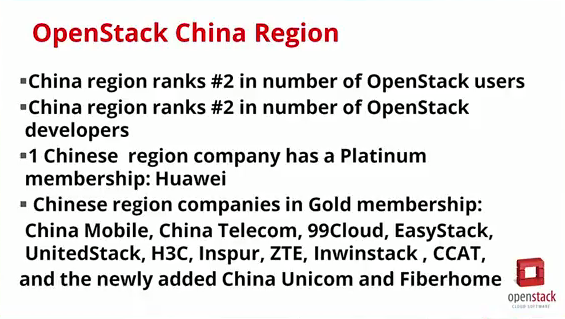 "These are the heroes of the Chinese OpenStack community, they've done tremendous work," says Lai. "They've enabled a lot of large operators in China…" She outlined the recent highlights and events in the community adding that "we need to mobilize all of these developers in China, help them understand what's going on in the community and see where the gaps are, so we can all contribute together. What's really lacking is tighter integration with the rest of the OpenStack community."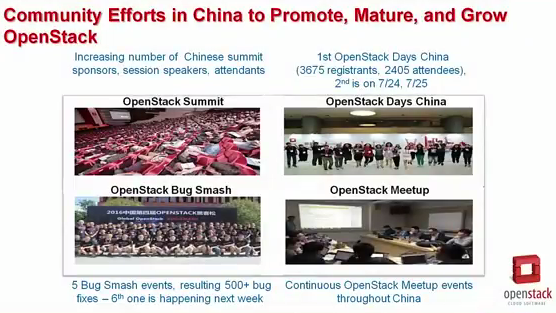 A few quotes from the session:
"In the last year, we helped build an ecosystem of cloud computing in China," says Yangly. After ISO published the international standard for cloud reference architecture, we created a solution based on OpenStack. "I think it's the first time in the world and we'll keep promoting it."
"My biggest challenge as a developer is the time zone," says Wang. "It's hard for developers to stay up late enough to join the community meetings." Language is also an issue, he says. Chinese developers are very eager to learn new technology and contribute but it's hard to them to speak out, so they talk less  – even though they develop more. He also says that Chinese customers have a hard time using software in English, so they'll do a lot of customization. These features, however, are often hard to upstream. This is a bigger challenge, he adds, because they've made a lot of effort to maintain those features locally.
Check out the full 38-minute session below.
Cover Photo // CC BY NC
Latest posts by Superuser
(see all)