With customers in over 160 countries, Lenovo has come a long way since its humble beginnings in a Beijing guard shack in 1984. It's grown to become a Fortune 500 company, the world's largest PC vendor, and the fourth largest smartphone manufacturer. In 2005, Lenovo became a player on the international stage with the purchase of IBM's PC business. Now more than a decade later, the company has begun executing on a bold "Internet+" strategy, adapting to modern enterprise needs by becoming an internet-oriented partner for businesses, with a particular focus on customer experience and innovative services.
At the most recent OpenStack Summit in Austin, Hongliang Liu, the partners director at EasyStack, delivered a case study detailing how Lenovo's new strategy led to an OpenStack implementation. Liu discussed how Lenovo (which really did start out in a guard shack), used OpenStack to produce the agile, flexible and scalable enterprise cloud platform required to support new business cases and client uses, meeting needs for business innovation, IT management processes, and leaning more toward internet-based and ecommerce functions. Early in the talk Liu delineated how Lenovo's legacy IT architecture – which had been based on closed commercial vendor products like Microsoft SQL Server and IBM DB2 – was not ready to support the company's new strategy.
Liu explained that, "For the internet business model, changes need to be very fast, and agile. The system needs to be flexible." Examples Liu provided of just how challenging this was included that it could take several days to deliver an application or infrastructure resource through Lenovo's traditional architecture, whereas the same could be delivered in just minutes by a public cloud provider.
In the traditional architecture, IT needs – such as configuring the server, network, storage, and installing the OS, database, middleware, and applications – all took considerable time, making the system incompatible with the fast and flexible business changes Lenovo's customers wanted to be able to make. Liu added that, "From a cost point of view, commercial vendor products are very expensive, and resource utilization is also very low." Security was also a noted issue, as the traditional network architecture made it difficult to isolate applications in the data center, and Lenovo's physical firewall solution made it tough to fulfill the flexibility required by internal applications.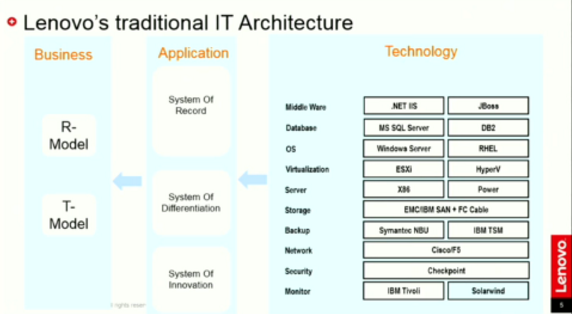 Lenovo carefully considered other major cloud computing technologies available, from public cloud to private cloud to virtualization options. In doing so, it balanced the consistency offered by closed products against the economic advantages of open source technologies; namely, being able to avoid vendor lock-in. As a result of this process, Lenovo selected OpenStack both for its open source nature and for the strength of its engaged developer community. In 2014, Lenovo became a Gold Member of OpenStack, solidifying its OpenStack-based path forward and setting the table for the company's "Internet+" strategy.
Lenovo's current OpenStack private cloud architecture is built on a hardware layer using x86 servers with 10GB network switches. As Liu explains: "For the virtualization layer, Lenovo chose to use KVM, to use Ceph for object storage and block storage, and OVS for network virtualization. Lenovo uses an active directory system as well, for inputting employee information to the OpenStack Keystone database. At the OpenStack layer, the components used are Nova, Swift, Cinder, Glance, Neutron, and Keystone. These are all mature OpenStack projects, which Lenovo chose to use for that reason. Lenovo also uses OpenStack Horizon for its dashboard, Ceilometer for monitoring, and Heat for orchestration."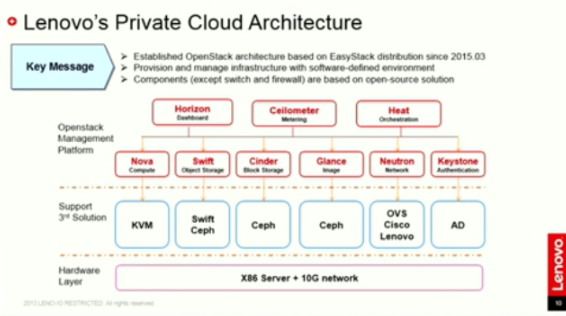 Liu went on to describe the topology of the hardware at work within Lenovo's private cloud – with a compute and storage component present in each node – as diagramed here: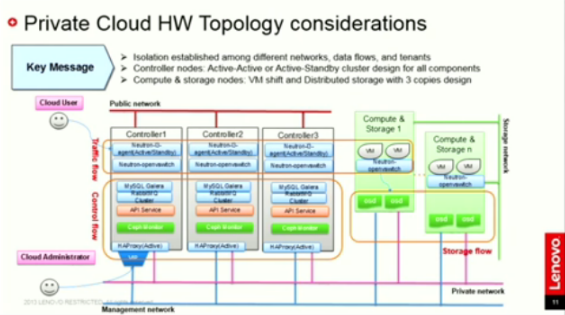 Liu explained how Lenovo's network architecture creates both external internet connectivity and an internal intranet, and how the architecture is made secure via private cloud access controls. Applications running on the Lenovo private cloud include E2E systems, analytics, big data, and co-chat workloads, among others. Lenovo's plan is to continue moving IT workloads to its OpenStack-powered private cloud in phases over the coming year.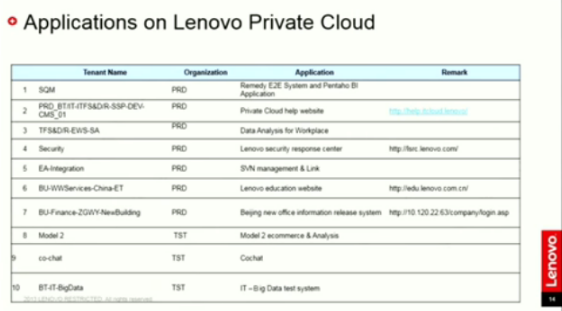 Using these OpenStack-driven features, Lenovo provides its business clients with the full capabilities of its private cloud, delivering the Infrastructure-as-a-Service cloud functionality that clients demand for their own business needs.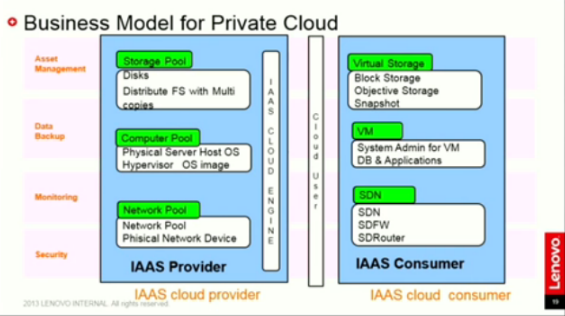 Looking to the future, Lenovo has significant plans for a multi-site, multi-region deployment of OpenStack that is built across two cities and three data centers in China – two in Beijing and one in Wuhan.
You can view the full 36-minute presentation here.
[Cover Photo](http://www.flickr.com/photos/61368956@N00/4649508524/in/photolist-85RWU5-85UK3A-duDkGB-duJWBA-4LccW6-4LgqpG, CC BY 2.0, https://commons.wikimedia.org/w/index.php?curid=28947362) // CC BY NC