OpenInfra Live is a new, weekly hour-long interactive show streaming to the OpenInfra YouTube channel every Thursday at 14:00 UTC (9:00 AM CT). Episodes feature more OpenInfra release updates, user stories, community meetings, and more open infrastructure stories. 
This week's OpenInfra Live episode was hosted by Jonathan Bryce, Executive Director at the OpenInfra Foundation and Mark Collier, COO at the OpenInfra Foundation with special guest, Allison Randal, OpenInfra Foundation Chair of the Board. They answered open infrastructure questions live from the audience including the impact of hyperscalers on open source, how projects like OpenStack and Ceph fit into open infrastructure, and what the next decade looks like. 
Enjoyed this week's episode and want to hear more about OpenInfra Live? Let us know what other topics or conversations you want to hear from the OpenInfra community this year, and help us to program OpenInfra Live!
Q&A with Allison, Jonathan, and Mark
Allison Randal remarked that an answer to this question depends on how you perceive an open source project as successful. The first interpretation of success being "very much a permissive 'if open source is being used. That is success. That is great''' and the other being "It's not just about [open source] being used, it's about [if] there is contribution back".
Mark Collier then mentioned a dilemma that growing companies face, when initiating open source projects, which is that they become "the only company driving a specific open source project. You [then] see venture capitalists coming out and saying, 'you know, we're worried about this, because we've invested in this one company, and that's the one company basically driving this one open source project.'" 
Jonathan connected these two answers by mentioning "it's not killing open source, but it's creating challenges for certain kinds of open source and also maybe requiring us to think a little differently about our expectations of what comes along with starting an open source project or trying to build an open source business."
Allison Randal tied in Mark Collier's earlier comment on AWS' ElasticSearch service, and mentioned that "they included an open source release of their software, but the business model, the way they structured it, they didn't really think about the fact that open source licenses, like one of the fundamental rights is you can fork it, you can distribute it…They wanted the brand boost of the name open source, but they didn't really understand what that meant. So they did a pull back, and they changed to what is actually proprietary license"
Jonathan took this question a step further and asked "what piece [of open source licensing] do you think, was maybe not fully understood, that's a key part of open source that introduced that threat that they felt like they needed to address?"
Allison replied by saying "the way it's phrased in the open source definition is not discrimination against fields of endeavor. And that is fundamentally someone [who] is allowed to take your software and make a business on it and make a profit on it… you're not allowed to charge a licensing fee.. and the reason is, that is what makes the growth and innovation and you know, sharing possible…That is what makes open source successful."
Mark Collier summarized the ElasticSearch dilemma by saying "If you try to capture all of the value, you can do that…go proprietary…develop the value, capture the value…knock yourself out, I have no qualms with that. But in my opinion, most of the time, there's going to simply be less value to capture, right? So you're going to own all the pie, but it's going to be a much smaller pie."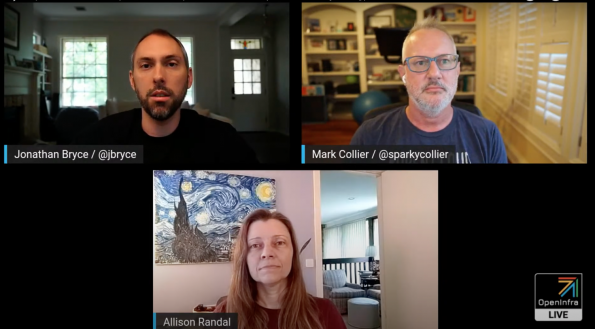 Thierry Carrez, Vice President of Engineering for the OpenInfra Foundation, answered this question in the comments. He said "Ceph is definitely part of the 'open infrastructure' movement! Open infrastructure is all about building open source solutions for providing infrastructure."
Jonathan Bryce noted that more information about the relationship around the Ceph community and how the project fits into open infrastructure can be found at https://ceph.io/IRC/.
The question about Ceph and open infrastructure brought up the concept of "What is Open Infrastructure?" Mark Collier answered with "the simplest definition is, it's infrastructure like cloud computing, edge computing, built and operated with open source software components. There's a lot of open source out there that's relevant to our community and to our members, we have 110,000 members in over 180 countries". However, "not all of those projects are quote, unquote, hosted by the OpenInfra Foundation, but we as a community are trying to get all the pieces and communities to work together so that when you test it all and you can run it all in a production that actually works".
The question of "What is Open Infrastructure?" leads into the question of "How OpenStack relates to Open Infrastructure?" According to Mark Collier, "Absolutely..we'd like to say OpenStack is the heart of open infrastructure…we were recently looking at how widely adopted OpenStack is…and in the telecom world you see that like 4 billion people, more than half of the humans on Earth, are actually connected to networks powered by OpenStack." 
As somebody who helped guide the Foundation through the change from the OpenStack Foundation to the OpenInfra Foundation, Allison Randal said "the best way to put it is the name change is really just about embracing the identity we had already developed…We were very aware that the OpenStack project where it started also depended heavily on upstream. It depended on Linux, it depended on various other dependencies, but it also had a chain of things that either depended on it directly, or were building on top of it. So we were conscious, both of any project that consumed OpenStack, or any company that distributed OpenStack, but also of all the many, many, many open source projects that run as guests on top of OpenStack."
Jonathan Bryce followed up Allison's remarks with "one of the realities in the open source world, especially in the infrastructure world is that the pace of innovation is just incredible. It's moving faster and faster, there's more open source than ever before. No one is running their entire data center, their entire business with just one or two pieces of software".
Mark Collier concluded with "it's cool to think that we're still kind of on the same mission, it's just a much bigger world out there, and it's fun to still be going to it and look into the next decade".
Check out the full episode on
YouTube
to hear more questions from the audience including:
​Is there honestly a place for human empathy in current tech communities?
How is open source contributing to telecom and connectivity?
How do you see open source changing over the next 10 years?
How should open source projects handle security in software supply chains?
Next Episode on #OpenInfraLive
Keeping up with new OpenStack releases can be a challenge. In this continuation of the May 20 OpenInfra Live episode, Belmiro Moreira from CERN, Arnaud Morin from OVH, Mohammed Naser from VEXXHOST, Imtiaz Chowdhury from Workday, and Joshua Slater from Blizzard will be back again to further discuss upgrades. 
Tune in on Thursday, June 10th at 1400 UTC (9:00 AM CT) to watch this #OpenInfraLive episode: Upgrades in Large Scale OpenStack Infrastructure: the Discussion.
You can watch this episode live on YouTube, LinkedIn and Facebook. The recording of OpenInfra Live will be posted on OpenStack WeChat after each live stream!
Like the show? Join the community! 
Catch up on the previous OpenInfra Live episodes on OpenInfra Foundation YouTube channel, and subscribe to the Foundation email marketing to hear more about the exciting upcoming episodes every other week!
Latest posts by Helena Spease
(see all)