OpenInfra Live is a new, weekly hour-long interactive show streaming to the OpenInfra YouTube channel every Thursday at 14:00 UTC (9:00 AM CT). Episodes feature more OpenInfra release updates, user stories, community meetings, and more open infrastructure stories.
Join the volunteer organizers of OpenInfra Days to hear about the happenings at their latest local events, what they're looking forward to in the future, and learn what's happening with OpenInfra all over the world.
Enjoyed this week's episode and want to hear more about OpenInfra Live? Let us know what other topics or conversations you want to hear from the OpenInfra community this year, and help us to program OpenInfra Live!  If you are running OpenStack at scale or helping your customers overcome the challenges discussed in this episode, join the OpenInfra Foundation to help guide OpenStack software development and to support the global community.
Episode Recap
Mark Collier, COO of the OpenInfra Foundation, kicked off the episode by inviting the event organizers from three recent virtual community events: 
Akihiro Hasegawa, one of the organizers of the Cloud Operator Days Tokyo
Sartika Lestari, one of the organizers of the OpenInfra Days Indonesia
Rico Lin, one of the organizers of the first OpenInfra Days Asia 
Collier invited the organizers to provide an overview of the regional events, including how it's evolved over the past several years, tackling the virtual format and overall themes from the event. 
Cloud Operator Days Tokyo is an event focused on infrastructure engineers operating cloud infrastructure as well as the technicians creating and operating applications on top of the cloud.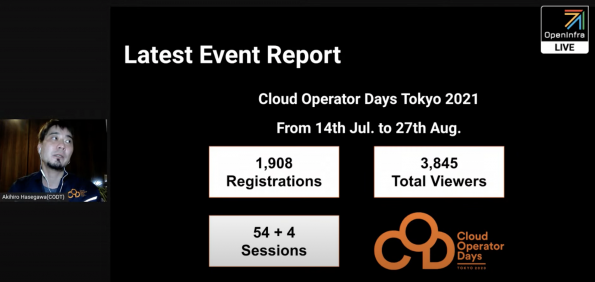 "By sharing technologies, solutions, and concerns related to operations, we hope to grow an event that can educate and train young engineers interested in the development of operation technologies, infrastructure, and application operation," Hasegawa-san said. 
He emphasized that the organizers are hoping that this direction for the event helps to resolve the operator shortage. 
Hasegawa-san provided a history of the event and why it evolved from OpenStack Days Tokyo to Cloud Operator Days Tokyo. 
"To cover such a broad topic, one community cannot cover everything. It's important to bring in the cloud native community, AWS community for large collaboration is very important for the event." 
Additionally, he said that the local Japanese community continues to host the Cloud Operator Days for several reasons: 
Cloud technologies are getting more mature 

Operators require a wider range of technologies

The enhancement of cloud operation fundamentals 

Dev/Ops, CI/CD 

Multi-community collaboration 
This year's event received almost 2,000 views and the content was distributed across an entire month. Watch the sessions from the event and stay tuned for the Japanese community's plans for 2022. 
Questions about Cloud Operator Days Tokyo
OpenInfra Days Indonesia 2021 brought together users, business developers, and operators from various organizations including enterprises, government, universities, non-profit organizations, cloud providers, and technology providers to discuss IT infrastructure that uses open source software and hardware.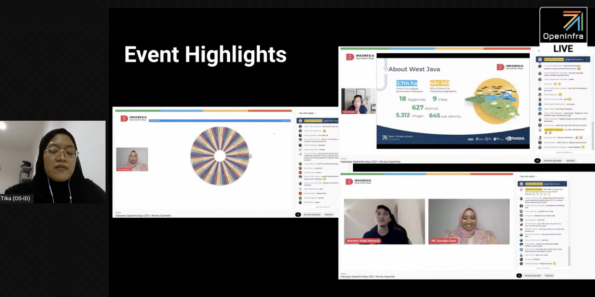 Lestari said the event is held in Indonesia for several reasons: 
Cloud, open infrastructure and open source are widely known and used 

To facilitate community, organizations, engineers, students and technology in Indonesia moving to the ne

x

t level 

Create networking with others from different backgrounds to share, discuss, and learn about all things technology

Maintain and grow the open source, open infrastructure and cloud communities in Indonesia 
This year's event received over 1,300 views, and the session videos are available to stream on-demand.  Lestari said that she and the fellow organizers are hoping that the 2022 OpenInfra Days Indonesia will return in person. 
Questions about OpenInfra Days Indonesia
This was the first year there was an OpenInfra Days Asia, which was a collaboration between several different user groups. 
Lin said this event aimed to: 
Share, support and expose all open-source, cloud-related communities in Asia 

Bridge global communities with the Asia communities 
"There is no one open source cloud tool to solve the cloud operator [use case], Lin said. "Everything is combined together—whether it's Kubernetes, containers or OpenStack, they are all combined into one solution and that's what we believe the community should be as well."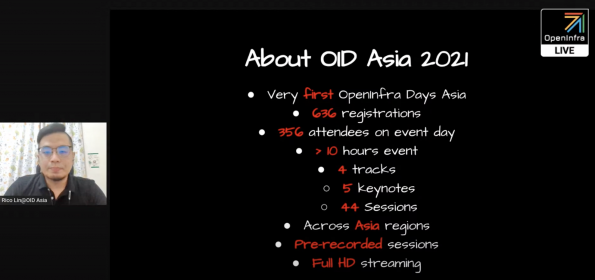 All of the event organizers talked about the advantages and disadvantages of pivoting their events to virtual, but the OpenInfra Days Asia had a unique solution which resulted in their event's infrastructure running on OpenStack thanks to donated resources from NHN Cloud.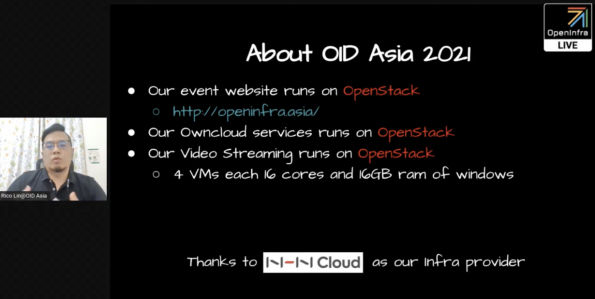 Question about OpenInfra Days Asia
Questions for All Participants
Next Episode on #OpenInfraLive
Ceph is a highly scalable distributed-storage open source solution offering object, block, and file storage. Join us as various Community members discuss the basics, ongoing development and integration of OpenStack with Ceph.
Tune in on Thursday, September 30 at 1400 UTC (9:00 AM CT) to watch this #OpenInfraLive episode: OpenStack and Ceph.
You can watch this episode live on YouTube, LinkedIn and Facebook. The recording of OpenInfra Live will be posted on OpenStack WeChat after each live stream!
Like the show? Join the community! 
Catch up on the previous OpenInfra Live episodes on the OpenInfra Foundation YouTube channel, and subscribe for the Foundation email communication to hear more OpenInfra updates!
Latest posts by Allison Price
(see all)