OpenInfra Live is a new, weekly hour-long interactive show streaming to the OpenInfra YouTube channel every Thursday at 14:00 UTC (9:00 AM CT). The upcoming episodes feature more OpenInfra release updates, user stories, community meetings, and more open infrastructure stories. 
This week's OpenInfra Live episode is brought to you by the experts from the Zuul community, discussing what Zuul is, the community, getting started, what's next, and more.
Don't merge broken code. Infrastructure at scale relies on quality software that is tested before it's deployed. Operators rely on open source CI systems like Zuul for gating, scaling across organizations and cross-project dependencies. 
In this OpenInfra.Live episode, James Blair, Zuul Maintainer and CEO at Acme Gating, and Mohammed Naser, CEO of Vexxhost provided an overview of Zuul, the open source CI/CD business case and a demo showing what cross project dependencies look like in production.
Enjoyed this week's episode and want to hear more about OpenInfra Live? Let us know what other topics or conversations you want to hear from the OpenInfra community this year, and help us to program OpenInfra Live!
Key Takeaways
James Blair from Acme Gating introduced  Zuul as a project gating system that tests your software before deploying it. He explained that Zuul was originally developed for OpenStack to test cross-project dependencies among OpenStack's numerous microservices. He went on to highlight the numerous organizations deploying Zuul at a variety of scales including Volvo Cars. 
James followed the brief Volvo presentations by explaining key features that make Zuul desirable in organizations including: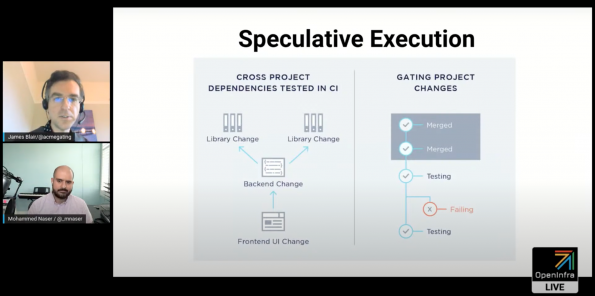 Mohammed Naser, CEO of Vexxhost, then provided a demo of building a library using Zuul. In his use case, Mohammed showed cross project dependencies in action to prevent the merging of broken code. 
Mohammed passed it back to James to discuss Zuul's quick-start guide to get a complete Zuul system up and running in seconds. If you are looking for more Zuul support, you can check out:
Acme Gating

that offers development, consulting, and support of Zuul

Vexxhost

that offers hosted Zuul services
Following the live Q&A discussion, James wrapped up with a sneak-peek into what the Zuul community is working on including:
HA scheduler, no more SPOF

Sensitive data encrypted at rest

Better metrics reporting and logging
Next Episode on #OpenInfraLive
Are the hyperscale public clouds killing open source? Is open source actually secure? How does open source impact software supply chains? Join us as Jonathan Bryce, Executive Director at the OpenInfra Foundation, Mark Collier, COO at the OpenInfra Foundation and Allison Randal, OpenInfra Foundation Chairman of the Board, answer all of your toughest questions live on Thursday, June 3rd 14:00 UTC. 
Tune in on Thursday, June 3rd at 1400 UTC (9:00 AM CT) to watch this #OpenInfraLive episode: OpenInfra AMA (Ask Me Anything). Make sure to share your questions in advance in the YouTube Comments section!
You can watch this episode live on YouTube, LinkedIn and Facebook. The recording of OpenInfra Live will be posted on OpenStack WeChat after each live stream!
Like the show? Join the community! 
Catch up on the previous OpenInfra Live episodes on OpenInfra Foundation YouTube channel, and subscribe to the Foundation email marketing to hear more about the exciting upcoming episodes every other week!
Latest posts by Helena Spease
(see all)