Spotlight on: Upcoming OSF Virtual Events  
We're Going Virtual!
Last month, based on the input from the community, board, and the latest information available from the health experts, we announced our decision not to host the OpenDev + PTG in Vancouver this June. Instead, we'd like to invite you to join us for the upcoming, first of its kind virtual OSF event series! 
OpenDev 
Join us for OpenDev, an ongoing collaborative event series focused on advancing open source software and communities. Participants can expect discussion oriented, interactive sessions exploring challenges, sharing common architectures, and collaborating around potential solutions. Previous OpenDev events include Edge Computing in 2017 and CI/CD in 2018.
The virtual OpenDev event series will consist of three separate events hosted in the upcoming months, each focused on a different open infrastructure topic: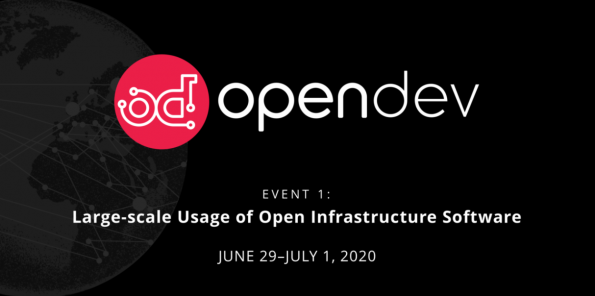 If you are interested in the Hardware Automation or Containers events, we'd love your input on the best time block to host the sessions before registration goes live. Please share your preference here: Hardware Automation, Containers in Production.   
PTG
The Project Teams Gathering (PTG) is an event where open source upstream contributors (user working groups, development teams, operators, SIGs) gather to collaborate on software requirements and roadmaps. Registration is now open for the virtual PTG, taking place June 1-5.
The event is open to all OSF projects, and teams are currently signing up for their time slots. Find participating teams here, and the schedule will be posted on the PTG website in the upcoming weeks. Join us! 
Sponsor Shout Out
We also want to thank all of the OpenStack Foundation Platinum, Gold, and Corporate sponsors for their ongoing support that make these virtual events possible and free to attend. We couldn't do it without you!  
Airship: Elevate your infrastructure
Kata Containers: The speed of containers, the security of VMs
OpenStack: Open source software for creating private and public clouds
StarlingX: A fully featured cloud for the distributed edge
Check out these Open Infrastructure Community Events!
For more information about these events, please contact [email protected]
Questions / feedback / contribute
This newsletter is written and edited by the OSF staff to highlight open infrastructure communities. We want to hear from you! If you have feedback, news or stories that you want to share, reach us through [email protected] . To receive the newsletter, sign up here.