Last week, the OpenStack Foundation (OSF) held its second virtual OpenDev event. We've been amazed by how many people have joined us online to collaborate across different time zones. This OpenDev event focused on Hardware Automation including topics around hardware provisioning lifecycle for bare metal, bare metal infrastructure, networking and network security. Attendees shared various perspectives on the challenges, asked questions for how to improve, and identified next steps that the community can collectively collaborate on to ease these operator challenges.
This virtual event recruited over 400 participants located in more than 60 countries representing 200+ companies, who spent three days sharing their knowledge and discussing their experience of building and operating software that automates their hardware in the cloud environments.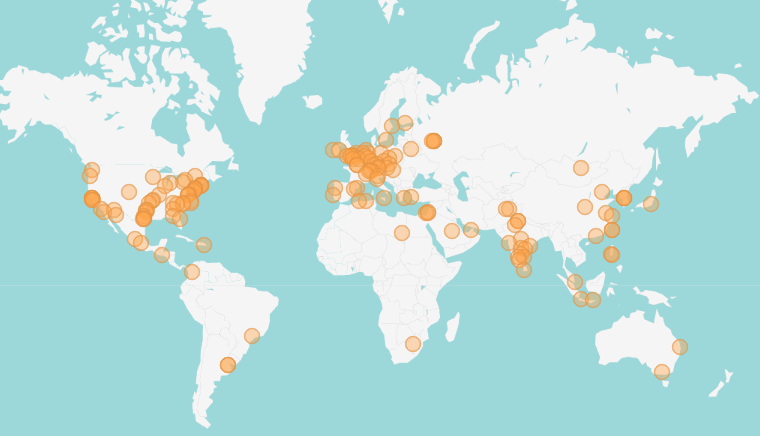 Thanks to the OSF platinum and gold members who are committed to the Open Infrastructure community's success. Also, thank you to the Programming Committee members: Mark Collier, Keith Berger, James Penick, Julia Kreger, Mohammed Naser. You helped to make these discussions possible!
If you didn't tune in—or if you did and want a replay—below is a snapshot of the conversations that took place, but I want to encourage you to check out the event recordings as well as the discussion etherpads found in the OpenDev event's schedule to join the discussion.
Day 1: 
Mark Collier, OpenStack Foundation COO, kicked off the first day by explaining why the OSF chose Hardware Automation as one of the OpenDev topics. According to Help Net Security, the global data center networking market will reach $40.9 billion USD by 2025. Among our users, we've been seeing more complex hardware coming into the data centers such as ARM, GPUs for AI/machine learning and FPGAs that people have to manage.
OpenDev: Hardware Automation created an online space for community members to share their best practices and collaborate without boundaries. As more and more open source communities, such as Ironic, MAAS, tinkerbell and metal3, start to grow and solve these challenges, there is a huge demand for hardware automation. Ironic now has more code merged per day than in the history of OpenStack – showing that people want to work together on these problems more than ever! If you are interested in knowing more about OpenStack bare metal and how Ironic allows users to manage bare metal infrastructure, check out  the latest white paper from the OpenStack Bare Metal SIG "Building the Future on Bare Metal, How Ironic Delivers Abstraction and Automation using Open Source Infrastructure".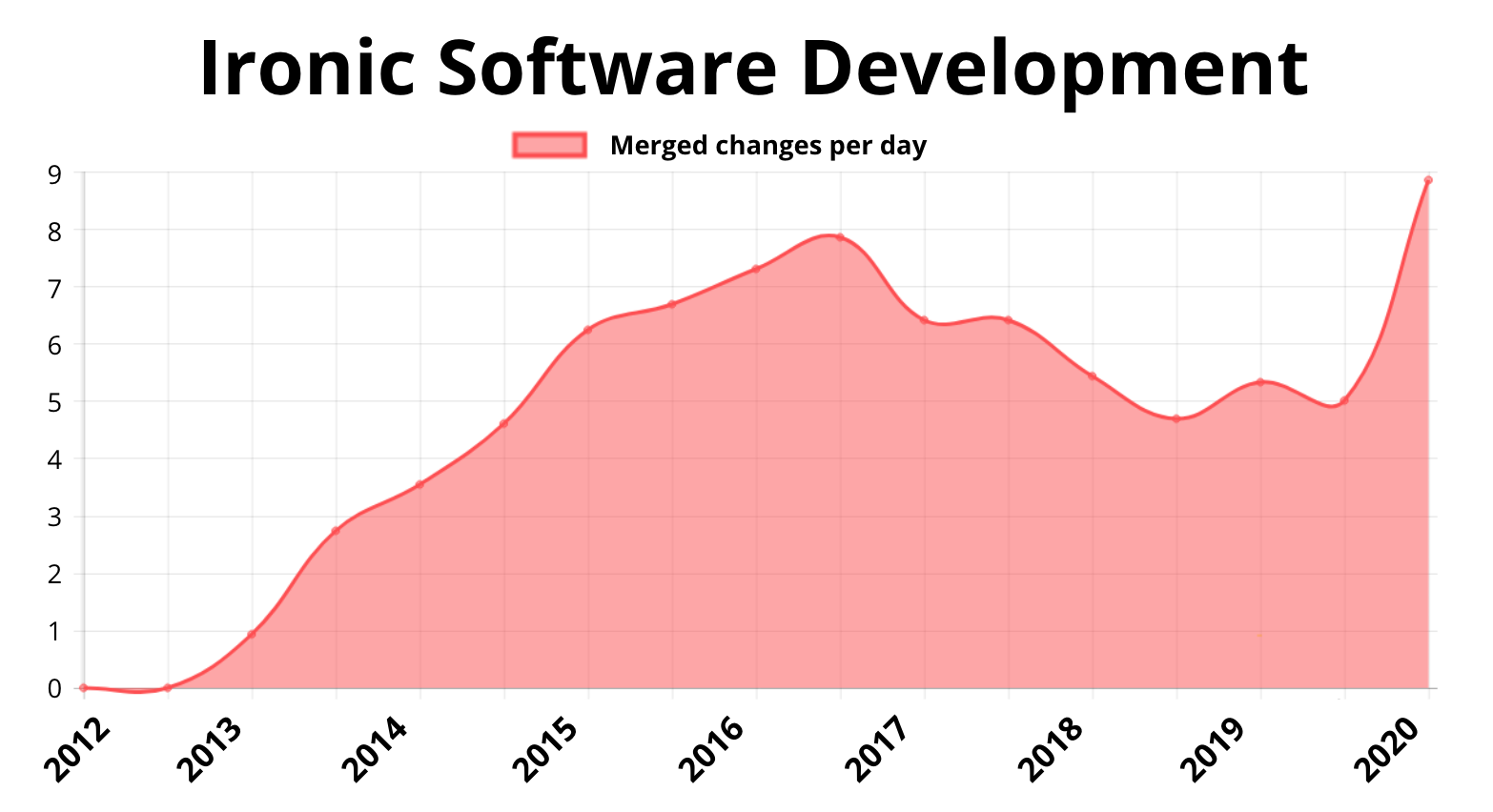 Part One: Hardware Provisioning Lifecycle for Bare Metal
It's common for users, regardless of their scale, to have a system to manage IT Asset Management (ITAM), Datacenter Infrastructure Management (DCIM), IP Address Management (IPAM), Configuration management database (CMDB). Part One of OpenDev's topic on hardware provisioning lifecycle for bare metal was moderated by Mohammed Naser, VEXXHOST CEO and OpenStack Technical Committee (TC) chair. Mohammed kicked off the discussion by asking everyone to share how they organize data infrastructure & IP addresses inside their organization, what they wish they can do better and why they have not switched to automation. Later, community members from Verizon Media, China Mobile, CERN, SchwarzIT, VEXXHOST, and Red Hat have shared their various experiences on vendor selection, intake and deployment to the facility floor.
At the end of this discussion, participants signed up to collaborate further after the event in areas, such as collaborating on a set of SOPs/Documents on managing keys in a Trusted Platform Module (TPM) and creating a matrix of firmware installation processes per vendor per platform and building a common database of how to upgrade firmware automatically. If you are interested in discussing these topics and collaborating with the fellow operators, please sign up here, line 205 & line 217.
Part Two: Hardware Provisioning Lifecycle for Bare Metal
Part Two was moderated by James Penick, Verizon Media Architect Director. James continued the discussion on hardware provisioning lifecycle for bare metal, BIOS/firmware automation, how to keep the hardware secure, and how to detect attacks. The topics of this discussion included day-to-day consumption of hardware and power & thermal optimization automation. If you are interested in continuing the discussion on power affinity/grouping/weighting after the event, make sure to sign up on the etherpad, line 245.
As can be expected, this session included a lot of discussion about end-to-end hardware provisioning lifecycle for bare metal / cradle to grave for hypervisors. Check out the full discussion notes on OpenDev: Hardware Automation Day 1 etherpad, and watch the day 1 discussion recording.
Day 2: 
Part One: Bare Metal Infrastructure
Mohammed Naser returned as moderator and opened up the discussion on bare metal infrastructure by asking attendees on their own definition of "hyperconverge" to make sure everyone was on the same page. Arne Wiebalck, CERN Computing Engineer, gave two use cases that are considered as "hyperconverged" which are around massive storage systems that are developed in-house across thousands of servers and combining Ceph with each cell to achieve low latency IO for the VMs. Community members from China Mobile shared a use case on how different types of services can be converged within one type of hardware in the edge scenario. 
Later, community members dived into the discussions about autoscaled bare metal for cloud infrastructure, servers for serverless workloads. If you are interested in forming up a working group to look at some of these use cases and models, sign up here, line 206.
Part Two: Bare Metal Infrastructure
After a short break, Julia Kreger from Red Hat moderated the second half of the discussion on the topic of consuming bare metal infrastructure to provision cloud based workloads. Attendees from various companies gave use cases for turning 'unused' bare metal into cloud infrastructure orchestration. If you are interested in continuing the discussion on requirements regarding preemptable/bare metal workloads, please sign up here, line 246.
After the discussions on managing hardware using open standards such as Redfish and IPMI, it was apparent that many people are using both and interacting with their hardware. Questions such as why users care which protocol to use and what sort of issues people are encountering prompted people to share their experiences on how to make the job easier. Check out the full discussion notes on OpenDev: Hardware Automation Day 2 etherpad, and watch the day 2 discussion recording.
Day 3: 
Networking and Network Security
Under the umbrella of Hardware Automation, there is a wide variety of technologies, approaches, and solutions to networking. Open Infrastructure allows us to embrace these differences, and leverage our common ground. This discussion about networking was moderated by Mark Goddard, StackHPC Cloud Engineer with active speakers from China Mobile, Ericsson Software Technology, Verizon and more. The first half of the discussion was around network architectures and network automation. After a short break, in continuing with the theme of hardware automation, the attendees dug deeper into network security and how it relates to hardware and automation. 
The discussion about network security, moderated by Ian Jolliffe, Wind River Vice President Research and Development, explored questions such as how we are operationalizing the developer workflow to ensure network security in a dev ops world. Attendees shared their processes around automated firewall management as well as the security change management and tooling to do batch configuration or continuous configuration management of firewalls. Check out the full discussion notes on OpenDev: Hardware Automation Day 3 etherpad, and watch the day 3 discussion recording.
Wrap Up:
To wrap up, check out the etherpad that includes the OpenDev event feedback and follow up activities from the OpenStack Bare Metal SIG. We encourage you to continue the discussion at the Bare Metal SIG or sign up on the discussion etherpads in the coming weeks after the event.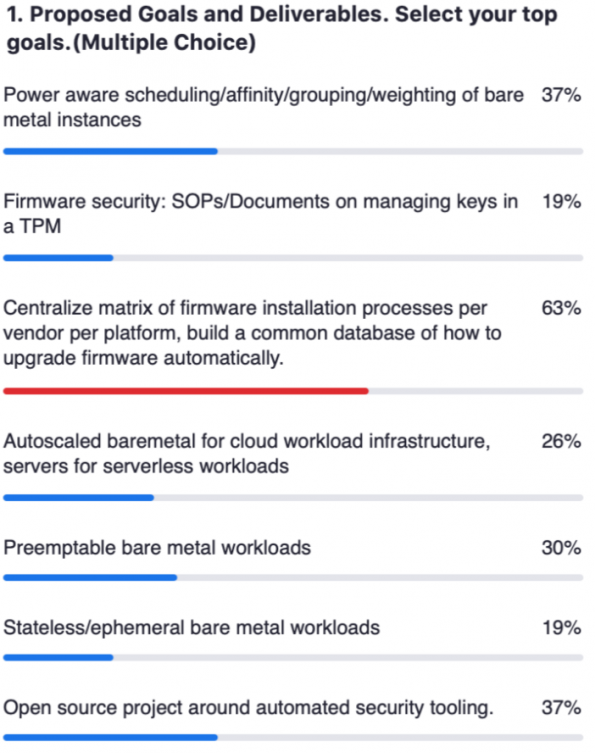 Next Steps:
The goal with the OpenDev events is to extend this week's learnings into future work and collaboration, so Jonathan Bryce and the event moderators, wrapped up the event to discuss next steps. These include:
Upcoming OpenStack Foundation (OSF) Events:
The annual

Open Infrastructure Summit

is going to be virtual (and free!).

Register for the virtual Summit

and join the global community at the virtual Open Infrastructure Summit on October 19-23 directly from your browser! 

The

Call For

Presentations

(CFP) is open now! The

CFP deadline is

August 4 at 11:59pm PT

, so start drafting your presentations and panels around Open Infrastructure use cases like AI/Machine Learning, CI/CD, Container Infrastructure, Edge Computing and of course, Public, Private and Hybrid Clouds.