If you've ever engaged with a sales or support rep through a chat window on a website, there's a good chance you were using the LivePerson real-time chat platform.
Their cloud is also expanding rapidly. LivePerson handed out some impressive metrics at the recent OpenStack Day Israel — their cloud has 12,000 physical cores, 6,000 virtual servers, and over 20,000 virtual cores.
Koby Holzer, director of cloud platforms, spoke at a fireside chat at the sixth edition of the event. Liveperson is headquartered in New York City, but the cloud engineering team is part of a large office that calls Israel home.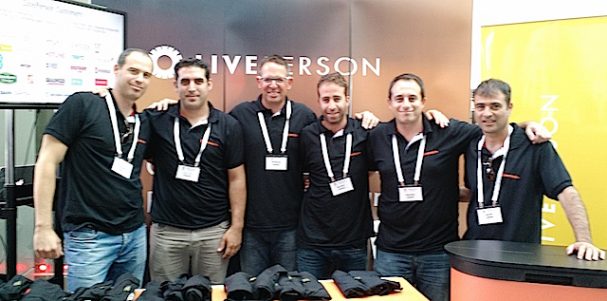 The LivePerson team at OpenStack Day Israel. Photo: Lauren Sell.
"OpenStack is a very big deal at LivePerson," said Holzer. "We want to engage with other large OpenStack users to learn more about what they're doing as we continue to build out our cloud environment."
An very early adopter, Holzer jumped into OpenStack almost three-and-a-half years ago. At the time, LivePerson did not even have virtualization. They were just using standard Oracle database, web servers and Microsoft windows. To start their journey, they stood up an OpenStack cloud and a VMware virtualized environment side-by-side, so they would have a backup plan. OpenStack proved to be the right direction for them, and that cloud has since expanded dramatically.
Just found out that our production Openstack deployment is 75% of the size of Walmart's. Feeling proud.

— koby holzer (@kobyholzer) May 18, 2015
LivePerson now runs OpenStack in seven datacenters, six of which are in production — two each in North America, Europe and Asia Pacific. They've managed this supsersize scale-up while maintaining their service level agreement with customers — the lifeblood of any software-as-a-service (SaaS) provider. There are five people on their cloud engineering team operating the OpenStack environment, and several dozen total including staff dedicated to around-the-clock support, legacy storage and network engineers.
Holzer says the biggest challenge they've faced is upgrading, especially since they were such an early adopter. LivePerson recently upgraded 50 percent of their cloud from Havana to Icehouse, and Holzer said it was a less rocky transition than the early days of migrating from Essex to Folsom. He expects it will continue to smooth out with future releases, but for now it requires a lot of planning and staff time.
Looking forward, Holzer is interested in the Ironic bare metal service and containers, including the use of the new OpenStack Magnum project and Kubernetes. But he added that LivePerson will always have to walk the line between the desire for new features and maintaining their service level.
Cover Photo by Wilma // CC BY NC
Latest posts by Lauren Sell
(see all)