Spotlight On: The Latest OpenInfra Software Releases
The OpenInfra Foundation builds communities who write software that runs in production. Over the past month, the OpenInfra community has seen a multitude of software releases come out! A huge thank you goes out to all the contributors who have authored the changes that have made up these releases:
The Kata Containers, OpenStack and StarlingX communities will all be participating at the virtual Project Teams Gathering (PTG), March 27-31 and a second in-person PTG will take place at the OpenInfra Summit in Vancouver. The OpenInfra Summit will take place June 13-15 and the PTG on June 14-15. If you would like to help build the next release, register for the OpenInfra Summit and start collaborating! 
LEARN MORE ABOUT THE OPENINFRA SUMMIT
Looking for more information on the

2023 OpenInfra Summit

in Vancouver, June 13-15? Find information on:

OpenInfra Days Democratic Republic of Congo has been postponed to July 10-12, 2023. If your organization is interested in supporting the development of open source infrastructure in Africa by sponsoring this event, please reach out to

[email protected]

.

Is your organization building an OpenInfra strategy?

Set up a time with Jimmy McArthur

so the OpenInfra Foundation can support your business.
Airship: Elevate your infrastructure
Running or evaluating Airship? We want to hear from you! Take the brief

User Survey

to provide the community with feedback.
Kata Containers: The speed of containers, the security of VMs
There are four

seats open for the

Kata Containers Architecture Committee

and we need your help to ensure that the election runs as smoothly as possible. If you're interested in being an election official or in running for an open seat yourself and need guidance on where to get started, ping

[email protected]

or reach out on the official

Kata Containers Slack

for more info.

The Kata Containers community in China is getting together for the first Kata Containers Meetup of 2023, which will be held in Chengdu this Saturday, March 25.

Kata Containers made it to

Forbes Magazine

! Check out what Microsoft has been doing since announcing support for Kata Containers in AKS (Azure Kubernetes Service) at KubeCon US Detroit back in 2022.

Speaking of KubeCon, #TeamKataContainers will be present at

KubeCon EU

happening April 18-21 in Amsterdam, The Netherlands. If you'd like to meet up, please fill out

this survey

to get an invite to our gathering.

PTG is right around the corner! Add topics to the

Kata Containers agenda

that you would like to see discussed by the group.

Round of applause for

CoCo

! Confidential Containers v.0.4.0 was officially released on March 8, 2023. Check out the

release notes

on GitHub & to try it out for yourself.

Are you using Kata Containers? Let us know what you've been doing with Kata Containers 3.0 by filling out the newly refreshed

User Survey

.
Thanks to Clark Boylan for agreeing to

continue as the OpenDev Service Coordinator

for the next six months! For those unfamiliar with

the collaboratory's governance

, the service coordinator facilitates collaboration, acts as a tie-breaker when a clear consensus isn't found, manages specification proposals, and maintains the core review team and sysadmin membership rosters.

The Gerrit service on review.opendev.org will be offline for two hours on Thursday, April 6, in order to facilitate a significant upgrade and perform some project renaming work. See the announcement for details.
OpenStack: Open source software for creating private and public clouds
StarlingX: A fully featured cloud for the distributed edge
The StarlingX community is currently in the 9.0 release cycle, where they are currently evaluating which features and new functionality to prioritize for this version of the platform.

To do a pulse check and discuss important details of new features and challenges to work on, StarlingX contributors will

meet online

at the upcoming OpenInfra PTG. Their sessions are on March 28 & 29, starting at 1300 UTC on both days!
Zuul: Stop merging broken code
Jim Blair ran unopposed

for the Zuul Project Lead position. Jim will hold this seat for a year. The Zuul Project Lead articulates the project's direction and ensures development happens in a consistent manner across the project.
Hear from the Organizations Supporting the Foundation
Meet the Newest Members
A huge welcome goes out to our newest OpenInfra Associate Member, The Rust Foundation.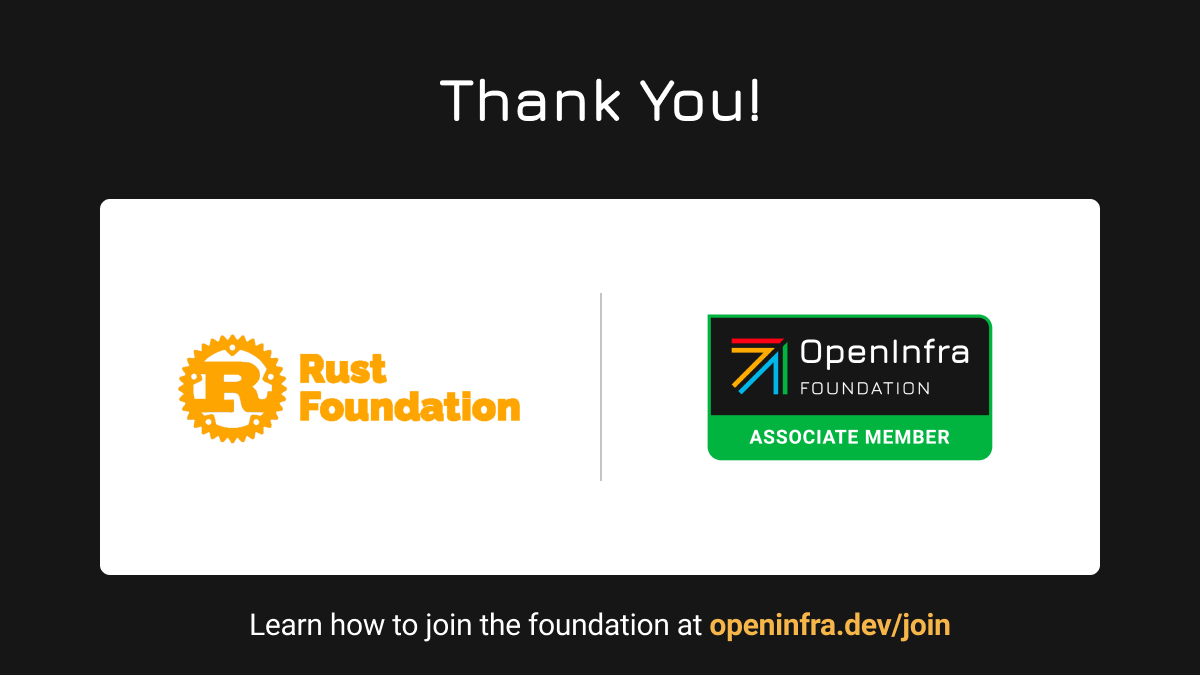 Meet the Organizations Sponsoring the OpenInfra Summit
A huge thank you goes out to the sponsors for the upcoming OpenInfra Summit, June 13-15, 2023. Learn more about how your organization can support the OpenInfra Summit.
Upcoming OpenInfra and Community Events
Looking for local or global events? Check out what OpenInfra community events are coming up! For more information about OpenInfra community events, please contact [email protected].
Questions / Feedback / Contribute
This newsletter is written and edited by the OpenInfra staff to highlight open infrastructure communities. We want to hear from you! If you have feedback, news or stories that you want to share, reach us through [email protected]. To receive the newsletter, sign up here.
Latest posts by Helena Spease
(see all)