OpenInfra Live is a new, weekly hour-long interactive show streaming to the OpenInfra YouTube channel every Thursday at 14:00 UTC (9:00 AM CT). Episodes feature more OpenInfra release updates, user stories, community meetings, and more open infrastructure stories.
Interested in learning more or improving your open source development skills? Looking to learn more about OpenStack and Kubernetes administration and prep for the Certified OpenStack Administrator or Certified Kubernetes Administrator exams? Join us as OpenInfra organizations discuss their training programs and how they can accelerate your open source career.
Enjoyed this week's episode and want to hear more about OpenInfra Live? Let us know what other topics or conversations you want to hear from the OpenInfra community this year, and help us to program OpenInfra Live!  If you are running OpenStack at scale or helping your customers overcome the challenges discussed in this episode, join the OpenInfra Foundation to help guide OpenStack software development and to support the global community.
Jimmy McArthur, senior community and business development manager at the OpenInfra Foundation kicked off the episode by introducing the panelists from all over the world. All participants represent a member organization that supports the OpenInfra Foundation and offers open source training: 
Jimmy Huang, 99cloud, OpenInfra Gold Member 
Erno Erdelyi, Component Soft, OpenInfra Silver Member 
Florian Haas, City Network, OpenInfra Gold Member

Paul Quigley, Mirantis, OpenInfra Gold Member and administrator of the Certified OpenStack Administrator (COA) exam 

John Walter, Red Hat, OpenInfra Platinum Member
If your organization offers open source training, and you would like to be listed on the OpenStack Training Marketplace, please set up time to discuss your options.
For Mirantis, Quigley says that it depends, but his preference is in-person so that he can customize the pace and level of instruction based on interaction with the students, but the current world situation definitely changed what is doable. 
Erdelyi agreed, saying that the on-site classroom was Component Soft's training standard before the pandemic. 
"Classroom trainings are more enjoyable and effective for participants as well as for the instructors, " he said. "I think online training will remain with us in a great extent and classrooms will come back somewhat." He says that the cost effectiveness around lack of travel and the ease of organizing trainings with participants from different cities and even countries is much easier and more flexible via online training. 
Haas provided a different perspective, having had virtual, self-paced training in place for City Network before the pandemic. He says that while in person instruction is a luxury, it doesn't scale because classes are limited in capacity and you can't offer courses at the frequency that students desire it. 
"As an example, as a cloud company, one standard issue for us is that we want to get people trained up on our technology as quickly as we possible can as they join us," Haas said. "So the best way to do that is to say 'here are some courses you can run entirely on your own time and if you just go through them, they're fully interactive, they have checks on your progress where we are actually looking at an OpenStack cloud they're deploying to see if it's properly configured and it's working, and it's a much easier onboarding process." 
He said the same on-demand principle applies for building a new skill for a technology that someone may not have been exposed to yet. Students don't have to wait for an upcoming training—they can learn on their own pace alongside their standard responsibilities of their day to day work. 
For 99cloud, Huang said they have both classroom and online. He says he likes to leave it up to the students' choice. The pandemic didn't shift their focus much, as Huang said that "given that it's an open source cloud training,  it's not strange to get everything you want through network access."  
Walter said that Red Hat has noticed trends with customers that for instructor led training, you can provide more customized, bespoke training. Customers are having trouble justifying taking four to five days to do a training whereas two days and access to a course post training provides more flexibility. 
"I see the trend going away from on-site training to an extent," Walter said. "There are a lot of benefits to virtual instructor-led training, so you can grab people that work from different continents to have them attend the course as well."
Walter says that in the next six to 12 months, his team will be evaluating a hybrid delivery where a subset of the team is doing it physically and some of them are doing it virtually. 
Training Courses from OpenInfra Live Participants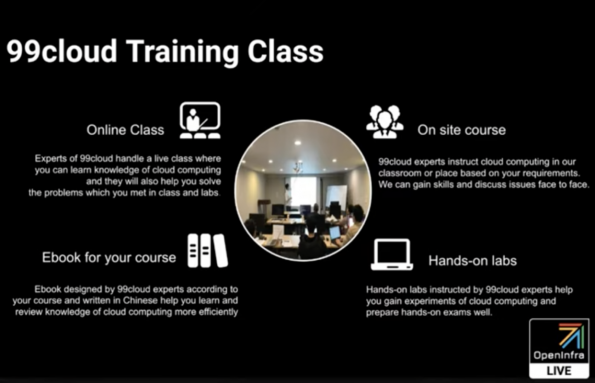 During the month of September, you can register for any Component Soft training with promo code: CompSoft09. This will provide a 20% discount for companies and 60% discount for individuals.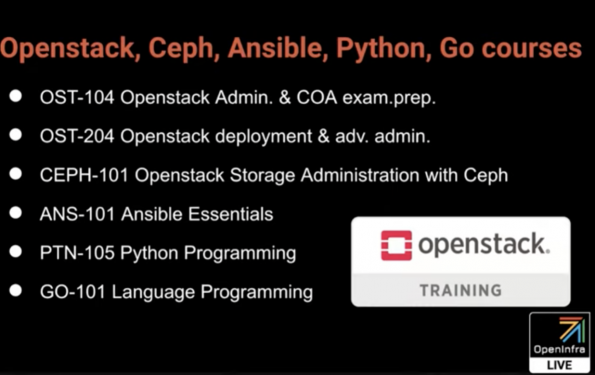 Visit the City Network Academy Shop and use discount code CNEDUFREESEPTEMBER.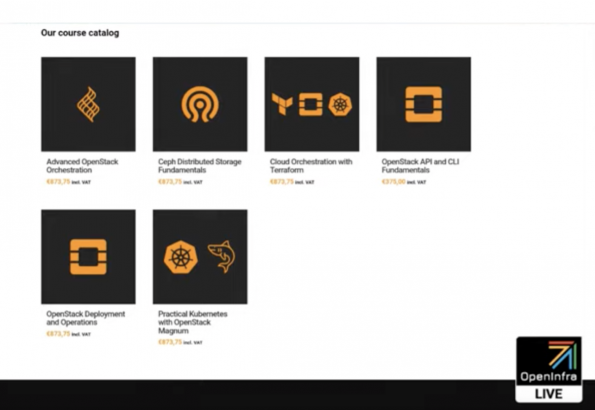 Check out what trainings Mirantis offers here.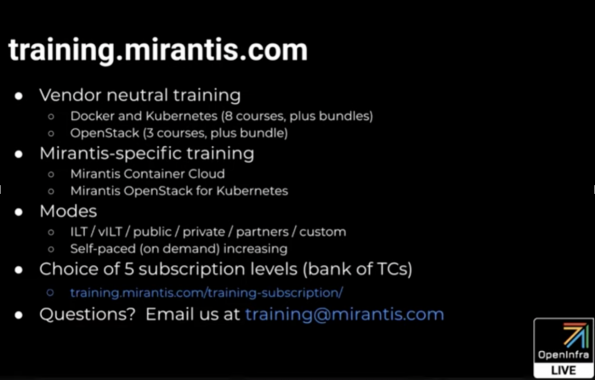 Next Episode on #OpenInfraLive
Are you looking for a job in open source? Curious about what companies might be right for you? Join us as we spotlight companies with open infrastructure job openings, hear straight from current employees about their day-to-day community involvement and hear what their organizations are looking for in candidates. 
Tune in on Thursday, September 9 at 1400 UTC (9:00 AM CT) to watch this #OpenInfraLive episode: [Open Source Job Openings (and how to land them) Round Two
You can watch this episode live on YouTube, LinkedIn and Facebook. The recording of OpenInfra Live will be posted on OpenStack WeChat after each live stream!
Like the show? Join the community! 
Catch up on the previous OpenInfra Live episodes on the OpenInfra Foundation YouTube channel, and subscribe for the Foundation email communication to hear more OpenInfra updates!
Latest posts by Allison Price
(see all)