Spotlight On: Hybrid Cloud Momentum
Join us next week November 17 & 18 at 1500 UTC (9:00 AM CT) for the OpenInfra Live: Keynotes. The Keynotes will include several open source related sessions including numerous sessions around hybrid cloud use cases from headline sponsor Red Hat as well as organizations like Workday and Trendyol.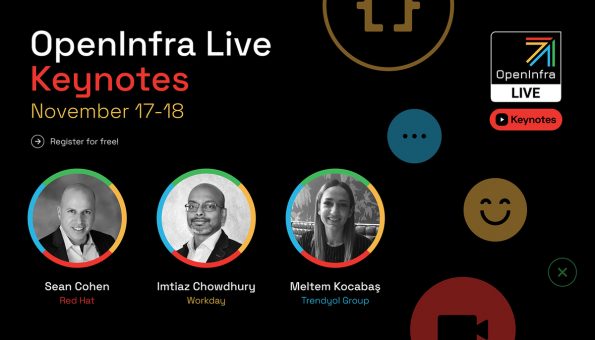 Hybrid cloud use cases have been a priority of the OpenInfra Foundation for a long time. According to Mordor Intelligence, The hybrid cloud market was valued at USD 52.16 billion in 2020 and is expected to reach USD 145 billion by 2026. IBM partnered with O'Reilly on a study on how open source plays a key role in the hybrid cloud use cases. Based on this study, when choosing cloud providers, 70% of respondents prefer one based on open source.
How do people integrate OpenStack in their hybrid cloud environments? Based on the most recent OpenStack User Survey results, over 200 User Survey respondents run a hybrid cloud environment with OpenStack. They integrate OpenStack with:
AWS: 53%
Azure: 40%
GCE: 30%
Another OpenStack cloud: 47%
OpenStack-powered public cloud: 13%
Other: 8%
Join us at OpenInfra Live: Keynotes, November 17 & 18 at 1500 UTC (9:00 AM CT)! Hear discussions driven by Open Source Initiative (OSI), Microsoft, Amazon Web Services (AWS), Red Hat and more on the growth of hybrid cloud and the momentum of infrastructure powered by open source technologies.
Can't make it to the event? Register anyway, and we'll send you the recordings after the event!
OpenInfra Live is the OpenInfra Foundation's weekly, hour long, interactive show sharing production case studies, open source demos, industry conversations, and the latest updates from the global open infrastructure community!
This week's show (November 11th at 1500 UCT) will be OpenStack Is Alive: Explosive Growth Among Production Deployments
Catch up on exciting episodes that you might have missed:
Have an idea for an episode or are interested in presenting? We'd love to hear from you! Tell us all about it at ideas.openinfra.live
Airship: Elevate your infrastructure
Airship met at the PTG in October. Catch up on Airship's PTG discussions if you missed them!
Airship is Kubernetes v1.21 certified!
Running or evaluating Airship? We want to hear from you! Take the brief User Survey to provide the community with feedback.
Kata Containers: The speed of containers, the security of VMs 
Meet the Kata community at the OpenInfra Live: Keynotes.

As one of the largest Kata Containers users, Ant Group has very large deployments of Kubernetes and about 10K nodes of them are running Kata containers. Tao Peng, staff engineer of Ant Group, will introduce why Ant Group is using Kata Containers and how his team integrate Kata with Kubernetes.

Your expertise is requested!

No matter if you are evaluating or running Kata Containers in production, it's your chance to share your direct feedback on Kata Containers with the community. Complete the Kata Containers User Survey by December 31st, 2021!
OpenInfra Dev: Open Source Software Development at Scale
The review.opendev.org service is running Gerrit 3.3 as of October 10, and with that comes a number of new features. The one which users are most likely to want to familiarize themselves with is Attention Sets. Please see this announcement and the linked documentation for details.
OpenInfra Labs: Connecting open source projects to production
The Telemetry Working Group met on October 26, featuring an Open Telemetry update by Sally O'Malley of Red Hat. That recording and those of prior meetings can be found in the Telemetry Working Group playlist. Note that the next two meetings are being shifted to different weeks in order to better accommodate year-end holidays.
OpenStack: Open source software for creating private and public clouds
Adjutant needs your help! Are you using the Adjutant service in your cloud? The project needs contributors and leadership otherwise it will be retired in the Yoga release. For more information, please check out the

email to the discuss list

.
The TC is putting out the final call for feedback on the tags framework. Without any further feedback from the community- specifically operators- we will begin deprecating the framework. If you have opinions on how it can be improved or if it is useful, please

share them on the mailing list thread

.
StarlingX: A fully featured cloud for the distributed edge
The 2021 fall elections have just completed; congratulations to all the new and re-elected leaders of the StarlingX project! During the election cycle we elected

new Technical Steering Committee (TSC) members

and new

Project Leads (PL) and Technical Leads (TL)

. All the positions are filled for a one-year term and the changes have already taken effect.

The community is soon kicking off an interim election cycle to fill two open TSC seats for a half-year term and find candidates for the few, currently unfilled PL and TL positions. If you are interested in running for any open positions you can check if you are eligible and find out more about the timeline and details on the

election web page

.

The StarlingX 6.0 release is just around the corner by a forecasted release date in December. The community is currently finalizing the third milestone during the cycle to prepare the codebase to go through an extensive testing period before you can download the ISO that contains all the components of the stable release. Stay tuned for further updates!

StarlingX participated in the recent Project Teams Gathering (PTG) event and had great discussions that included a retrospective since the last PTG as well as discussions to check on items for the 6.0 release and start putting together a roadmap for 7.0 and beyond. You can check out the

StarlingX blog

for a

summary of the sessions

at the event.
Zuul: Stop merging broken code
Zuul

4.10.1

,

4.10.2

,

4.10.3

, and

4.10.4

added "squash" support for Gitlab merge requests and introduced buildset timelines in the dashboard, as well as fixing a few new bugs. Visit the Zuul website to find out more about Zuul and how you can get involved!
Meet The Organizations Supporting the OpenInfra Foundation
The Open Infrastructure Foundation thanks all its members for their ongoing support of the OpenInfra community. Check out the OpenInfra Foundation blog to learn how these organizations are helping open source communities build the tools infrastructure operators need for Data Center Clouds, 5G, Edge, Containers, CI/CD and beyond!

This month we are highlighting OpenInfra Platinum member: Facebook, OpenInfra Gold member: China Telecom, and OpenInfra Silver member: Binero. Thank you for your support!

Upcoming OpenInfra and Community Events
October – December

November

December
For more information about OpenInfra community events, please contact [email protected]
Thank you to all our OpenInfra Live: Keynotes sponsors!
HEADLINE SPONSORS

SUPPORTING SPONSORS

A Note from Component Soft, OpenStack Training Partner and OpenInfra Live Keynotes Sponsor
Learn OpenStack and Kubernetes from Component Soft, an official OpenStack Training Partner and Kubernetes Training Partner! We have a wide, ever-growing, and regularly updated portfolio of open-source cloud, cloud-native and devops trainings and educated 5000+ students in classroom and live online format in the past few years from Europe and the Americas. From beginner to advanced topics. Exam prep. courses for the Certified OpenStack Administrator, Certified Kubernetes Administrator (CKA) and the Certified Kubernetes Security Specialist (CKS) exams too. Trainings about Ceph, Istio, Prometheus, Ansible, Gitlab CI and Golang are also available.
Questions / feedback / contribute
This newsletter is written and edited by the OpenInfra staff to highlight open infrastructure communities. We want to hear from you! If you have feedback, news or stories that you want to share, reach us through [email protected] . To receive the newsletter, sign up here.