OpenInfra Live is a new, weekly hour-long interactive show streaming to the OpenInfra YouTube channel every Thursday at 14:00 UTC (9:00 AM CT). Episodes feature more OpenInfra release updates, user stories, community meetings, and more open infrastructure stories.
Are you looking for a job in open source? Curious about what companies might be right for you? Join us as we spotlight companies with open infrastructure job openings, hear straight from current employees about their day-to-day community involvement and hear what their organizations are looking for in candidates.
Enjoyed this week's episode and want to hear more about OpenInfra Live? Let us know what other topics or conversations you want to hear from the OpenInfra community this year, and help us to program OpenInfra Live!  If you are running OpenStack at scale or helping your customers overcome the challenges discussed in this episode, join the OpenInfra Foundation to help guide OpenStack software development and to support the global community.
Mark Collier, COO of the OpenInfra Foundation, kicked off the episode with some breaking news. He welcomed Microsoft as a new Platinum Member of the OpenInfra Foundation. With this multi-year commitment, the OpenInfra community will work closely with Microsoft to advance open infrastructure use cases including hybrid cloud and 5G through participation in and contribution to several open source project communities. You can read more about this announcement on the OpenInfra Foundation blog.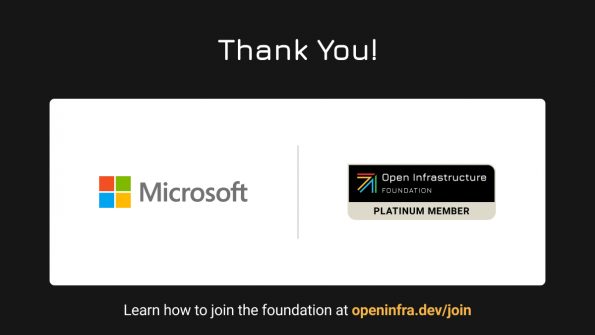 He then welcomed four participants from the companies that are members of the OpenInfra Foundation: 
Srinivas responded that he got involved in open source by participating in the OpenInfra community. "I initially opened some issues…that led to a lot of discussions and then I suggested making some code contributions, and people encouraged that. So I started submitting pull requests (PRs) and I was amazed at how much time people took to provide feedback," Srinivas said. 
Srinivas mentioned that you can get started with solving a simple bug or attending a local event. Never be afraid to reach out to people because "the community is very welcoming, so I suggest that everyone starts small and continues growing."
If you are interested in working with experienced mentors from the open source community, Outreachy internship is perfect for you. Collier mentioned that programs like the Outreachy Internship Program, supported by the OpenInfra Foundation, are great entry points to contribute to the open source community and build connections with industry experts. You can learn more about various ways to contribute upstream to open infrastructure in this OpenInfra Live episode.
Kurek said that talent is distributed evenly globally; therefore, this impacts how Canonical structures its teams. To maximize employees' potential without the restriction of working in a physical office, most of Canonical's employees are working from home from all over the world. 
For VEXXHOST, Naser said that everything they work on is based on open source, so having a culture that enables contributions back to the community is critical. "At VEXXHOST, we don't do anything locally. We push that upstream to benefit the entire community," she said. "We also contribute our time to have different roles within different communities. So whether it's project team leads or helping out someone who needs help, we feel that it's super important, and that's something that we need to do."
Savich says that Red Hat's 28 years of commitment to open source really permeates their culture. "At Red Hat, you don't really [get told] to go work on open source, because it's so ingrained in everything … It's a true meritocracy as well, in that the best ideas always win."
For Intel, Srinivas says that innovation is key for Intel's culture, and there are a lot of opportunities provided around innovation. "Engineers have the opportunity to take an idea and take it to an open source project," he said. One example is that Intel is one of the top companies that encourage their engineers to contribute to Kata Containers, an open source container runtime that builds a secure container runtime with lightweight virtual machines. 
Additional Questions 
The panelists also answered a few questions from the host and the audience live that further elaborated on the details of their companies:
OpenInfra job openings
With over 100 job openings available, job seekers are not only likely to find jobs at Canonical that match the best with your skills, but also presented with the opportunity to work with talented people from the open source space. If you go to Canonical Careers portal, you'll be able to find a job that fits your requirements in Canonical.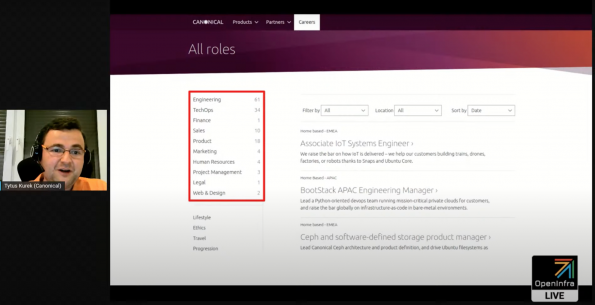 Just like the tagline, "do something wonderful," on Intel's Careers portal, people at Intel are advancing AI, autonomous transport, smart cities, and more to solve humanity's greatest challenges. You can find all the job openings on Careers at Intel, and teams at Intel are hiring people with OpenStack and Kata Containers talents across the world!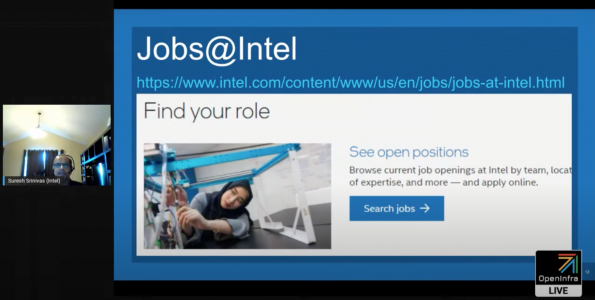 From engineers to product managers, Red Hat, as one of the leaders in the open source space, is hiring talented individuals from all around the world. Below are a few of the many openings that Savich covered.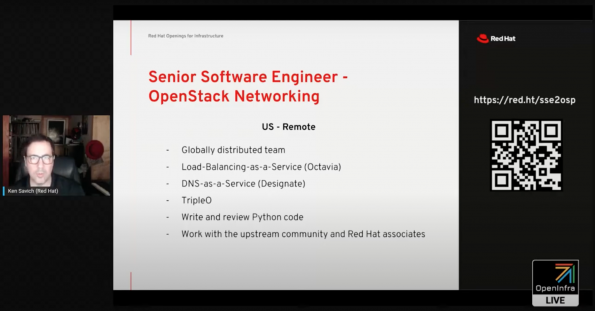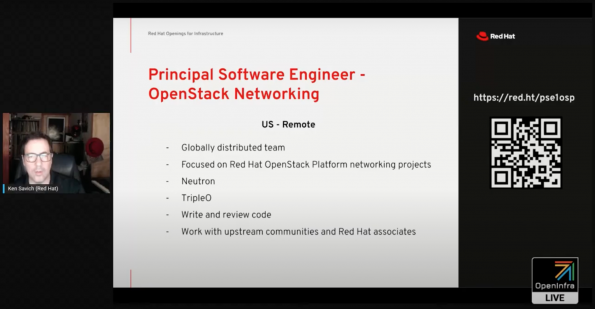 Heavily utilizing open source tools, VEXXHOST is hiring people with talents of OpenStack, Kubernetes and many other open source projects. Check out how you can join VEXXHOST's team on VEXXHOST Careers.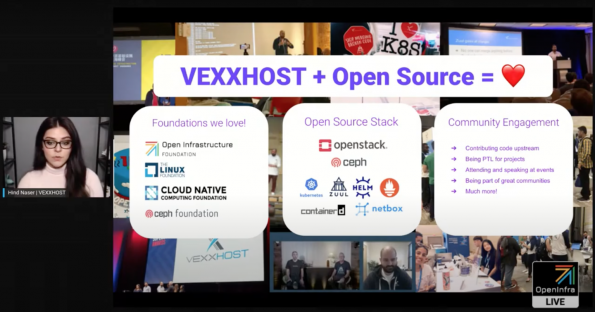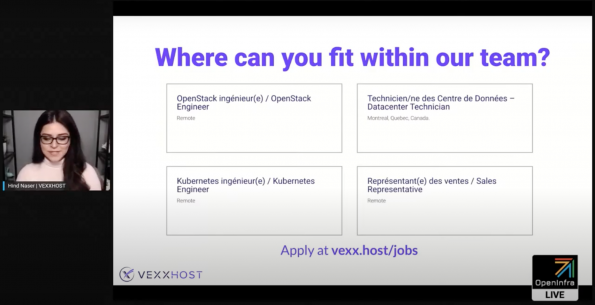 Next Episode on #OpenInfraLive
Since the Paris Summit in 2014, the OpenInfra Foundation has hosted our annual Superuser Awards to recognize organizations that have used open infrastructure to meaningfully improve their business while contributing back to the community. Past winners will join us for this episode to discuss where they are now, what is next, and tips for organizations applying for this year's awards.
Tune in on Thursday, September 16 at 1400 UTC (9:00 AM CT) to watch this #OpenInfraLive episode: Superusers: Where are they Now.
You can watch this episode live on YouTube, LinkedIn and Facebook. The recording of OpenInfra Live will be posted on OpenStack WeChat after each live stream.
Like the show? Join the community! 
Catch up on the previous OpenInfra Live episodes on the OpenInfra Foundation YouTube channel, and subscribe for the Foundation email communication to hear more OpenInfra updates!