Welcome to the latest edition of the OpenStack Foundation Open Infrastructure newsletter, a digest of the latest developments and activities across open infrastructure projects, events and users. Sign up to receive the newsletter and email [email protected] to contribute.
Spotlight on: The Open Infrastructure Summit Shanghai Agenda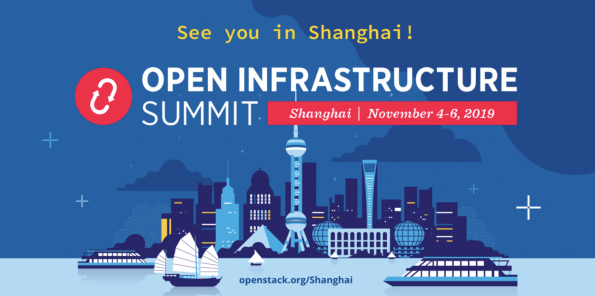 The agenda for the Open Infrastructure Summit Shanghai went live this week! Join the global community in Shanghai from November 4-6 to experience:
Keynote and breakout sessions spanning 30+ open source projects from technical community leaders and organizations including:

Managing a growing OpenStack cloud in production at ByteDance (creator of TikTok) who runs an OpenStack environment of 300,000 cores and is still rapidly growing at a rate of 30,000 CPU cores per month
Monitoring and Autoscaling Features for Self -Managed Kubernetes clusters at WalmartLabs
Secured edge infrastructure for Contactless Payment System with StarlingX at China UnionPay
How to run a public cloud on OpenStack from China Mobile
Integrating RabbitMQ with OpenStack at LINE, the most popular messaging app in Japan
Project updates and onboarding from OSF projects: Airship, Kata Containers, OpenStack, StarlingX, and Zuul.
Collaborative sessions at the Forum, where open infrastructure operators and upstream developers will gather to jointly chart the future of open source infrastructure, discussing topics ranging from upgrades to networking models and how to get started contributing.
Hands-on training around open source technologies directly from the developers and operators building the software.
The Summit will be followed by the Project Teams Gathering (PTG): various open source contributor teams and working groups will meet to get work done, with a special focus this PTG around onboarding new team members.
Now, it's time to register you and your team for the Shanghai Summit before prices increase next week on August 14 at 11:59pm PT (August 15 at 2:59pm China Standard Time). If your organization is recruiting new talent or wanting to share news around a new product launch, join the Summit as a sponsor by reaching out to [email protected].
OpenStack Foundation:
PTG attendance surveys have been sent out to project/group/team leads and responses are due August 11. If you are a team lead and missed the email with the survey, please contact Kendall Nelson (

[email protected]

) ASAP.
Registration is open. PTG tickets are included with Summit registration. Save on tickets by purchasing them now at the early bird price. There are 2 ways to register – in USD or in RMB (with fapiao)
The Travel Support Program is also available. Apply before August 13!
Airship: Elevate Your Infrastructure
Directly following the Technical Committee election, the Airship project is holding its first Working Committee election. The Working Committee is intended to help influence the project strategy, help arbitrate when there is a disagreement between Core Reviewers within a single project or between Airship projects, define the project core principles, perform marketing and communications, and finally help provide product management as well as ecosystem support. The close of the Working Committee polling will mark the full transition to Airship being a community governed open source project with 100% elected leadership.
Kata Containers: The speed of containers, the security of VMs
Kata Containers 1.8 release landed on July 24. This latest release upgrades the QEMU hypervisor from a QEMU-lite base to upstream QEMU 4.0. Kata templating code is updated to make use of the upstream x-ignored-shared. Firecracker hypervisor is also updated to 0.17, and Kata now has support for using Firecracker's jailer, adding extra security isolation for the VMM on the host. Fixes and usability improvements for virtio-fs have also been introduced.
The Kata Containers 1.9 Alpha release was also created. In the upcoming 1.9 release, which is expected to land in mid-October, Kata will introduce support for a new hypervisor: ACRN. View the latest Kata Containers releases here.
The Kata community is excited to again have a significant presence at the upcoming Open Infrastructure Summit with 5 talks accepted. Check out the full line-up of Kata sessions here.
OpenStack: Open Source Software for Creating Private and Public Clouds
StarlingX: A Fully Featured Cloud for the Distributed Edge
See the list of StarlingX sessions on the upcoming Open infrastructure Summit in Shanghai

here

!
In preparation for the 2.0 release the community cut

RC1

with a new branch this week. The testing of the stable codebase is still ongoing to assure high code quality when the release comes out at the end of August.
Zuul: Stop Merging Broken Code
Find OSF at these Open Infrastructure Community Events
August
September
October
November
Questions / feedback / contribute
This newsletter is written and edited by the OpenStack Foundation staff to highlight open infrastructure communities. We want to hear from you! If you have feedback, news or stories that you want to share, reach us through [email protected] . To receive the newsletter, sign up here.
Latest posts by Allison Price
(see all)