TOKYO — Jonathan Bryce, executive director of the OpenStack Foundation, welcomed 5,000 attendees from 56 countries to the opening day of the Summit. By a show of hands and thunderous cheers, many of them were enthusiastic first-time visitors to Japan.
He was joined onstage welcoming the community to Japan by Akihiro Hasegawa of the Japanese OpenStack user group, JOSUG. The two-hour keynote featured updates from users including Lithium Technologies, NEC, Yahoo! JAPAN, GMO, Intel and Bitnami. An origami-inspired logo kicked off the #WeAreOpenStack diversity initiative and got tweets a-flying. You can watch the keynotes and sessions from OpenStack Summit Tokyo on the OpenStack Foundation video page.
#WeAreOpenstack kicking off from the diversity initiative pic.twitter.com/rAqLKEm4CW

— Stefano Maffulli (@smaffulli) October 27, 2015
Bryce made two major announcements intended to make the OpenStack powered planet easier to navigate — whether you're looking for work or trying to figure out what OpenStack projects will work for you.
First, he launched the professional certification program, meant to "push more OpenStack talent" by providing a baseline assessment of knowledge that can test OpenStack professionals around the world.
The full first hour of the keynote.
The first certification, Certified OpenStack Administrator (COA), will be available in 2016. COAs will typically have at least six months OpenStack experience and the skills to provide day-to-day operation and management of an OpenStack cloud.
Finally! There is an official #OpenStack Certified Administrator training course available. Testing available in 2016. #Tokyo

— Thomas Lee (@irengineer) October 27, 2015
Dozens of companies around the world that currently offer OpenStack training will participate in the COA program, including: Asean Labs, Canonical, Cisco, Cloud Enabled, EMC, Firefly, HP, Midokura, Mirantis, Rackspace, SkyAtlas, Solinea Stacklabs and SUSE. Certifications for OpenStack developers and other pros will be offered in the future.You can read more about it on Foundation website on the Certified OpenStack Administrator (COA) page or the press release.
Next up, Bryce gave an overview of the Liberty release, which has over four million lines of code and a focus on manageability, scalability and extensibility. To talk interoperability, he introduced Egle Sigler of Rackspace. Getting all those moving parts working together is key as OpenStack moves forward, Sigler said, underlining the importance of DefCore, the interoperability project. "It's about user experience, OpenStack growing in size and scope. It's making sure lock-in and special flavors don't happen." She invited the packed room to get involved by providing data via RefStack and joining the DefCore weekly meetings, IRC or mailing list.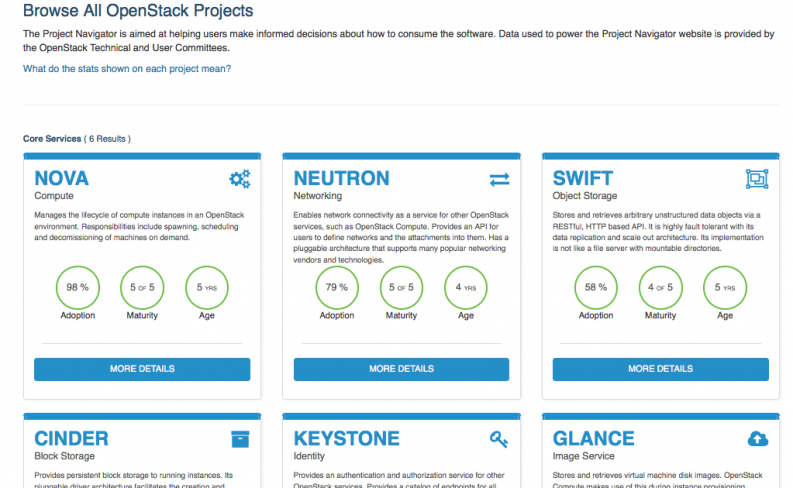 He segued into the second big announcement: the OpenStack Project Navigator to help users see at a glance the adoption, maturity and age of OpenStack projects. Adoption is the percentage of production deployments running the project based on the latest biannual user survey results. Maturity comes from looking at 5 distinct tags that indicate stability and sustainability. The current criteria includes whether or not the project has an install guide, whether it is supported by seven or more SDKs, if the adoption percentage is greater than 75 percent, whether or not the team has achieved corporate diversity and whether or not there are stable branches.
Age is the number of years the project has been in development. More details on the foundation website: http://www.openstack.org/software/project-navigator
Containing the Croc Hunter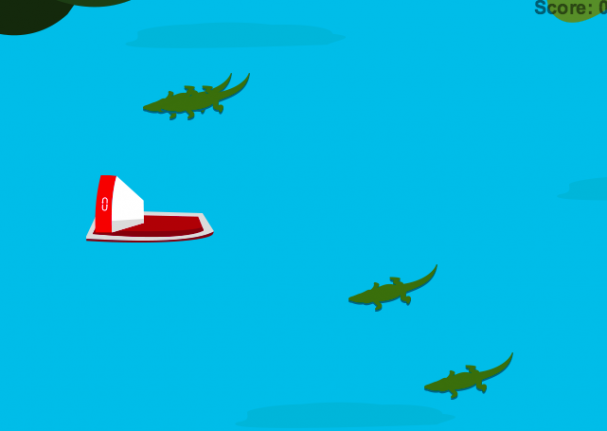 A screen shot from the demo game Croc Hunter
Lachlan Evenson of Lithium Technologies brought infectious energy and a demo fast enough to keep pace in futuristic Japan. Evenson promised the crowd he would go from commit to deploy using OpenStack and containers in less than a minute. It took about three but Evenson, who hails from Australia, turned a video game of Croc Hunter (where a boat with OpenStack logo speared crocs) into Croc Feeder (which shot them lunch, in the form of fish, instead.) You can check the game out here: http://croc-hunter.lcloud.com/
.@LachlanEvenson demo'ing apps, HA, containers, @kubot – sends "scaleup" command and BOOM. Magic.

— Niki Acosta (@nikiacosta) October 27, 2015
brb playing #CrocHunter all week. Thanks @LachlanEvenson 🙂 #OpenStack

— Shari Mahrdt (@sharimarii) October 27, 2015
Yahoo! Japan supersizes with OpenStack
Takuya Ito of Yahoo! Japan brought impressive numbers to the keynote stage, starting with the scale of operations: they currently host 64.9 billion page views a month, with about half of those on smartphones, powered by OpenStack with 50,000+ instances, six times more traffic density, 20 petabytes of storage and over 20 clusters. These numbers have all doubled in the last year, he added. The system held strong during a traffic spike last year during an earthquake, when they had only seconds to respond. Ito said their mission is to "abstract the data center" and OpenStack is core to that goal.
Yahoo! Japan moves to #OpenStack for its common APIs, reduced cost and belief in co-creation pic.twitter.com/zDDmmKrBMP

— tianzhong (@tianzhong9) October 27, 2015
Superuser: NTT
Dozens of NTT attendees rushed the stage to accept the third Superuser Award. The baton was handed from Comcast, which won the award in Vancouver.
https://twitter.com/openfly/status/658809273187602432
Read more about them and how to participate — where else? — here on Superuser.
Superuser = Superintegrator?
NEC's Tsugikazu Shibata ran with the concept of the OpenStack superuser, saying that the most successful companies are also "super integrators." His company recently launched the the NEC Cloud System a solution that supports the building and operation of OpenStack-based cloud infrastructure. NEC also recently established a specialized team dedicated to OpenStack — 1000 members strong, divided between customer support, engineers and developers. 
Great reminder from @NEC that the #OpenStack community is not just about super users but also about super integrators who bring users in!

— Emily Hugenbruch (@EKHugen) October 27, 2015
He described the growth of OpenStack as "Amazing, amazing amazing."
Beware the 'shadow cloud'
Erica Brescia, COO of Bitnami, a library of installers or software packages for web applications and development stacks as well as virtual appliances, had some wise words for the crowd. Customers want two things, "ease of use and a great eco system." And if they're not getting it from you, they'll go behind your back, she said. This she knows from experience – she's had clients ask to bill for 'office furniture' to keep it a secret from the IT department. Bitnami has contributed multiple Glance images to the OpenStack community app catalog.
Best keynote of the morning @bitnami with @ericabrescia nailing it! No more #RTFM deployment solutions #WeAreOpenstack

— Jon Flynn (@itsflynn) October 27, 2015
"People will take the path of least resistance every single time," she noted. So "build the best possible user experience and get solutions to market faster – that means down from years to months to even weeks." Agility matters more than cost. If you require a fax to provision cloud resources — using technology from the 1840s — you're doing it wrong, she stressed. People will go elsewhere if it's not easy enough and the days of RTFM are over," she said.
Finally! There is an official #OpenStack Certified Administrator training course available. Testing available in 2016. #Tokyo

— Thomas Lee (@irengineer) October 27, 2015
Games: Big in Japan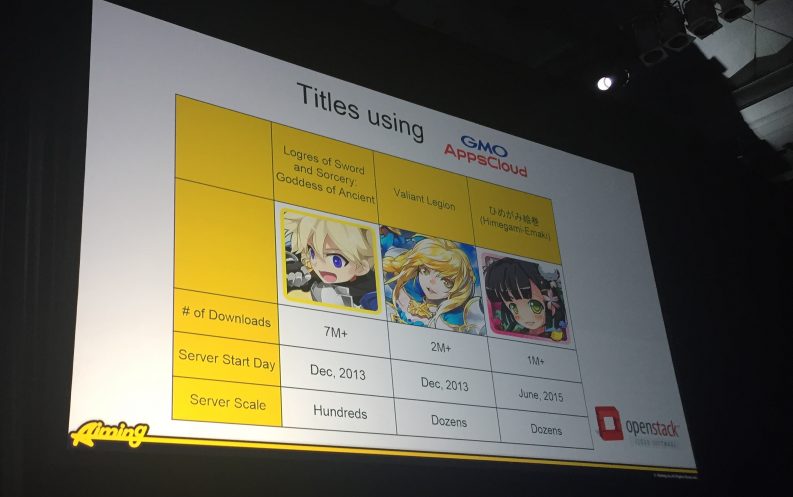 GMO Group brought users onstage to show the power of the host country — an astounding seven million gaming downloads on OpenStack.
.@GMO_Group is running in 17 different countries and is integrating #OpenStack into 4 of its products pic.twitter.com/9GBGQ2SDrT

— OpenStack (@OpenStack) October 27, 2015
Stay tuned for more Summit keynote news tomorrow.
Latest posts by Nicole Martinelli
(see all)