Today at the OpenStack Summit in Atlanta, the OpenStack Foundation announced the launch of the OpenStack Marketplace, a central hub for all products, services, and training courses related to OpenStack.
The online marketplace is "oriented around the path to adoption," said Jonathan Bryce, the Executive Director of the OpenStack Foundation at a keynote at the OpenStack Summit in Atlanta on Monday.
As OpenStack has grown over the last few years, so have the number of options for using OpenStack. There are dozens of vendors, all serving different business needs. The market is crowded, and differentiating one OpenStack service provider from another can prove difficult. Because of the plethora of vendors, just getting started with OpenStack can be overwhelming. In fact, Bryce says, it's often the biggest obstacle that users face in adopting the open-source cloud building software.
The idea, according to Bryce, is that the Marketplace will help cut through the vendor noise and allow users to make sound business decisions. Bryce also believes the OpenStack Marketplace will lower barriers to adoption and make it easier for new users to get onboard with OpenStack.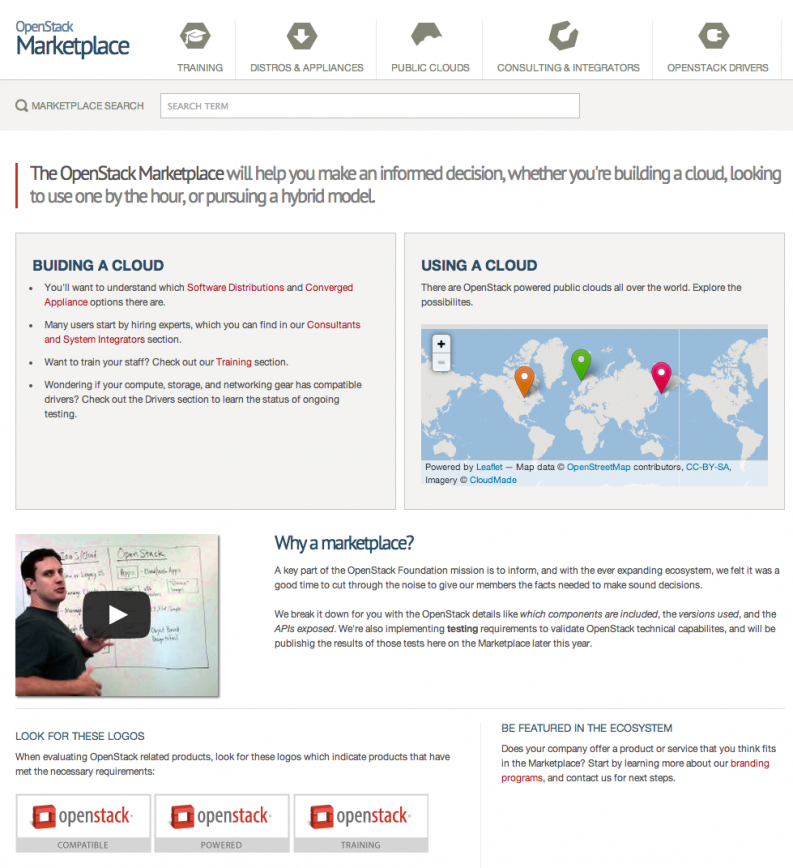 Bryce says that the Marketplace was designed to be the go-to spot for information-gathering in the early stages of Openstack adoption and for evaluating various production options. Users can search through five separate categories, including Public Clouds, Distributions & Appliances, Training, Consulting & Systems Integrators, and Drivers. They can then browse through service providers, research a full list of features, and compare vendors to determine which is a better fit for their business needs.
The training category of the Marketplace, which has been available since September 2013, has helped users sign up for more than 250 unique classes across 30 countries to date. Users also have the ability to search and filter classes by topic, level and location.
Bryce emphasized that each product and service within the Marketplace has met certain technical requirements as laid out by the Openstack Foundation. For example, products powered by OpenStack have to be running a recent version and they must expose the OpenStack API. Service providers also have agreed to be transparent about which versions of OpenStack and which capabilities they support.
"[OpenStack users] see momentum and the potential for emerging standards, and they see choices that put them in control and reduce lock-in. The OpenStack Marketplace is way of answering frequently asked questions about different ways to consume the software, including training and consultants, distros, appliances and public clouds," said Mark Collier, COO of OpenStack.
True to the open source mentality, the OpenStack Marketplace has a community aspect as well. Users can leave reviews for the products and services they use, giving the OpenStack ecosystem an unedited, firsthand look into what it's like to work with OpenStack providers.
While the OpenStack Marketplace is the first of its kind for an open source community, it joins a host of enterprise software companies who offer a marketplace service to their customers. Red Hat, IBM, and Oracle have similar offerings. The rise of the enterprise cloud marketplace can be attributed to increased consumer demand for more information and transparency from vendors. It's a "try before you buy" mentality, and OpenStack, among others, hope it will drive up adoption.
There are dozens companies already onboard OpenStack Marketplace including Rackspace, Canonical, HP, Red Hat, IBM, Cloudscaling, SUSE, Piston, Mirantis and more.
Take a look at the new Marketplace here. If your company has a product or service that should be in the Marketplace, get in touch with the OpenStack Foundation.
What do you think? Leave your comments, questions or ideas for the Marketplace here.
__
Image credit: FileCloud
Latest posts by Brittany Solano
(see all)