FIRST ACQUAINTANCE WITH CLOUD
In the 1990s, when I was a child, Bill Gates, who was the co-founder and the CEO of Microsoft, published a book called The Road Ahead. The book summarized the implications of the personal computing revolution and described a future profoundly changed by the arrival of a global information superhighway. Gates mentioned that things have been changed over the past two decades. However, besides the information superhighway he predicted, it extended to everywhere in our society, such as e-commerce, social networking applications, network conference and cloud computing massively impacted our life every day, which was far beyond his estimation.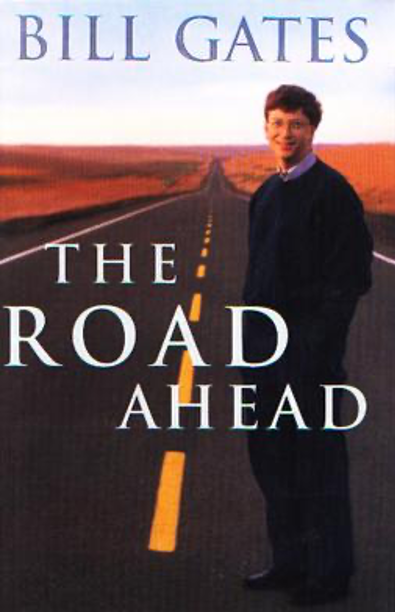 Computer science, as a novel technology and area to human beings since the last century, is actually an unexplored ocean and has been attracting more and more navigators to explore. People can't imagine which is ahead in the way of the boat and can't forecast which land they are about to discover, due to the fast evolution of information technology. I was one of them, when I was admitted to the university, I resolutely chose computer science as my major. And now I discovered my new land – cloud computing.
After I became a postgraduate student, I totally got immersed in the ocean and attempted to find a facility for deployment, orchestration, operation and management of those virtual and physical machines. OpenStack became the beacon light for me, and I got started with the project at that time. It is such a magic box that is powerful enough to cover almost every need, but also a complex system since it is combining so many components together, each with different functionalities. OpenStack is my first impression on how the cloud actually works behind virtualization and how the cloud service providers (CSP) offer their services. These tricks and features make me get far more interested while digging into the land of clouds.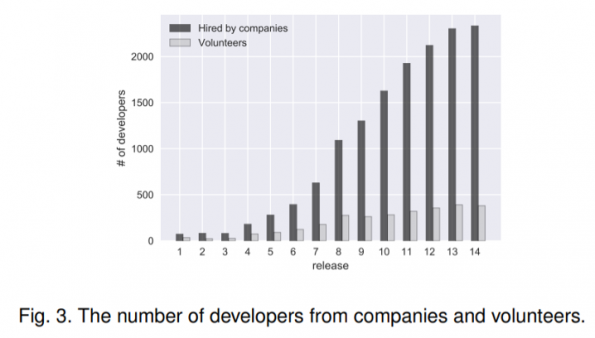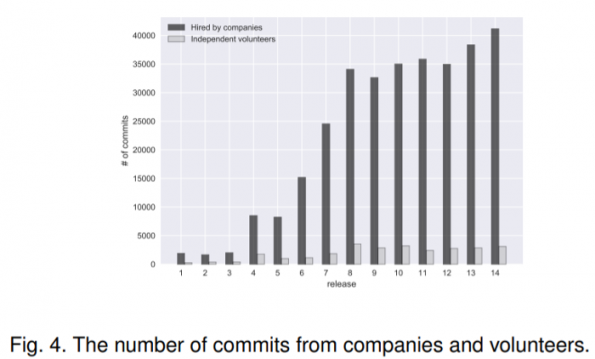 Hey, things look much more exciting when I start to know there's something called open source community, where tens of thousands of people are working together to build one super project, and they all come from different countries, companies and with different gender, age and races. The OpenStack community is definitely a typical example and also one of the powerful leaders for that.
According to an empirical study on OpenStack conducted by Prof. Minghui Zhou and her team in Beijing University in 2018, companies are taking the lead in open source software development by making far more contributions than volunteers. Consequently, company engagement inspires individual volunteers to participate in the community, including myself. I then realized that security and privacy are the top concern of companies using cloud since it shares resources on the networks. After determining cloud security as the research area in school, I made use of OpenStack to perform penetration tests on clouds where security threats were faced.
COMMUNITY DIVERSITY
It's a fait accompli that the field of computer science is heavily skewed toward men, and the gender situation in the open source arena is even more lopsided. The OpenStack community has been making huge efforts to improve diversity and inclusion spanning from leadership, governance, event representation, to code-and noncode-related contributions.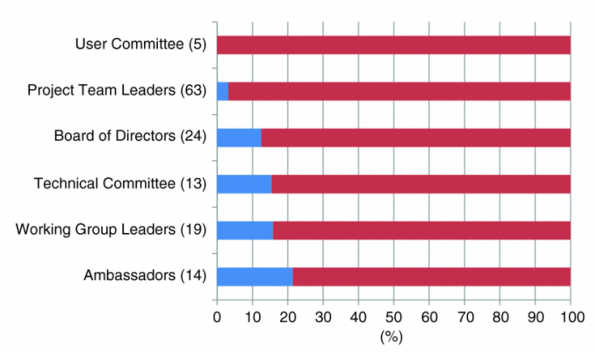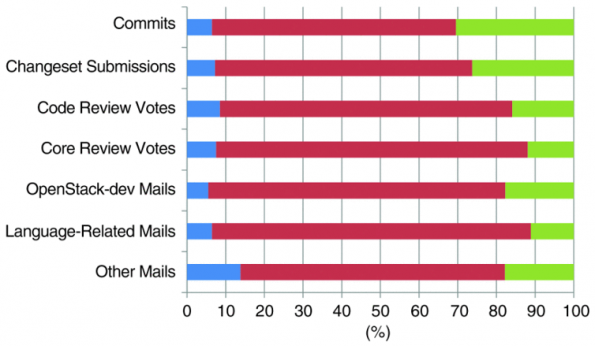 The percentages of code- and noncode-related artifacts contributed by women (blue), men (red), and individuals whose gender could not be identified (green). The percentage of women is 10–12%, depending on the data source and the analysis. Participation at the governance and leadership level increased remarkably, and participation in all of the code- and noncode-related contributions also increased.
I dived into cloud computing and OpenStack after finishing my study, and became a company contributor in January 2018 at Intel, which is a Platinum Member of the OpenStack Foundation and one of the top five companies contributing then. Like the community, Intel has always committed to developing a culture of equality, diversity, and inclusion. In Intel, my team is a big family and the female members hold up half the sky. In this family, our primary responsibility is to take advantage of technologies to change the world and make it better, from the lower-level perspective. We have been enabling server capabilities to enrich the functionality of cloud computing according to new use scenarios, e.g. Enhanced Platform Awareness (EPA).
The OpenStack community doesn't exclude anyone, even elementary school students, and doesn't hesitate to offer a helping hand to any people needed. I learned from others and started to be familiar with many other projects and people inside the community. In May 2019, I was invited to present my analysis on edge computing projects as a speaker at the Open Infrastructure Summit in Denver. Warm encouragement and greetings from the audience encouraged me a lot and made me believe I am part of it.
MENTEE AND MENTOR
The next generation is the future of our open source community. Intel continuously supports joint programs with universities and research institutes. In 2015 Intel sponsored the eighth Intel-Cup National Collegiate Software Innovation Contest based on OpenStack and performed a study on OpenStack's ease of use. Only one out of the 20 teams succeeded to deploy OpenStack independently within 36 hours. The final survey showed that for those undergraduate students, it was difficult for them to master numerous OpenStack operations, and the deployment process was complicated with most issues in the networking part. Nowadays we believe its ease of use has been improved dramatically, but we still admit ease of use is the biggest barrier for newcomers to enter this area and participate in the community. Therefore, mentorship always matters.
In the summer of 2019, my team and I got a chance to mentor some brilliant undergraduates from the Joint Institute of University of Michigan and Shanghai Jiaotong University (UM-SJTU) with the art of cloud computing and introduce them to the OpenStack community. The students were appealed by the charm of cloud computing and edge and took a lot of effort while studying the projects inside the OpenStack community. Although some of the projects looked a bit complex and difficult, they still tried their best to construct a cloud gaming infrastructure with StarlingX, which is an edge computing project with low latency and high bandwidth that incorporates OpenStack components and is one of the open infrastructure projects supported by the OSF. In the end, those four students managed to win the Gold Prize in the demo design summit of the university and received a chance to present a session to illustrate their project at Open Infrastructure Summit Shanghai in November 2019.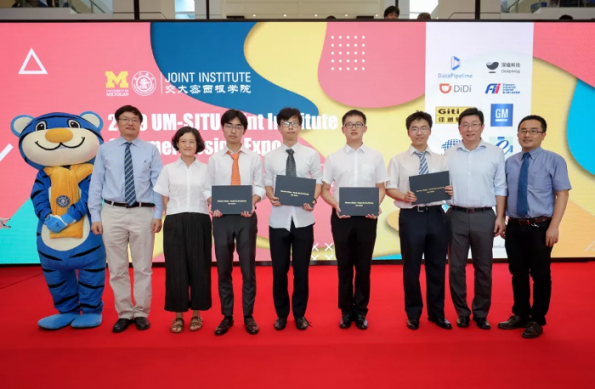 In addition to the new blood, the open source community is showing more and more vitality. Joy Liu, an 18-year-old girl who is even studying in her high school with much knowledge on computer science as well as cloud computing, showed her enthusiasm on facial recognition on top of edge infrastructure, which motivated me to become her mentor in this area. Based on the Integrated Cloud Native (ICN),  blueprint in Akraino, they constructed a reference architecture and successfully presented a session about the architecture at Open Infrastructure Summit Shanghai.
The deeper a person integrates into the community, the more impressive the person feels. Things look quite different after my transition from a mentee to a junior mentor. There seems to be more areas to explore and also more places that I could devote myself to. The OpenStack community is embracing everyone who has the capability and willingness to join, and we could see more chances available for the new generation to explore and participate in the future.
STEP FURTHER
Inside the open source community, we witnessed so many intelligent and skillful people (both men and women) delivering their power and expertise to drive the growth of the community, as well as the development of the technology. Also, more and more people growing with the open source community, from learning to mentorship offering, just like I did. To these participants, open source culture is never just reusing free code on GitHub to enhance and promote their products. The culture is an ethos that values sharing. It embraces an approach to technology innovation, invention and development that emphasizes internal and external collaboration across different genders, ages, races, countries and companies.
People are now in the best era. As technology is evolving rapidly, everything is changing every day with innovations. It might be impossible to reproduce the miracle that The Road Ahead did, as it is quite difficult for someone to predict what the world will happen in the next two decades, either 5G, edge computing, artificial intelligence, or Internet of Things (IoT). However, us contributors will hold our hands and embrace the bright future together with the community.
Latest posts by Ruoyu Ying
(see all)