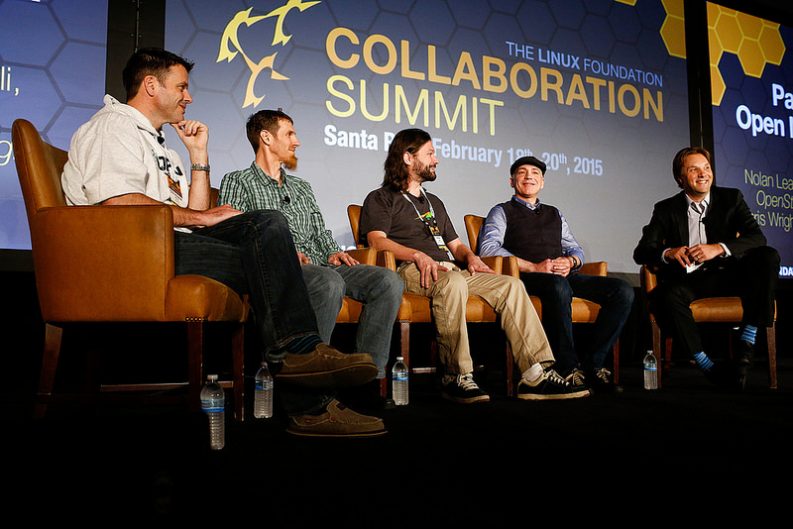 Panel, left to right: Chris Price, Chris Wright, Nolan Leake, Stefano Maffulli and Neela Jacques. Photo: Linux Foundation.
It may look like the wild west now, but the future of open networking and cloud infrastructure is bright.
That's the main takeaway from a panel featuring speakers from Red Hat, Ericsson, Cumulus Networks and the OpenStack Foundation moderated by Neela Jacques at the Linux Collaboration Summit.
Networking is an industry with hardware and proprietary software implementing widely adopted, slowly evolving standards managed by international standards bodies. Fast forward to 2015: the industry must collaborate and transform/adopt open source software on commodity hardware and collaborate with competitors to respond to market pressure in a timely fashion.
"It's the wild, wild west, and we're at the very beginning," said Chris Wright, technical director for software-defined networking at Red Hat. There are "cool components all over the place," he added, but there are more than a few "pain points." "We're running as fast as we can to fix those. Everything is changing. There are blurred lines between what we have now what will fuel the next generation."
Christopher Price of Ericsson who says the innovation is so breakneck he "wakes up dizzy every day," would like to see some order in these boom towns.
"We need to keep rolling, we need to keep innovating and we shouldn't stop someone doing something." The community should be accepting of new ideas and new concepts, and forge foundational pieces where it make sense, said Price, who sported an OPNFV hoodie onstage. "The townships out on the edges of that wild west may survive or not, but we need to create room for the next level of growth," he added.
The OpenStack community sits in the middle of this new territory, reflecting at least three different use cases: the public cloud, the private cloud (enterprise) and the telecom carriers with the new needs dictated by Network Function Virtualization. These groups may seem to have different priorities, and speak a different language, but they're slowly coming together.
"Open source may have lost the desktop war, but we're winning the data center and cloud wars," said Stefano Maffulli, developer advocate at OpenStack. "The collaboration around it is brilliant, it's what we hoped for when the open source movement started."
When Jacques asked why the networking industry needs open source, Nolan Leake CTO of Cumulus Networks replied that without openness at the lowest levels, it's difficult to innovate at the levels above. "It's very difficult to build a platform on top of a closed base."
"Where the NFV is going, it will drag the data center with it," Leake added. The use cases for NFV are not that different from enterprise data centers. "I'm pretty optimistic about that future."
Cover Photo by Oilibac/ // CC BY NC; Event photo: Nicole Martinelli.
Latest posts by Nicole Martinelli
(see all)