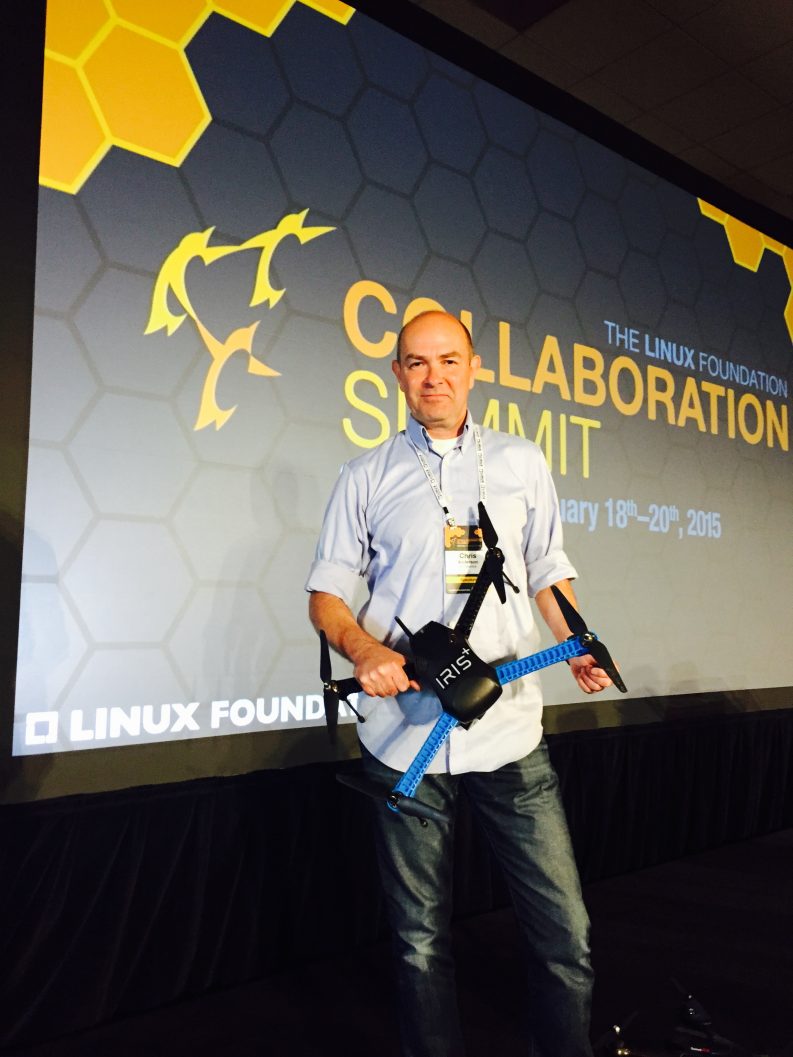 Chris Anderson sees only blue skies. The former Wired editor-in-chief and CEO of drone maker 3D Robotics is riding high on the recent rules proposed by the Federal Aviation Administration that will free up the airspace for drones.
"To my amazement and delight, the new proposed regulations are actually progressive," Anderson told a packed house at the Linux Collaboration Summit. "By not requiring aircraft certification, they've liberated these kind of drones based on open innovation and open source."
Two years after humble beginnings at his dining room table in Berkeley, 3D Robotics became the biggest drone manufacturer in North America. To face the competition, Anderson is putting his faith in open source.
Anderson brought two drones on stage to make his point. One is Iris (pictured with Anderson above) from 3D Robotics, which retails for $750. The other? A drone from a Chinese manufacturer using open source software from 3D Robotics. They didn't have to ask permission, there were no meetings about it, and "they're innovating in ways we don't have to," he adds.
Along with companies including Qualcomm and Intel, 3D Robotics belongs to Dronecode, the Linux Foundation's open source platform for Unmanned Aerial Vehicles (UAVs).
"We're not going to beat the competition by raising more money or being smarter than they are," Anderson said. "We'll do it by being more open."
Iris has sensors that talk directly to the cloud. The processing power is basically unlimited, and computational resources run in parallel, he says. There's a "cloud of sensors, not one pilot, one drone," he adds. Drones aren't just drones anymore – they're sensors in the sky producing big data – this is a way to extend the internet into the skies, he added.
"This is 21st-century open innovation: Everyone has access to software and hardware; people become the competitive edge."
Cover Photo by Phil; Photo of Chris Anderson by Nicole Martinelli. CC BY NC
Latest posts by Nicole Martinelli
(see all)