"Ba bump. Ba bump. Do you hear it? That's the heartbeat of the data center, powered by OpenStack. That is what you folks have built. We have so much strength in this community. You've worked so hard to enable deployable, stable, mature, secure software that enables private and hybrid cloud models to flourish across the ecosystem," said Melissa Evers-Hood, director of edge and cloud orchestration stacks at Intel as she spoke to the audience at the recent OpenStack Summit in Berlin. This strength is due, in part, to the amazing diversity within the OpenStack community, which was great to see throughout the week.
As OpenStack evolves to support open infrastructure—highlighted by Mark Collier through pilot projects Airship, Kata Containers, StarlingX and Zuul—and as exciting new use cases emerge, the ability to attract and retain diverse talent, and for us to collaborate across many different projects and communities, has never been more important.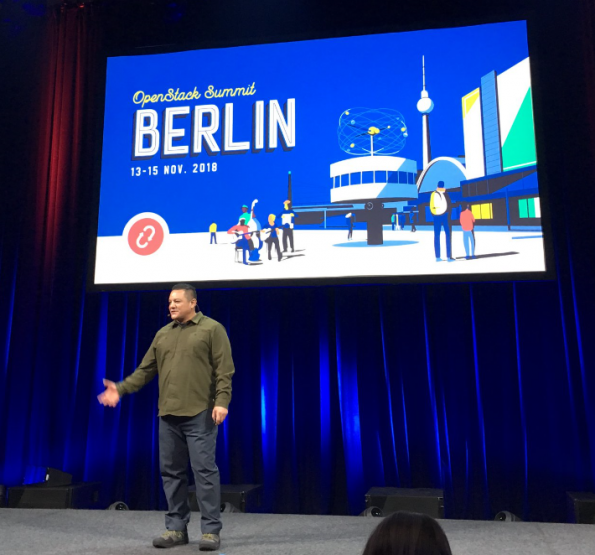 It was great to see Joseph Sandoval talk about the importance of new contributors, and of mentors and mentorship programs as core to sustaining our community in his keynote. "OpenStack is a strategic platform that I believe will enable diversity … "I've been helping individuals … bringing them along and pointing them in the direction of open source projects where they can learn and find their place within those communities, and giving them the technical acumen so they can succeed and find their way." He reminded us that, "Mentorship comes in many forms … Show up and support these programs. These programs need you."
"You can have a career in this, we need your voice, you belong here." @josephrsandoval on his approach to mentoring to foster diversity in tech #OpenStackSummit pic.twitter.com/dGGO239OTv

— OpenStack (@OpenStack) November 14, 2018
The mentorship theme was carried through a speed mentoring luncheon, facilitated by Amy Marrich and Nicole Huesman. The workshop, which has become a mainstay at the summits, attracted a nice turnout and supported rich engagement between mentors and mentees across career, community and technical tracks.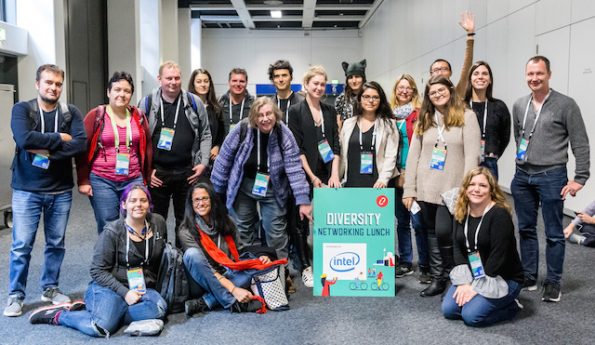 The diversity luncheon, hosted by the Diversity Working Group and sponsored by Intel, opened its doors for the first time to a more diverse audience. This evolution seemed to parallel that of OpenStack itself, and it was wonderful to see full representation—across women, men and underrepresented minorities—to recognize and celebrate the diversity within our community. Melissa Evers-Hood from Intel welcomed guests and Madhuri Kumari, cloud software engineer at Intel, offered her personal experiences of a young, new contributor in the OpenStack community. Joseph Sandoval then offered his insights about the importance of male allies and advocates, as well as mentoring, to build more diverse, inclusive communities.
Ell Marquez, technical evangelist at Linux Academy, led a mentoring panel discussion on the last day of the event. The panel discussion helped facilitate a robust discussion about mentorship programs, with two points of clarity. It's clear that there's deep interest in mentorship programs. While the OpenStack community has several programs and resources for new contributors, greater awareness and education is needed around how to tap into them—a great problem to have!
Panelists included:
Amy Marrich, OpenStack User Committee Member and Diversity Working Group chair, and OpenStack course architect at Linux Academy
Nicole Huesman, community and developer advocate, Intel
Jill Rouleau, senior software engineer, Red Hat
Daniel Izquierdo, co-founder, Bitergia
The week in Berlin was an inspiring testament to the progress and momentum of the diversity within the OpenStack community. As OpenStack takes shape as the foundation for the open infrastructure and new projects and technologies emerge to tackle the challenges of IoT, edge and other exciting use cases, we'll continue to strive for greater diversity within our community and welcome new contributors of all sizes, shapes and colors into our thriving community.
Stay tuned for how to get involved in upcoming events for the Open Infrastructure Summit in 2019.
Latest posts by Superuser
(see all)