The 18th edition of OpenStack packs a mighty punch.
Rocky is driven by use cases like artificial intelligence, machine learning, NFV and edge computing––delivering enhanced upgrade features and support for diverse hardware architectures including bare metal.
Here are highlights from the community webinar. You can listen to or download the complete webinar here, including a case study from Vexxhost, updates on community wide goals and new projects like Cyborg and Qinling. For more on the Rocky release check out the press release, release notes, source code, contributor stats and the OpenStack project map.
#OpenStack #Rocky running in production on release day! @OpenStack pic.twitter.com/MOLsxAtpHR

— Gary Kevorkian (@GARY805) August 30, 2018
Ironic
Ironic is an integrated OpenStack program that aims to provision bare metal machines instead of virtual machines. Project team lead Julia Kreger  offered updates at the 7:15 mark.
This past cycle has been about building foundations for new future features that make operator's lives easier, with a focus on scalability, she says. "We really took the feedback from the last two cycles to heart and direct what we were doing to meet that goal," Kreger adds.
Three new developments were released with Rocky:
Ramdisk deployment interface. For scientific and large scale ephemeral workloads this offers the ability to  boot up machines in a flash.
BIOS setting management. This allows operators to enable virtualization/hyperthreading, SR-IOV and DPDK and "is going to be very useful in the future for operators, they won't have to go one by one through all their servers and verify the BIOS settings and change them."
Functionality to recover machines from power faults. This solves "another operator headache. It's a minor thing with a huge impact," says Kreger.
TripleO
Alex Schultz, project team lead for the Queens and Rocky cycles, offered this update on the TripleO fast forward upgrade front, starting at the 9:53 mark. "We provide tooling for planning deployment and day two operations," says Shultz by way of introduction. "We support advanced network topologies, allowing operators and deployers to configure their services as necessary as well as offer support for updates and upgrades.
The FFU were primarily targeted in Queens but we continue to work on the effort in Rocky." We're going to continue this path, for Queens to the T-cycle." The FFU is driven mainly by Ansible.
An overview of what's new:
Airship
Chris Hoge of the OSF talked about Airship, a collection of loosely coupled, interoperable open-source tools that provide for automated cloud provisioning and life cycle management in a declarative, predictable way.
"It's in the early stages, we're still trying it out but so far it's been really fantastic," says Hoge. He encourages folks to get involved in the weekly meetings and learn more about the project by joining the mailing lists: lists.airshipit.org or on Freenode IRC: #airshipit.
Kata Containers
Eric Ernst, one of the technical leads, talked about what's new for the Kata Containers project, starting at the 26:04 mark. "A typical container is just a great process running on your Linux host and it's isolated from all the other processes running on your host," he says, adding that it's constrained on its CPU utilization and memory utilization. "In a sense, that's all containers are, a couple of features on a Linux kernel, so they're super lightweight and very fast and the design patterns that resolve from this are very strong." Kata is looking to provide a different kind of isolation – not just software but also hardware isolation.
Looking forward, there's a lot of work to do Ernst says. A 1.3 release is in the works for mid-September, including features like OpenTracing support "a big usability improvement," as well as full network and storage hot plug, a way that allows users to run a lot of things in parallel, he adds. There's a lot of other features in the works, including general security enhancements. Stay tuned for the next round.
StarlingX
"It's all singing, all dancing, very cool stuff," says project lead Bruce Jones by way of introduction to the edge cloud software stack project at the 32:50 mark. Currently on the Pike release with plans to move to Queens as soon as possible, "we're very much looking forward to going to the Denver PTG and going to talking to the community about how we align much more closely with upstream OpenStack," he says.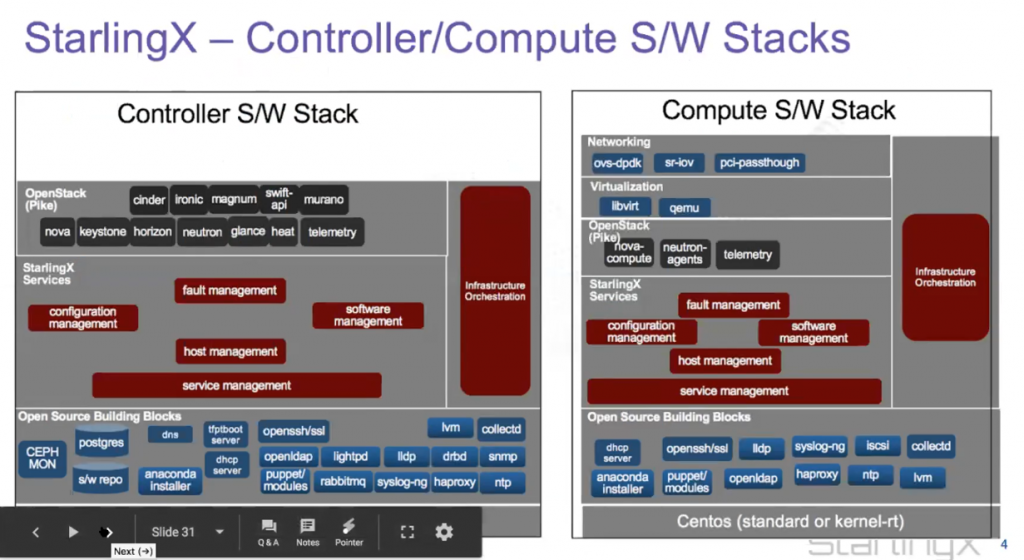 Zuul
Updates on the continuous integration and delivery program were offered by the OSF's Clark Boylan at around 36 minutes in. The tool has GitHub support and more recent work include in-line commenting on code changes, improvement to the web dashboards. Though the project was born about six years ago in-house, the OSF has been running Zuul v3 since the beginning of the year along with other users. "This is a brand new thing for us and for them and we've spent a lot of time improving it based on what we've learned as we go along."
Cover image via Lego Ideas
Latest posts by Nicole Martinelli
(see all)