Day two of the OpenStack Atlanta Summit opened with a keynote presentation from Chief Operating Officer, Mark Collier. He looked at innovation through a historical lens, detailing the ways in which OpenStack can help companies move faster.
"It has a lot to do with this massive transformation that is going on throughout the entire economy," Collier explained. "There is a revolution going on inside of global corporations. Every company has to move faster. Every company is now competing with a startup."
Going even further, he pointed to a few bold predictions to illustrate the importance of speed and agility. According to Collier, "75% of the S&P 500 will be replaced by 2027".
AT&T, Sony, and DigitalFilm Tree were all featured Superusers that spoke to the agility OpenStack has provided them. Toby Ford, AVP of IT Strategic Realization at AT&T, described the competitive advantage OpenStack is able to offer.
"AT&T has to move faster to compete, and OpenStack is helping to do that because we can expand to include workloads like Network Function Virtualization," said Ford. "I'm confident in the model, people and in the adoption that's happened."
Following an impressive video around the MLB '14 The Show release for Playstation 4, Sony's own Platform Architect, Joel Johnston, described the usability of OpenStack on the back end. From a performance perspective, by bringing OpenStack in-house, the engineering staff at Sony ensured that a real-time element could exist.
In a comical "Between 2 Ferns" parody, DigitalFilm Tree CTO Guillaume Aubuchon explained OpenStack's integral role in their business. As he described, "OpenStack is the cornerstone to almost every television show that DigitalFilm Tree does".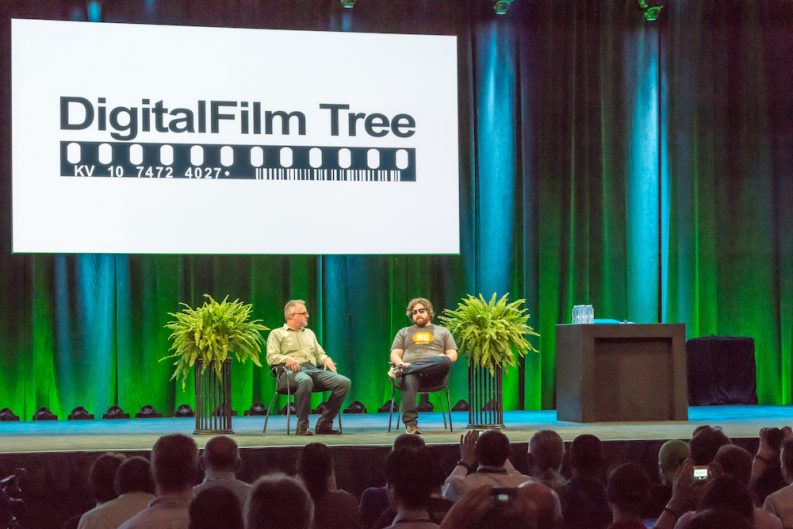 He also emphasized the importance of spreading OpenStack's message, stating that "…the next step for OpenStack is education. We need to educate a broader range of people."
The full keynote is embedded below. To skip to the talks with AT&T, Sony and DigitalFilm Tree, skip to 17:29 or just click here
Latest posts by Jordan Bresler
(see all)