Welcome to the PTL overview series, where we will highlight each of the projects and the upcoming features that will be in the next OpenStack release: Kilo. These updates are posted on the OpenStack Foundation YouTube channel, and each PTL is available for questions on IRC.
Anne Gentle — OpenStack Documentation Program, Kilo Update
Anne Gentle has been working on Documentation for 4+ years now. Over time, the growth of the project has made her and her team question:
"…how can we do this in more innovative ways?"
They are excited for the opportunity to showcase more innovation in Kilo. See the OpenStack Documentation wiki page here.
Juno Accomplishments
The Documentation team saw a lot of concrete accomplishments throughout Juno — a couple of highlights to note: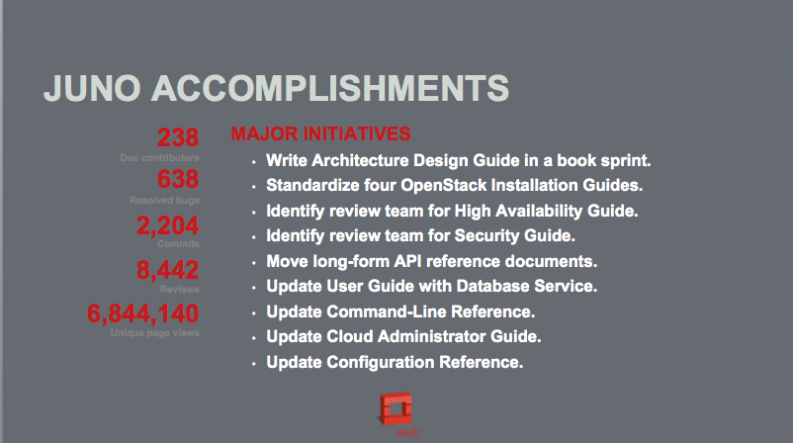 Kilo Goals
The Documentation team's mission is to provide OpenStack deployers, users, and administrators with accurate and current technical documentation, written with the same processes and tools as the OpenStack code.
Objectives for Kilo include:
Minimize driver documentation upstream by linking to vendor documentation (blueprint)
Implement new web design and information architecture (blueprint)
Optimize for automation
Provide support for project teams
Maintain API reference information
Review patches
Provide and enforce conventions
Kilo Roadmap
Quality: maintaining quality documentation that is tested, accurate, and comprehensive. This is ongoing work, consistently being improved upon. They absolutely want/need more writers and communicators that are willing to help bridge the gap to deployers and end users.
Tools: providing an accessible (and fast) tool chain for writers and contributors, migrating source docs to RST format, and making it simple to submit and edit doc bugs.
Experience: implementing a new, modern web design by using a Sphinx template, migrating select docs to RST, and providing improved information architecture.
See a sneak peek of the new landing page here: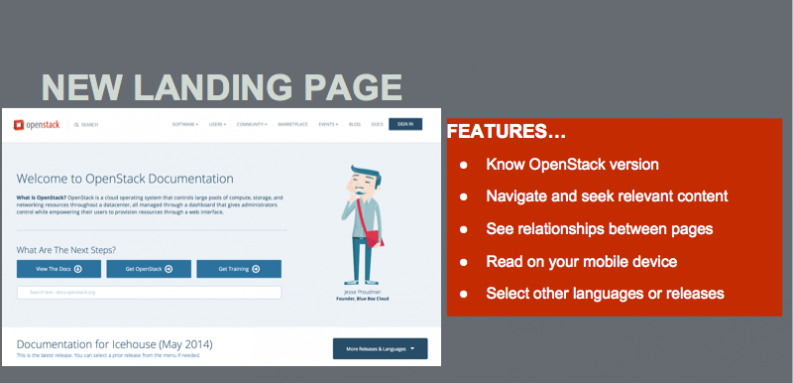 And the new page redesign here: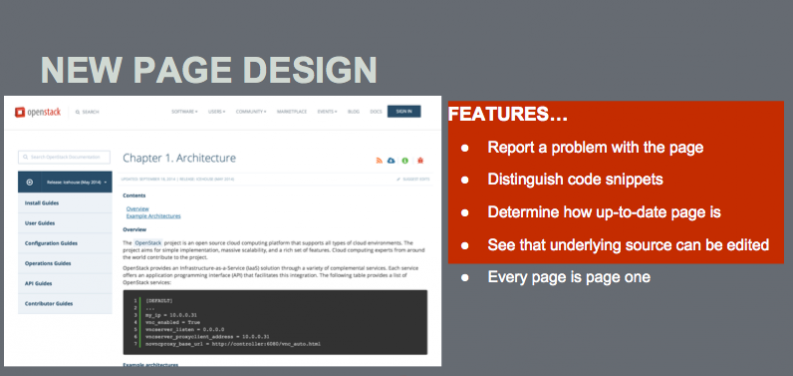 For more details, check out the Documentation Website Redesign blueprint here.
If you're interested in doc reviewing, doc tooling, quality checking, etc., contact Anne Gentle. She would love to hear from you! For a quick Documentation FAQ/"how-to," see here.
IRC: annegentle
Twitter: @annegentle
[email protected]
And of course, be sure to check out the full webinar below:
Thierry Carrez — Release Cycle Management, From Juno to Kilo
Like Documentation, Release Cycle Management serves the needs of all other OpenStack projects. The main challenge is to accompany the constant growth of the OpenStack project — they invent ways of doing what they do at the scale of software development that is happening inside of OpenStack. You can find the Release Cycle Management wiki page here.
There are three subteams dedicated to Release Cycle Management, including Integrated Release Management (before release), Stable Branch Maintenance (after release), and Vulnerability Management.
Juno Release Accomplishments
During the Juno cycle, their teams hit every single deadline and significantly evolved the development milestone publication using a more lightweight system to simplify. Icehouse support extended for 15 months. They addressed 90 vulnerability reports, and issued 24 OSSAs. Finally, they created taxonomy for incident reports to increase transparency.
They hope to exceed these accomplishments in Kilo.
Plans for Kilo
Stable Branch
The new organizational structure unpacks to:
Stable liaisons
Per-project stable maintenance teams, which is a strong departure from the current system where it's a single team reviewing patches for every project
Stable champions, who are now responsible for a particular branch, ensuring that it's usable from a continuous integration perspective
Stable release managers
Stable core
They are also introducing dependency capping, and opening up the team to showcase the work of the Stable Team branch for transparency and recruitment.
Release Management
They will have Feature Freeze (FF) on March 19, 2015. This is the peak of feature lending and gate activity within OpenStack.
The final Kilo release is planned for April 30, 2015.
A final (and big) challenge for the Release Management team, is to handle one more project that was integrated at the end of the last cycle called Ironic.
They will also make a number of changes within Release Management, including a switch to release liaisons sync points, release meeting becomes cross-project, more evolution in the Design Summit format, and new tooling to support new practices.
Vulnerability Management
They will publish OSSA directly to the security website, and adopt a new vulnerability metric based on the DREAD framework.
For questions on Release Cycle Management, please reach out to Thierry at [email protected]
@tcarrez
IRC: ttx
And again, be sure to check out the full webinar below:
Latest posts by Jordan Bresler
(see all)