OpenInfra Live is a new, weekly hour-long interactive show streaming to the OpenInfra YouTube channel every Thursday at 14:00 UTC (9:00 AM CT). Episodes feature more OpenInfra release updates, user stories, community meetings, and more open infrastructure stories.
Learn more about OpenStack Xena, the 24th release of the open source cloud computing project. Hundreds of developers from over 120 organizations delivered OpenStack Xena and this episode of OpenInfra Live will highlight some of the key features, what use cases are impacted and what operators can expect.
Enjoyed this week's episode and want to hear more about OpenInfra Live? Let us know what other topics or conversations you want to hear from the OpenInfra community this year, and help us to program OpenInfra Live! If you want to contribute to the upcoming releases of OpenStack or hire contributors who can, join the OpenInfra Foundation to help guide OpenStack software development and to support the global community.
The OpenInfra Foundation's Kendall Nelson hosted today's episode with OpenStack Xena release contributors from Ericsson, Intel, NEC Corporation, and Red Hat. Ghanshyam Mann, chair of OpenStack Technical Committee, kicked off the episode with an OpenStack Xena release overview.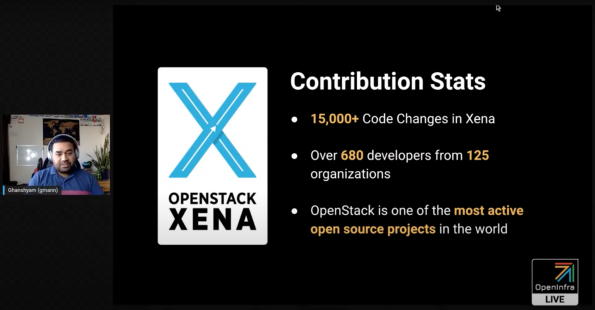 Over the span of just 25 weeks, more than 15,000 changes authored by 680+ contributors from over 125 different organizations were included in the Xena release. Supported by a vibrant and engaged community of developers globally, OpenStack is truly one of the most active open source projects in the world. Thank you to everyone who has worked together to make this OpenStack release a success!
As the 24th version of OpenStack, Xena release wields powerful hardware support, project integration to strengthen open infrastructure for cloud-native applications. Moving forward to the next OpenStack release, the community has defined the community-wide goal for the Yoga cycle which is consistent and secure default Role Based Access Control (RBAC). The community will reconvene in the virtual Project Teams Gathering (PTG) in one week to discuss additional goals for the Yoga cycle.  
Other than OpenStack Xena that the community is excited for, Venus, a new project that is for unified log management service, is gaining attraction in the community. If you are interested in using Venus or contribute to it, you can join the OpenStack IRC network on OFTC #openstack-venus.
Allison Price, director of Marketing & Community at the OpenInfra Foundation, brought us the exciting findings from this year's OpenStack user survey. 
With the new 24th release, OpenStack is deployed in production more widely than ever. Over 100 new OpenStack clouds have been built in the past 18 months, growing the total number of cores under OpenStack management to more than 25,000,000 cores. With seven OpenStack users who have now grown to 1M+ cores, including Workday who doubled their footprint since the November 2020 Summit and China Mobile who now has 6 million OpenStack cores in production, the world truly "runs on OpenStack." You can read more on the incredible growth of the OpenInfra Foundation and its projects here.
For everyone who can't wait to hear more about how these new and growing users are using OpenStack, Price disclosed that there will be more use cases coming up in November. Make sure you are subscribed to the OpenInfra community newsletter to not miss out on these exciting news!
The community will release the full user survey report during the upcoming virtual event, OpenInfra Live Keynotes on November 17-18. Make sure to register for the event for free and learn more about OpenStack trends and how people are using OpenStack!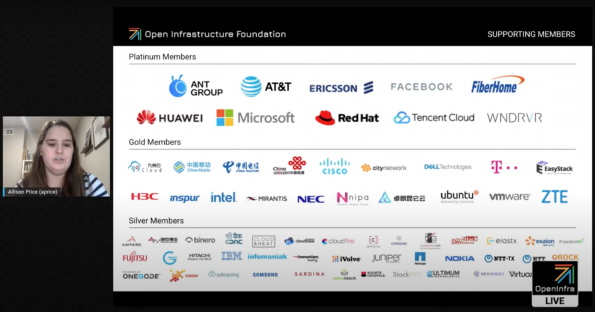 Of course, the growth of the OpenStack project is not possible without the support of all of the OpenInfra Foundation members and the global community. We encourage you to join this strong momentum in helping achieve the OpenInfra Foundation mission: Build open source communities who write software that runs in production.
Xena Release Theme #1: Integration Among OpenStack Projects
Tom Barron, OpenStack Manila contributor at Red Hat, explained how Manila, OpenStack Shared File systems service, integrates with the rest of OpenStack and delivers a unified experience for its users.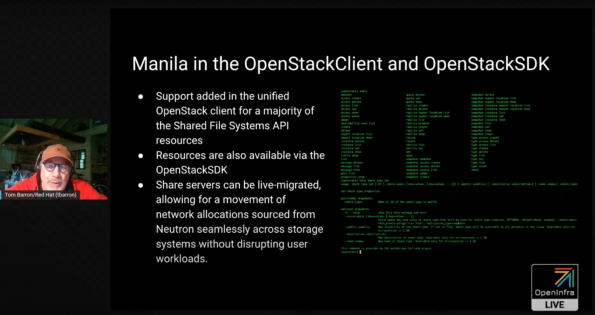 The Manila project community members not only worked hard to improve the project, but also mentored three Outreachy interns who are Senior Design students from Boston University during this cycle. Together, they added support for numerous API resources in the OpenStackSDK. This multi-release effort is also expected to be featured and completed in the Yoga cycle.
They are continuing to spearhead this via their outreach efforts to grow the OpenStack contributor base, and the manila community. The work in Yoga is going to be led by a group of graduate students at Northeastern University.
Dan Smith, senior principal software engineer at Red Hat, introduced Glance's new user quota feature which uses Keystone unified limits. The Keystone unified limits functionality allows users to store both registered limit and project limit in Keystone in one place and have the other projects use that as part of their quota enforcement. 
There are many benefits of using unified limits, and the Glance project has never had true resource quotas. In the Xena release, Glance implemented per-tenant quotas out of the gate using Keystone limits functionality to store the actual limits. Therefore, Keystone stores the upper limit, and Glance calculates the amount used.
Xena Release Theme #2: Support for Advanced Hardware Features
Balázs Gibizer, OpenStack Nova Project Team Lead (PTL), walked us through the Cyborg and Nova integration history. 
In the Ussuri release, Nova and Cyborg integration means that it plugs Cyborg managed accelerators to Nova managed VMs. In the Wallaby release, his project team added support for other lifecycle operations such as shelve/unshelve support for accelerators. With the need that SmartNICs are represented as Neutron ports, in the newest Xena release, Nova, Neutron and Cyborg are integration to support Neutron ports with vnic_type=accelerator-direct representing a SmartNIC managed by Cyborg to be plugged to Nova VMs. Gibizer went into details on what the Cyborg managed SmartNIC support looks like in Nova.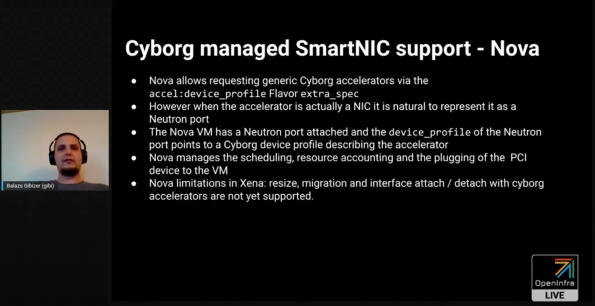 Lajos Katona, senior developer at Ericsson Hungary Research and Development Center, explained that for Neutron, the need was to have a new field for the Port: device-profile, which is an accelerator name from Cyborg.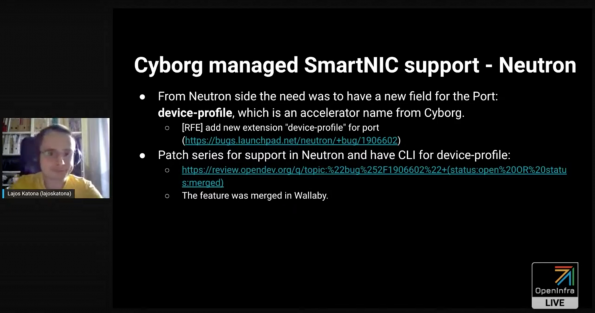 Xinran Wang, OpenStack developer at Intel, talked about the Cyborg implementation which is responsible for device discovery and device assignment. The slide below explained how the device assignment is different from the generic device assignment.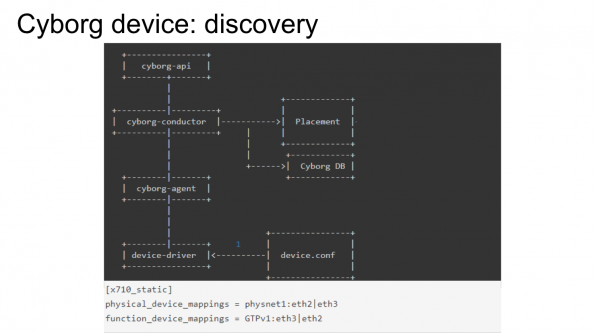 Xena Release Theme #3: Buy Back of Technical Debt Accumulated During the Previous Releases
Brian Rosmaita, former Cinder PTL for Xena and future Cinder PTL for Yoga, kicked off his section by explaining what technical debt is and why it is bad. 
If you have been in the technology software industry for a while, chances are you've heard of the term "technical debt". Technical debt is the shortcuts you take to hit a delivery target, with the idea that you'll come back and make them more robust later. In a word, technical debt is the result of prioritizing speedy delivery over perfect code. If software developers let technical debt to accumulate with more new delivery targets to meet, technical debt becomes bad. 
So how did Cinder's team address technical debt? They addressed it by 
removing the Block Storage API v2

beginning the transition away from SQLAlchemy-migrate toward alembic

completing part 1 of a two-cycle initiative toward "Secure and Consistent RBAC"
You can see the Cinder Xena release notes for more info.
Continuing on with the technical debt discussion, Katona walked us through how Neutron's team reduced technical debt by changing notifications from publishing to notify and changing from unstructured kwargs to call back objects. Watch the episode live stream from here to find more information about all the technical debt that Neutron's team has reduced.
Questions from the live stream audience:
How can one contribute to the OpenStack Yoga cycle? 
What are the upcoming plans in PTG from all the project teams and what are the plans for the Yoga release?
Next Episode on #OpenInfraLive
Networking is complex, and Neutron is one of the most difficult parts of OpenStack to scale. In this episode of the Large Scale OpenStack show, we will explore early architectural choices you can make, recommended drivers, features to avoid if your ultimate goal is to scale to a very large deployment. Join OpenStack developers and operators as they share their Neutron scaling best practices.
Tune in on Thursday, October 14 at 1400 UTC (9:00 AM CT) to watch this #OpenInfraLive episode: Large Scale OpenStack: Neutron Scaling Best Practices.
You can watch this episode live on YouTube, LinkedIn and Facebook. The recording of OpenInfra Live will be posted on OpenStack WeChat after each live stream!
Like the show? Join the community! 
Catch up on the previous OpenInfra Live episodes on the OpenInfra Foundation YouTube channel, and subscribe for the Foundation email communication to hear more OpenInfra updates!