MELBOURNE, Australia — OpenStack all-stars converged on the scene at CONNECT 2015, a large annual trade show organized in partnership with the Victorian Government.
The daylong conference dedicated to OpenStack was specifically designed for cloud leaders, technology decision-makers and heads of infrastructure and innovation to learn more about OpenStack; to discover the benefits of open source and its community; and to outline concrete steps that businesses can take to decide if an OpenStack Cloud is right for them.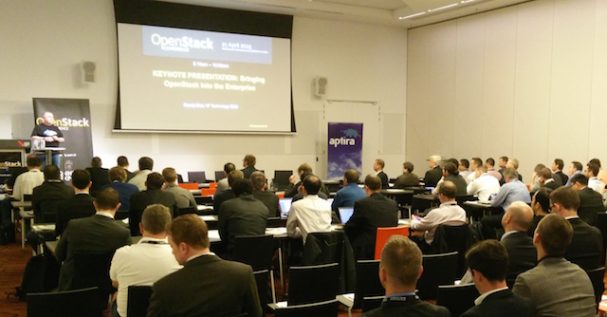 Randy Bias delivers the keynote.
By all accounts they delivered. Randy Bias, currently vice president of technology at EMC and a well-known and outspoken supporter of OpenStack, led the charge with a keynote titled "Bringing OpenStack into the Enterprise," that you can catch the flavor of with his slide deck.
Good to know that software eating the world is consistent everywhere. #OpenStack track at @connect_au pic.twitter.com/tbQ7DLq6ww

— Randy Bias (@randybias) April 21, 2015
Bias also moderated a lively panel on the rise of the superuser which featured David Medberry of Time Warner Cable, Mike Dorman of GoDaddy, Glenn Moloney from the [NeCTAR project](http://www.nectar.org.au/), and Rik Harris at telecommunications giant Telstra.
There was standing-room only to hear Erez Yarkoni, the CIO of Telstra, speak on "The next step in our cloud partner journey," a peek into the company's new [cloud-first approach.](http://www.itnews.com.au/News/402968,telstra-turns-to-cloud-for-own-application-resiliency.aspx) Yarkoni hit the crowd with some eye-opening numbers, saying that 80 percent of [Fortune 500 companies use OpenStack](https://twitter.com/Telstra_EntGovt/status/590383079728017408) and that [the number of developers will triple by 2020.](https://twitter.com/Telstra_EntGovt/status/590385848190799872) In that landscape, he said, the open cloud platform is growing quickly as enterprises look to [avoid vendor lock-in.](https://twitter.com/Telstra_EntGovt/status/590382547135168512)
Other talks included Michael Still, senior software development manager at Rackspace and the project team lead for [Nova Compute](http://www.openstack.org/software/openstack-compute/) – the primary OpenStack project. His talk on deployment recommendations, touching on issues including scale, hypervisors, networking and testing, was based on a post from his [personal blog.](http://www.stillhq.com/openstack/000019.html) [Mike Dorman](https://twitter.com/misterdorm) of GoDaddy spoke about how the OpenStack cloud platform enables innovation and efficiencies and shared his [slides](http://www.slideshare.net/MikeDorman1/openstack-cloud-platform-enables) from the talk, too.
Feeling warm at the future of @openstack, fireside, @connect_au pic.twitter.com/bl9CQPBzw5

— Katrina Clauscen (@AptiraKat) April 21, 2015
A fireside chat brought the heat at midday with OpenStack Foundation Board Director [Tristan Goode,](https://twitter.com/tristangoode) CEO of [Aptira,](http://aptira.com/) and [Tom Fifield,](https://twitter.com/TomFifield) community manager from the OpenStack Foundation and members of the Foundation ecosystem, including Red Hat and [Brocade.](http://www.brocade.com/solutions-technology/technology/openstack/index.page)
If you missed them in Melbourne, you can catch many of these ace speakers at the upcoming [OpenStack Summit in Vancouver:](https://www.openstack.org/summit/vancouver-2015/)
[Cover Photo](https://www.flickr.com/photos/huskyte/6992463587) by [Michael Theis](https://www.flickr.com/photos/huskyte/) // CC [BY NC](https://creativecommons.org/licenses/by-nc/2.0/)
Latest posts by Nicole Martinelli
(see all)