The meetup included 4 presentations from community members including representatives Dr. Abhisak Chulya (CEO of NIPA Cloud), Khomkrit Vaingvises (Principal Engineer at Nipa Cloud), Thitipat Jirakarnjanakorn (Systems Engineer at Juniper Networks) and Charnsilp Chinprasert (CTO of Nipa Cloud).
Check out some of the photos from the event and read the summaries from each of the speakers' presentations below. You can also join the Thailand community for their next meetup on Friday, June 3rd onsite or online!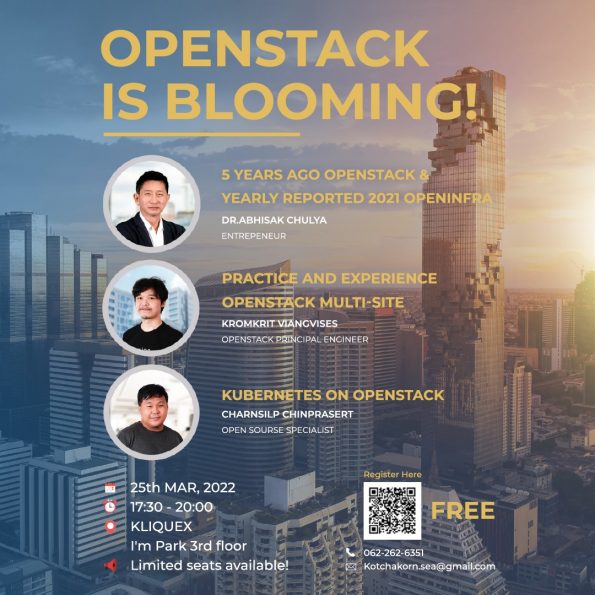 Session 1: 15 years ago – OpenStack & 2021 OpenInfra Annual Report
Dr. Abhisak Chulya, CEO, NIPA Cloud
"We had organized OpenStack meetup since 2016 and had stopped when the pandemic startedat the end of 2019. After two years in hibernation, we are now ready to start a new chapter ofOpenStack community under a new group name: Open Infrastructure Official Group Thailand.My name is Abhisak Chulya, CEO of NIPA Cloud. Our objectives are still the same. We want toprovide the opportunity and knowledge of Open-source infrastructure for Thai community so thatthey can understand the strength of open source and how to make use for their own innovation in their companies.
In my presentation, I talked about the history of what we had done in the past and what we plan to accomplish for the future of open infrastructure for Thailand. Give our audience about how far OpenStack has come and why it's very important for us to be a part of the Open Infrastructure community which is connected around the world. I finished my presentation by talking about 2021 OpenInfra Annual Report: The growth of OpenStack and adoption rate, community collaboration, OpenInfra Projects updated, and Microsoft joined OpenInfra.
We truly believe that we will gather a strong community and reach out to those who may not understand why Open Infrastructure is very important for the future of Thailand for digital transformation and competitive innovation."
Session 2: Practice and Experience OpenStack Multi-site
Khomkrit Vaingvises, Principal Engineer, Nipa Cloud
"My name is Khomkrit Vaingvises. I am the Principal Engineer of Nipa Cloud. At the OpenStack is Blooming Meetup, I presented my experience of multi-site implementation, including fundamental practice and problems related to multi-site both multi-region and multi-availability zones. This presentation's goals were to experience and solve problems while implementing them. At the end of the session, I did a Q&A with the Thailand Community."
Session3: Tungsten fabric open tech
Thitipat Jirakarnjanakorn, Systems Engineer, Juniper Networks
"My name is Thitipat Jirakarnjanakorn, and I work for Juniper Networks as a Systems Engineer. I am primarily responsible for designing and transforming traditional data centers into private-cloud data centers for a number of customers. I presented the big picture of how to get there at the meetup, contrasting SDN on networking infrastructure (e.g. SDN for network fabric)with pure-software SDN (e.g. Tungsten Fabric aka Contrail Networking). Discussing their benefits and drawbacks. Introducing new and exciting features like Multi-cloud, Multi-cloudservice chaining, Remote Compute, and its optimization to avoid the trombone effect.
I also discussed some real-world remote computing applications in the 5G mobile service network, which is a major driver of cloud and distributed data-center networking.
My presentation's purpose was to enhance understanding of the cloud data center's role in modern network architecture and the SDN options available. The event is an excellent opportunity to network with Thailand's cloud computing community."
Session 4: Kubernetes on OpenStack
Charnsilp Chinprasert, CTO, Nipa Cloud
"My name is Charnsilp Chinprasert (Tek), CTO of Nipa Cloud. In my session, I presented about deploying Kubernetes on OpenStack, and how there can be integration together? Moreover, I alsodemonstrated the working process.
In the demonstration, I showed how to create a Persistance Volume Claim in Kubernetes and a CSI-Plugin. There is a collaboration between Kubernetes and OpenStack to create, attach and mount Volume to Kubernetes Pods.
The goal of this presentation is for people running Kubernetes on GCP, AWS, and AZURE to migrate to OpenStack while still retaining global cloud capabilities such as Loadbalance and volume with a view to security and the privacy of the Private Cloud."
Join the Thailand community for their next meetup on Friday, June 3rd onsite or online!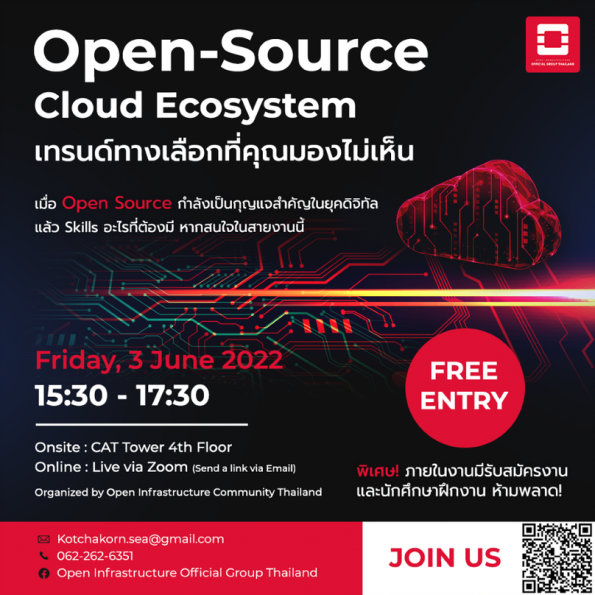 Interest in more local events?
Take a look if there is a local user group in your area. Don't see one and want to start one? Reach out to [email protected] to learn how to start an OpenInfra user group!
Check out the slides!
Latest posts by Helena Spease
(see all)