OpenInfra Live is a weekly hour-long interactive show streaming to the OpenInfra YouTube channel every Thursday at 14:00 UTC (9:00 AM CT). Episodes feature more OpenInfra release updates, user stories, community meetings, and more open infrastructure stories.
The hybrid cloud marketing is expected to reach $145 billion USD by 2026 and organizations worldwide are deploying a combination of open source and proprietary tools in production for this use case. Join us on OpenInfra Live as we kick off a series of episodes to talk about the organizations deploying hybrid cloud environments, the technologies they're working with and the vendors who are supporting the production use cases.
Enjoyed this week's episode and want to hear more about OpenInfra Live? Let us know what other topics or conversations you want to hear from the OpenInfra community this year, and help us to program OpenInfra Live!  If you are running OpenStack at scale or helping your customers overcome the challenges discussed in this episode, join the OpenInfra Foundation to help guide OpenStack software development and to support the global community.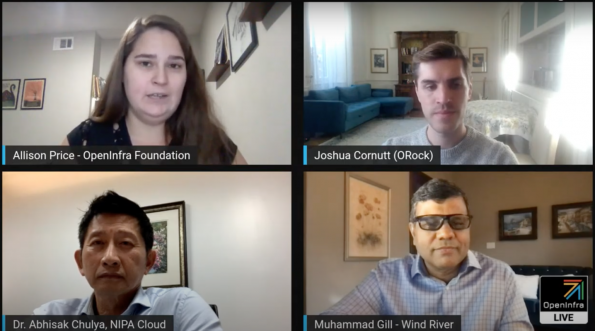 For this week's OpenInfra Live episode, Allison Price, Director of Marketing & Community at the OpenInfra Foundation, welcomed speakers from Wind River (OpenInfra Foundation Platinum Member), Nipa (OpenInfra Foundation Gold Member), and ORock Technologies (OpenInfra Foundation Silver Member). 
Hybrid Cloud Market:
Hybrid cloud uses cases are one of the use cases that the OpenInfra Foundation has been prioritizing for a long time. According to Mordor Intelligence, The Hybrid Cloud Market was valued at USD 52.16 billion in 2020 and is expected to reach USD 145 billion by 2026. IBM partnered with ​​O'Reilly on a study on how open source plays a key role in the hybrid cloud use cases. Based on this study, 70% of respondents prefer one based on open source, when choosing cloud providers.
How do people integrate OpenStack in their hybrid cloud environments? Based on the most recent OpenStack User Survey results, over 200 User Survey respondents run a hybrid cloud environment with OpenStack. They integrate OpenStack with:
AWS: 53%

Azure: 40% 

GCE: 30% 

Another OpenStack cloud: 47% 

OpenStack-powered public cloud: 13% 

Other: 8% 
Hybrid cloud is obviously an area everyone wants to play in, but at the same time, everyone seems to have a slightly different definition of what hybrid means.
Wind River—OpenInfra Platinum Member
Muhammad Gill, VP of Industry Solutions at Wind River, kicked off with Wind River's hybrid cloud strategy. The edge cloud platform, called Studio, is built upon StarlingX which is an OpenInfra project that is 100% open source.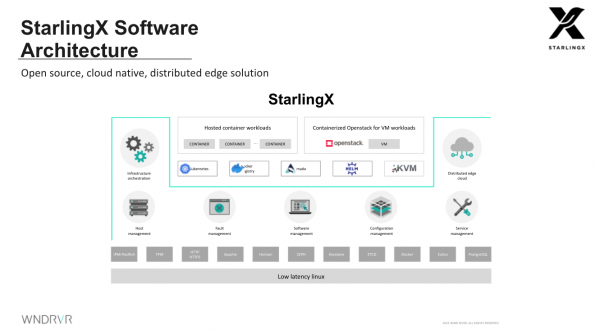 Wind River Studio includes integrated distributed cloud, OpenStack, orchestration, and analytics capabilities so that operators can deploy and manage their 5G edge networks globally. It is the first in a series of user experiences from Wind River that will deliver an AI-infused platform that constantly and dynamically adds new sets of capabilities, seamlessly deploying them where and when they are needed. The core components of Studio include: 
Studio Cloud platform: a completely cloud-native,  Kubernetes and container run-time technology that is designed for distributed cloud use. 

Studio OpenStack: High scale VM support in-built into the platform. It's a containerized solution. This eliminates the need for a cloud operator to run two different infrastructures one for VMs and one for containers these are built into the same technology stack. 

Studio Analytics: This is the day 2 operations enablement I mentioned earlier. It provides visibility across the entire network as it operates 

Studio automated operations composer: a full automation platform 
Wind River's model is upstream first open source model where they contribute engineering R&D, test, regression management, product management and bug fix to the StarlingX community then downstream it, harden it for commercialization. You can check out Wind River's ecosystem activities below: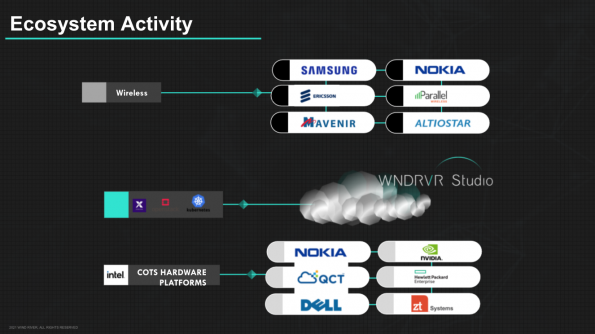 At OpenInfra Live: Keynotes on November 17-18, Wind River will join Vodafone and Dell Technologies discussing StarlingX and its use in OpenRAN and vRAN applications. Make sure you register for the event and don't miss this panel discussion!
Nipa—OpenInfra Gold Member
Nipa Technology Co., commonly known as Nipa Cloud, is a leading cloud service provider based in Thailand. It is also the first company representing Thailand to become a Gold Member of the Foundation. Dr. Abhisak Chulya, CEO at Nipa, kicked off with Nipa cloud's hybrid cluod strategy:
Provide enterprise public cloud and large cloud storage with three  Availability Zones. 

Provide private cloud to large corporates. 

Provide edge cloud throughout Thailand as close as possible to users with large storage.
Nipa Cloud was launched in 2017 when Nipa Technology, which previously focused on digital marketing and ISP services, received a grant from Thailand's National Innovation Agency (NIA) to develop leading-edge cloud information technology. That year the company launched the first full-service OpenStack public cloud in Thailand, which was designed and developed fully by Thai talent. The company also developed its own efficiency-enhancing platform software known as Nipa Cloud Platform (NCP), which creates a user-friendly interface for navigating the cloud infrastructure.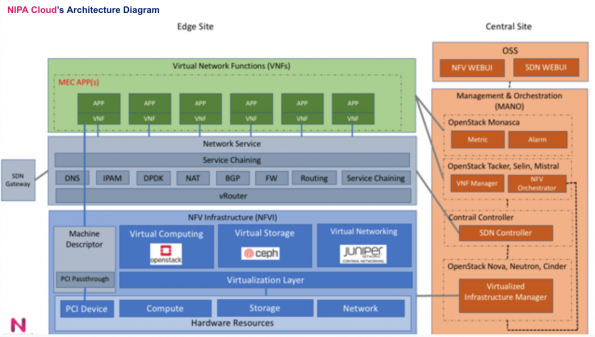 ORock Technologies—OpenInfra Silver Member
ORock's open-source cloud infrastructure powers interoperability and workload portability at speed and scale. Its cloud solution deploys its customers' applications on an enterprise-class, open-source cloud that powers interoperability, faster data retrieval and computing performance.
Joshua Cornutt, CTO at ORock Technologies, gave us a brief overview of what ORock's stack looks like: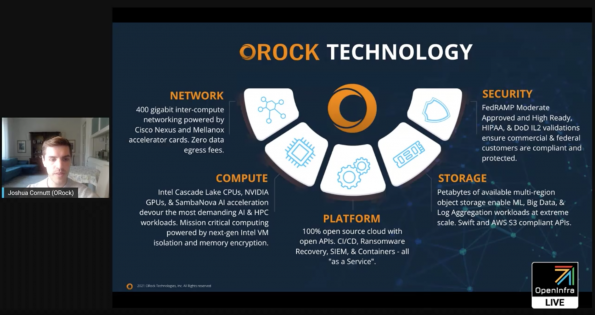 Cornutt highlighted one of his team's recent hybrid cloud success stories with US ARMY Applied Cyber Technologies (ACT). ACT, part of the Defense Cyber Operations (DCO) program, needed a hybrid cloud CI/CD solution to automate the building, hardening, testing, and reporting of baseline VMs for all DCO systems. D.R.U.I.D. (Defense Cyber Operations Resource for Updates, Innovation and Development) – is built on a combination of ORock's and DCO's OpenStack clouds, relying on Ceph object storage for intelligent syncing of artifacts between environments.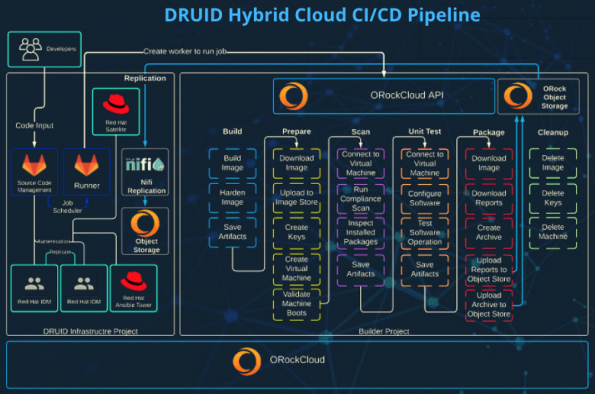 OpenInfra Live: Keynotes
Enjoyed OpenInfra Live episodes? You will love OpenInfra Live: Keynotes, November 17-18! 
This two day, two-hour per day, special edition of OpenInfra Live is your best opportunity to: 
interact with leaders of open source projects like OpenStack and Kubernetes to hear how the projects are supporting OpenInfra use cases like hybrid cloud

gain insight into hybrid cloud economics and the role open source technologies play 

celebrate as we announce this year's Superuser Awards winner.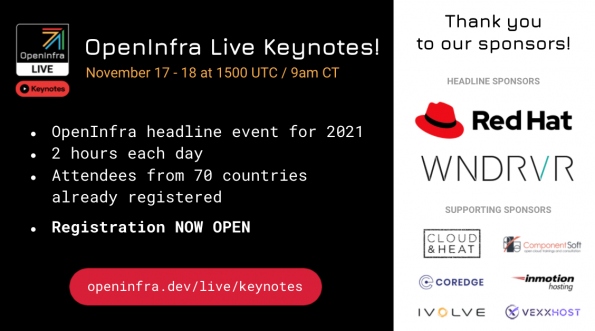 Join us at OpenInfra Live: Keynotes to hear visionary experts discussing why specific deployments have crossed the million core threshold along with exclusive announcements, live demos, OpenStack + Kubernetes, and cloud economics!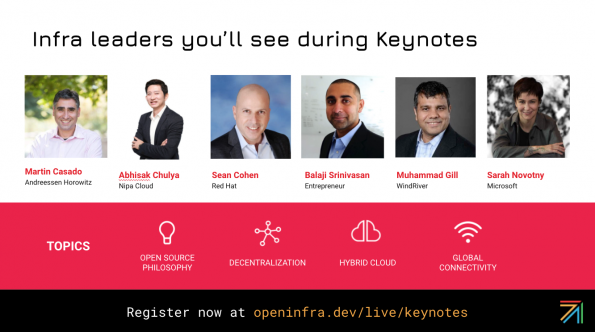 Next Episode on #OpenInfraLive
Join us on Thursday, November 11th at 1500 UTC (9:00 AM CT) to watch the next OpenInfra Live episode: OpenStack Is Alive: Explosive Growth Among Production Deployments
The 2021 User Survey shows that the footprint of OpenStack clouds grew by 66% over the last year, totaling over 25 million cores in production. This increase has been contributed by organizations of all sizes around the world. During this episode of OpenInfra Live, we are going to talk to operators from Kakao, LINE, Schwarz IT, NeCTAR and T-Systems about what's causing this OpenStack growth at their organization.  
Like the show? Join the community! 
Catch up on the previous OpenInfra Live episodes on the OpenInfra Foundation YouTube channel, and subscribe for the Foundation email communication to hear more OpenInfra updates!