TAIPEI, Taiwan — Similar to the popular Taiwanese pineapple cake that expertly pairs a sturdy crust with gooey jam, traditional IT hardware companies here are integrating software capabilities into their offerings. In July, over 1,000 attendees met at OpenStack Days Taiwan to discuss this integration, its impact on the cloud landscape as well as emerging OpenStack use cases like Internet of Things (IoT) and edge computing.
OpenStack Taiwan Day! Woohoo! pic.twitter.com/GSFv4eNyRA

— Rico Lin (@ricolintw) July 18, 2017

In this cloud era, software-hardware integration is the strength that Taiwan's industry must build on to seize the opportunities created by the global growth of OpenStack.
Emergence of IoT and edge computing
Thor Chin, chief architect at WinStack delivered a keynote highlighting the expected growth in the IoT over the next eight years and the impact this will have on edge computing, an emerging use case that Verizon shared at the OpenStack Summit Boston and will be the focus of the upcoming OpenDev event in September where industry experts will gather to develop the open source requirements to deliver compute at the edge. Business Insider Intelligence estimates that 5.6 billion IoT devices owned by enterprises and governments will use edge computing for data collection and processing in 2020 and global revenue for artificial intelligence products and $4.8 trillion in aggregate IoT investment between 2016 and 2021.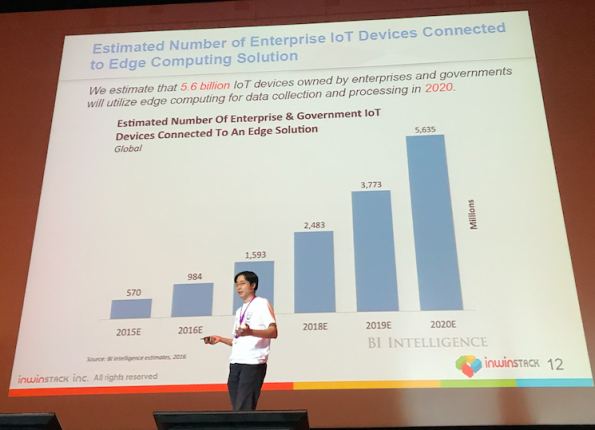 AI is currently on the road map for Gemini Open Computing Inc, a Taiwan-based cloud provider. They've made inroads in Japan with an in-house-developed OpenStack monitoring cloud solution, now deployed by Tokyu Railway, one of Tokyo's six major subway companies, to monitor level crossings. Through the city's 4G network, imaging from the company's wireless monitoring devices is transferred back to the cloud engine room at headquarters, where real-time observation of screen displays of the crossings has already improved incident handling and traffic safety. The next stage will be integrating AI into this system to identify and analyze traffic situations and issue real-time alerts.
CloudCube Co., Ltd. is another Taiwanese organization working with OpenStack. Since June 2016, CloudCube has worked with the provincial government of Hubei to roll out the Chutian Cloud Data Center Project, part of the Smart Hubei program. The Chutian data center will collect and store all of the province's demographic, economic, geographical and additional information in a database, which will feed into 394 application systems and 52 departments to ensure seamless information sharing throughout the province's public sector.
In just six months, CloudCube has successfully built an OpenStack architecture for six regions, covering 1,000 physical servers, the largest such deployment by a Taiwanese cloud service provider ever.
"In order for businesses to survive, they have to integrate IT trends on a common infrastructure," said Alan Clark, the director of the OpenStack Foundation board of directors. "The way to do that is to use OpenStack where you can use these new technologies including virtualization, containers and bare metal."
Cover Photo // CC BY NC
Latest posts by Allison Price
(see all)