A sold-out crowd gathered at OpenStack Day Seattle focusing on enterprise and telco strategies.
The first annual event in the center of cloud computing welcomed community members for three tracks and more than 20 sessions. Held at the historic Washington Athletic Club, the venue capacity did not stop 300 folks from tuning in via live stream.
Michael Mattmiller, CTO for the City of Seattle, welcomed attendees to the Emerald City, a place he says that will grow by more than 120,000 people in the next 20 years due to the strength of the technology industry in Seattle, a trend that he likened to the rapid growth of the OpenStack community and ecosystem.
"It's amazing when you see a strong technology that can enable business, people to be productive and you can attract talent to be interested, the goodness that can happen," he said.
Jonathan Bryce, executive director of the OpenStack Foundation, took the stage to welcome attendees, some local, but others visiting from Japan, France and Ireland.
Bryce passed the mic to Nick Gerasimatos, the director of cloud services engineering at FICO, who we first heard from at the Vancouver Summit.
In Seattle, Gerasimatos discussed what FICO does and why the credit scoring company decided to implement OpenStack.
"Much more than credit scoring, we basically find ways to integrate automation into large scale financial institutions," he said. "Ninety percent of all lending decisions in the U.S. rely on the FICO score system."
Additionally, 2.5 billion credit cards globally are protected by FICO fraud systems.
So why did FICO choose OpenStack? Manageable lifecycle, guaranteed interoperability, simplified deployment, security and compliance are a few of the reasons that Gerasimatos shared.
FICO uses #OpenStack today – scalability and flexibility of #OpenStack #OpenstackSEA pic.twitter.com/DYnYEDmW8i

— Arun Dev (@arundev) August 20, 2015
Ken Hui, the director of tech marketing and partner alliances at Platform9 Systems, later lead a panel of leaders within the OpenStack community to continue the enterprise adoption discussion, including what challenges can stall implementation.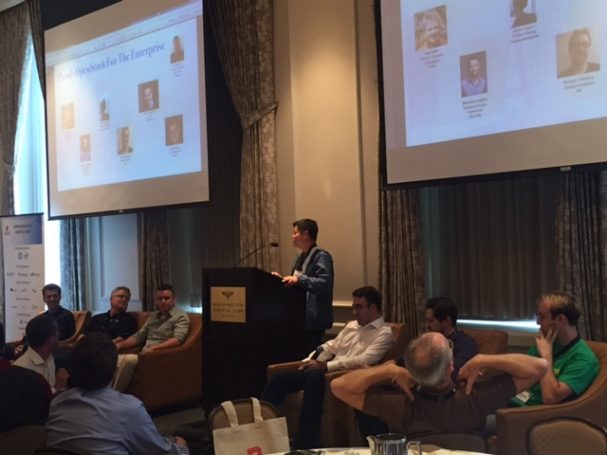 From left to right: Sean Roberts, Alan Clark, Mark McLoughlin, Ken Hui, Arturo Suarez, Jesse Proudman and Morgan Fainberg
Mark McLoughlin and Arturo Suarez discussed the additional need for training resources so that people can be advised on how to make the tough decisions.
Sean Roberts, vice president of development at Akanda Inc., then added the training standards that the Foundation is developing to overcome these challenges.
"There hasn't been a broad set of standards, but that effort is going on right now," he said. "People outside of our industry can start understanding what an OpenStack expert is."
Diversity was also encouraged at the event through scholarships and highlighted with diversity panel during the morning session. Even though only 10 people applied for the scholarship, event organizer Sriram Subramanian said that this is an initiative he plans to continue at future OpenStack Day Seattle events.
"Anyone in OpenStack should feel welcome and trusted to do their job." Great conversation on diversity @jilljubs @openstackSEA

— Zach Leonardi (@zach_leonardi) August 20, 2015
"I've always wanted to encourage more participation, more inclusion similar to the Women of OpenStack initiative," he said. "Even before the panel developed, I offered the scholarships and tried to recruit women speakers to encourage diversity."
To hear more from FICO or any of the morning sessions — ranging from Docker integration to automation strategies — check out the full presentations on the OpenStack Seattle YouTube channel.
Cover Photo by Wouter Verhelst // CC BY NC
Latest posts by Allison Price
(see all)