At the recent Sydney Summit OpenStack project team leads (PTLs) and core team members offered updates for the OpenStack projects they manage, what's new for this release and what to expect for the next one, plus how you can get involved and influence the roadmap.
Superuser features summaries of the videos; you can also catch them on the OpenStack Foundation YouTube channel.
What Nova, OpenStack's compute service. The project aims to implement services and associated libraries to provide massively scalable, on demand, self-service access to compute resources, including bare metal, virtual machines and containers.
Who: two Nova core contributors Matt Riedemann of Huawei and Melanie Witt of Red Hat.
What's new
Witt offered an overview of new features delivered with the Pike release: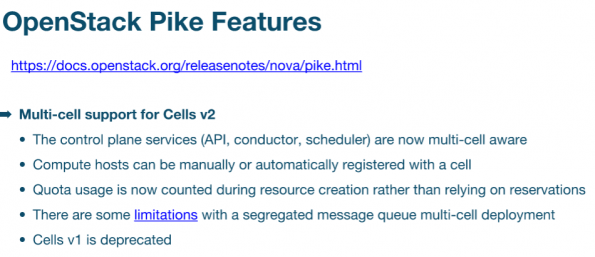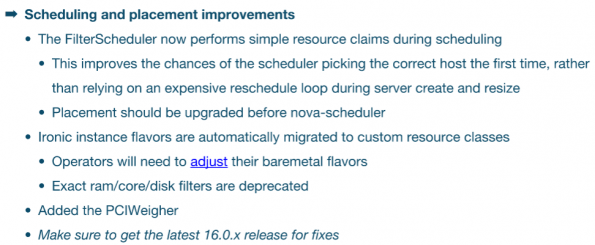 Other improvements include four main microversions. There are more – which you can find under "new features" in the release notes – but Riedemann says "these are the sexy user-API microversions, instead of the technical-debt deprecated stuff…"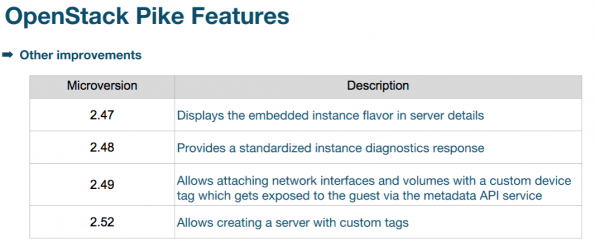 What's next
Here's what to expect for the upcoming Queens release.



"The big efforts have to do with cells v2," Riedemann says. "In Pike, you can list instances across cells but we're not merge-sorting results so you get this barber pole stripe, it's an unsorted list of cells, in Queens that's been fixed. Regardless of the number of cells you'll get a merged sorted result."  You can check out all the specifications for the next release here.
Get involved!
Use Ask OpenStack for general questions
For roadmap or development issues, subscribe to the OpenStack development mailing list, and use the tag [nova]
Check out the Nova wiki for more information on how to get involved – whether you're just getting started or interested in going deeper. Participate in the weekly meetings: Thursdays alternating 14:00 UTC (#openstack-meeting) and 21:00 UTC (#openstack-meeting).
View the entire 40-minute session below and download the slides here.
Latest posts by Superuser
(see all)