Over 10 years of development, OpenStack has become one of the largest and most active open source technologies in history. In 2010, when OpenStack was launched, it promoted the development of cloud computing technology at that time. Today, with the emergence of technologies such as bare metal, virtual machines, and containers, cloud computing has also entered a new stage of development.
With the rapid development of cloud computing, same for the home of OpenStack, the OpenStack Foundation has officially evolved into the Open Infrastructure foundation (OpenInfra Foundation), further expanding its mission and goals, and building new open source infrastructure software with companies from multiple industries around the world.
Last month, the OpenInfra Foundation and five of its Platinum members, Ant Group, Fiberhome, Huawei, Red Hat and Tencent, held a press conference in the form of an online and offline combination in Beijing, China. They shared the latest development of the OpenInfra communities and the extensive use cases of their open infrastructure projects in fields such as artificial intelligence (AI), 5G and edge computing.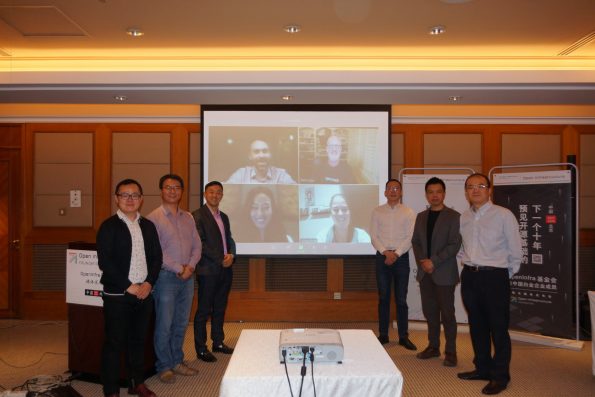 Platinum Members Highlight
Chao Feng, director of Ant Group's technology strategy development department, said that Ant Group has always focused on two aspects: synergy and standardized solutions. He said, "At Ant Group, we believe you can only do OpenInfra right by working with the community together. As our strategy is building open source projects to solve industry's long term challenges, it is critically important that the OpenInfra projects have synergies among each other that can be seamlessly deployed together. Among them, Kata Containers is our most important OpenInfra project. Internally, Ant Group already has the largest deployment of Kata Containers. It withstood the payload challenges that Ant Group was facing, especially during the peak usage like 'Double Eleven Day' and 'Double Twelve Day.'"
Gang Chen, chief architect of FiberHome, also said that "there is an urgent need to build a unified distributed multi-cloud management platform, realize the overall planning and construction, unified management and scheduling, and unified operation services, improve the level of cloud service capability, promote information collaborative sharing, and improve resource utilization efficiency. Based on open-source technology, Fiberhome builds a safe and controllable 'AVIC cloud' for Aviation Industry Corporation of China (AVIC), supports its business in the cloud internally and provides proprietary cloud services to specific industries and government agencies externally. It can fully realize t + 0 / T + 1 resource delivery, support 250,000 + system management capacity, comprehensively reduce system operation and maintenance costs, and fully dock with multiple public clouds, so that the global business of AVIC can be arranged as a whole to meet the requirements of nearby deployment and delivery."
He also revealed that in the future, Fiberhome has plans to contribute to the foundation's multi cloud management platform project. Teams will actively cooperate with the global OpenInfra community to attract more partners and contribute to the OpenInfra community.
Ren Xudong, chief liaison officer of Huawei Open Source, said that Huawei's NFVI solution provides an integrated platform, relying on the OpenStack enhanced Huawei Fusionsphere to build an open, agile and reliable cloud operating system and Telecom cloud solutions. As of Q1 2021, Huawei cloud core network has signed more than 900 commercial contracts for telecom cloud network elements, with more than 500 data centers.
He emphasized that "open infrastructure is widely used in the field of telecom cloud and edge computing. We believe that there will be more application scenarios and cases in the future, which will enable the digital transformation of the industry and achieve commercial success with the help of OpenInfra."
Wenbin Zhao, marketing director of Red Hat in China, said that Red Hat will continue to practice the open hybrid cloud strategy. Open infrastructure is an important part of the open hybrid cloud, and Red Hat will devote itself to open infrastructure and in operation for a long time. All of Red Hat's product lines are based on the open source communities. On the basis of open source technology and open source communities, Red Hat will launch its own product releases, which can truly be used in an enterprise environment.
For OpenStack, the core project of the OpenInfra Foundation, Red Hat has built an enterprise product, Red Hat OpenStack Platform (RHOSP) with a long term commitment of operation and update. No matter if it is from Kata Containers to AI at the OpenInfra Foundation, Red Hat has invested resources and contributed code in various areas. Red Hat is playing the role of "catalyst" for the success of the OpenInfra community.
Red Hat also has a large number of private cloud projects based on OpenStack, covering telecom finance and other industries. Zhao said that "Red Hat actively supports the development of the open source community, and they hope to pass on the value of open source to more enterprises and build a better ecosystem."
Zhongping Ren, director of Tencent TStack Solution architect, stated that OpenInfra projects are considered highly at Tencent. TStack is a product built upon OpenStack, and is targeted to use cases such as cloud-enhanced data centers, or cloud-based new IT projects. 
Ren said that Tencent TStack has two shoulders, one is open source and the other is its own capabilities. Tencent welcomes and actively embraces open source, and continues to integrate open source technologies and capabilities into its products. "OpenStack is like the giant, and we are all standing on the giant's shoulder," said Ren. Tencent TStack will continue to strengthen its shoulders and better help its customers land digital applications. 
OpenInfra Momentum in China
At the meeting, Horace Li, the Chinese community manager of the OpenInfra Foundation, talked about the recent activities and the momentum in the OpenInfra China community.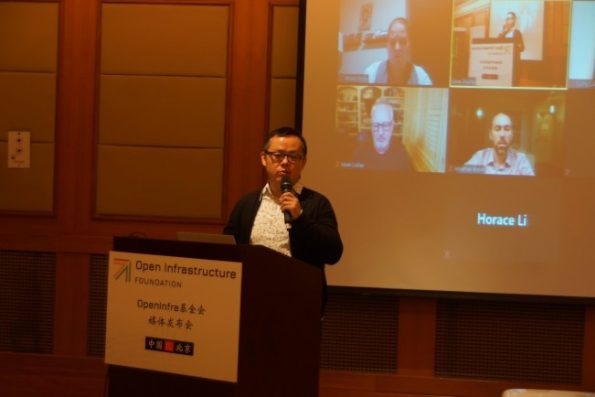 In 2020, the OpenInfra community in China held four community events, covering topics including multi-architecture, X86 platform and its ecosystem performance optimization, storage, cloud native infrastructure and other fields. The activities include:
Open Source Hackathon was held in Changsha, China

The keynote speech at the OpenInfra days China 2020 had more than 3,300 attendees, with over 22,000 views online

Quarterly in-person meetups are packed with active community members 

Open Infrastructure Podcast is active with series on Cyborg development and various community updates.
More and more Chinese companies are adopting open source technology and investing back into the open source communities. With the participation and contribution from the Platinum members, the OpenInfra Foundation is able to better promote the transformation of open infrastructure, the application of open source software and the development of open source technology around the globe.
Don't miss OpenInfra Days China 2021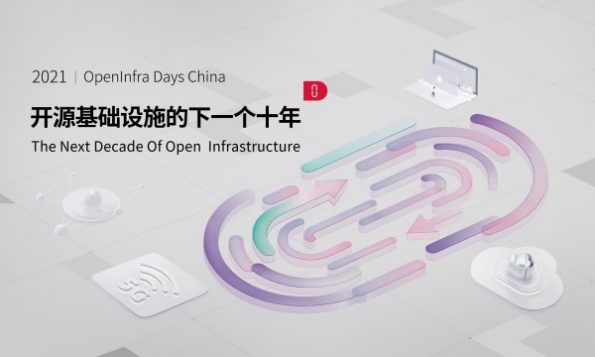 Li has revealed that this year's OpenInfra Days China will be held on August 27- 28, both online and in person. The theme of OpenInfra Days China 2021 is "The Next Decade of Open Infrastructure", and discussions will be conducted around the open source infrastructure technology scenarios required by human society in the next decade. The conference invited technical experts from the global community and 63 senior industry leaders, as well as active domestic open source infrastructure technology companies, to share the outlook and exploration paths of global frontier infrastructure technologies.
In addition, the conference set up five categories to discuss 5G new infrastructure, cloud native infrastructure, open source governance, computing and network integration, as well as traditional cloud infrastructure.
Building the Next Decade with Foundation Members
"Over the last 10 years since we started OpenStack, open source has experienced such rapid growth that today 99% of companies run open source components in their codebase," said Mark Collier, COO of the OpenInfra Foundation. "As we look to the next decade of infrastructure, it's clear that open source is the way we'll get there, and a community-driven software approach is how we will do it. That's why we are excited to collaborate with Ant Group, Huawei, FiberHome, Red Hat and Tencent as Platinum Members, committed to community collaboration and driving progress with open infrastructure projects."