What is one thing you are most proud of in the past 10 years at the OpenInfra Foundation? "It's the community of people and organizations supporting the idea of open source solutions for providing infrastructure," said Thierry Carrez, general manager at the OpenInfra Foundation on the OpenInfra Summit Berlin Keynote stage. After two and a half years, the OpenInfra Foundation hosted its first in-person event, gathering the global OpenInfra community to celebrate its contributions to human progress and collaborate on building the next decade of open infrastructure solutions.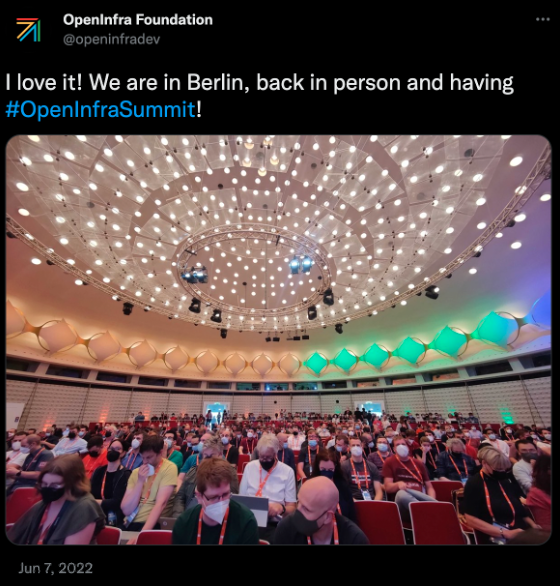 Over 800 attendees from 65+ countries gathered at the beautiful bcc Berlin Congress Center. The Summit week was full of exciting announcements and new (and growing!) users sharing their open source, production use cases. Special thanks to the support of the Summit sponsors, who made the event possible:
Headline Sponsors: Canonical and Wind River 
Premier Sponsors: T-Systems, Vexxhost and Mirantis 
Spotlight Sponsors: Bloomberg, Red Hat, B-1 Systems and OVHCloud
Exhibitor Sponsors: Cloudbase Solutions, ComponentSoft, Exaion, Fairbanks, Nipa cloud, OpenMetal, Sardina Systems, SysEleven, Trilio and StorPool
Supporting Sponsors: CloudFire, Netways Web Services, OW2 and Soda Foundation
Below is a snapshot of the highlights of the Summit and Foundation staff favorites. 
Announcements from the Foundation:
The OpenInfra Foundation announced that it has added the ability to directly fund specific projects and is "open for business" to those organizations who want to leverage that ability to build a sustainable community around an open source infrastructure project. By creating dedicated project funds, we are able to ensure strong alignment between the participating organizations resources and the project they care about. Learn more about Directed Funding at the OpenInfra Foundation.
The Foundation also welcomed Bloomberg and Vexxhost as the newest Gold Members of the Foundation. Bloomberg is a global finance, media and technology company that has been an active contributor to and user of OpenStack since 2013. Vexxhost is a Canadian cloud computing provider offering OpenStack-powered public cloud, private cloud and consulting services to its customers in over 150 countries. Learn more about how your company can support the Open Infrastructure community. 
On day one keynote, the Foundation congratulated the infrastructure teams at OVHcloud and Ant Group for winning this year's Superuser Awards. They have tied for top honors as co-winners of the Superuser Awards, for large-scale deployment of OpenStack, and innovative use of Kata Containers to reduce carbon emissions, respectively.  
Day One Keynote: OpenInfra Collaboration is Growing, Tackling a Trillion Dollar Industry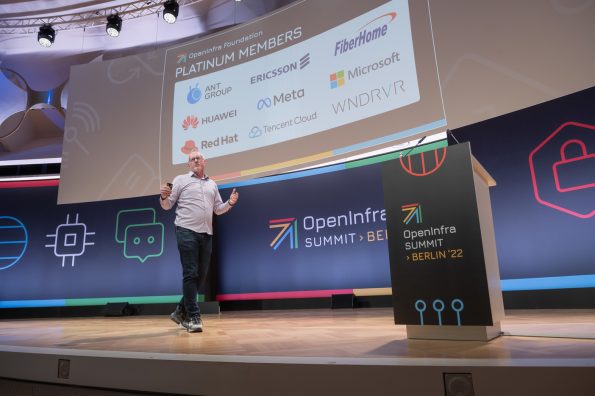 Keynote speakers on day one emphasized the power of the open source model—companies collaboratively building software to drive innovation, magnify their return on investment, and make a positive impact on the world. 
Mark Collier, COO at OpenInfra Foundation
Experts project that the technology industry is on pace to exceed $5.3 trillion in 2022 (source: IDC). Mark Collier discussed where the cloud market sits within this multi-trillion dollar industry and how the OpenInfra Foundation is assembling open source communities backed by a growing group of organizations. Together, open source communities are working together to address emerging open infrastructure demands including confidential computing, digital sovereignty, DPUs, ESI, and security.
"In the open development model, you pool your resources with others, and get a share of a much bigger pie," said Collier. "Growing the cloud market by 20X requires a powerful network of organizations writing software together. This is why we're at the Summit to collaborate. We need to write more software together. That work starts now, here in Berlin."
Dmitry Margolin, Compute Engineering at Bloomberg
Bloomberg Cloud Compute (BCC) is one of the largest Compute platforms in Bloomberg's data centers, and OpenStack powers Bloomberg's private cloud. There are 10 OpenStack clusters distributed around the globe to support nearly 7K engineers, with 150K cores, 80 PB of Ceph storage, 4 PB of memory and hosting 35K VMs.
Horace Li, China Community Manager at OpenInfra Foundation
Xu Wang, Senior Staff Engineer at Ant Group
Xu discussed Ant Group's contribution to Kata Containers, the project roadmap and why companies should adopt Kata Containers for data security. He also invited other organizations to join the community and learn more about how Kata Containers can improve their security.
Eric Ernst, Software Engineer at Apple
Samuel Ortiz, Principal Member Of Technical Staff at Rivos
Fabiano Fidêncio, Cloud Orchestration Software Engineer at Intel
The Kata Containers community has been busy working on new features and use cases. Three of the Architecture Committee members for the Kata project delivered a demo on confidential computing with Kata Containers,
Nicolae Paladi, CEO and Co-founder of CanaryBit
Confidential computing is changing the security paradigm of cloud computing. Nicolae described the existing support for confidential computing in OpenInfra projects and clarified the underlying security guarantees.
Tytus Kurek, Product Manager at Canonical Ltd.
"With 25 million+ cores running in production, OpenStack has become the key layer of the open infrastructure stack, serving as a foundation for Kubernetes deployments, powering workloads of today and tomorrow," Kurek said. He discussed how every organization can use OpenStack in their own private data centers to lower the costs of infrastructure. 
Frederic Lardinois, Senior Enterprise Editor at TechCrunch
Dr. Franziska Brantner, Parliamentary State Secretary at Federal Ministry for Economic Affairs and Climate Action
Daniel Melin, Strategist at Skatteverket
Dr. Franziska Brantner, State Secretary with the German Federal Ministry for Economic Policy and Climate Action, and Daniel Melin, strategist with Skatteverket (the Swedish Tax Agency), discussed with TechCrunch senior enterprise editor Frederic Lardinois the intersection of open source technologies and digital sovereignty.
Andreas Falkner, VP Open Telekom Cloud – Digital Division at T-Systems International GmbH
Andreas Falkner discussed how one of Europe's largest public clouds, Open Telekom Cloud, is able to satisfy highest security requirements by leveraging the expertise and passion of the OpenInfra ecosystem.
Sunny Cai, Marketing Coordinator at the OpenInfra Foundation
The Superuser Awards recognize teams using open infrastructure to meaningfully improve business and differentiate in a competitive industry, while also contributing back to the open source communities. Congratulations to OVHcloud and Ant Group! They have tied for top honors as co-winners for large-scale deployment of OpenStack and innovative use of Kata Containers to reduce carbon emissions, respectively. 
Day Two Keynote: Scaling the OpenInfra Way to Drive Innovation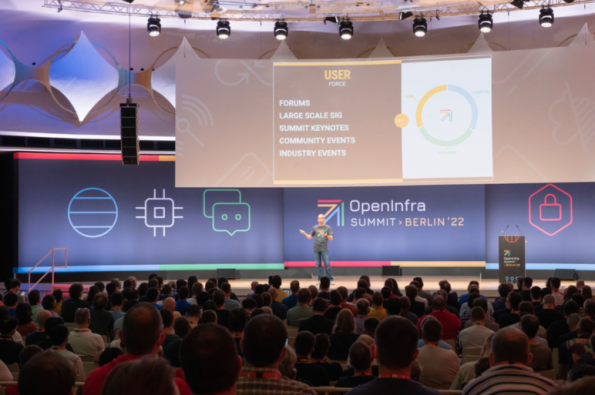 Day two keynote presentations addressed how open infrastructure is driving technological advancements and innovative solutions in areas such as climate change, sustainability, 5G and edge computing, hardware enablement, autonomous automobiles, and more. 
Thierry Carrez, General Manager at the OpenInfra Foundation
Guided by the OpenInfra Way, supported by the Four Opens and Three Forces, the OpenInfra Foundation supports diverse and growing open source project communities, including OpenStack, Kata Containers, Zuul, Airship, OpenInfra Labs, and StarlingX. Thierry discussed the results of applying the OpenInfra Way and how the OpenInfra Foundation is coupling this open source philosophy with a set of fundamental services to build new open source communities with its growing ecosystem of companies. He invited other projects to join us and leverage the OpenInfra Way for their communities.
Kendall Nelson, Senior Upstream Developer Advocate at the OpenInfra Foundation
Archana Kumari, DevOps Intern at Dukkan
Kendall discussed why it's important to have a structured onboarding process and what the OpenInfra Foundation's approach is. Archana, who graduated from the Outreachy program as an intern, talked about how this program helped her to make her first contribution in the open source world and build connections with members in the wonderful OpenInfra community.
Stuart Grace, Project R&D engineer at BBC Research & Development, 
Stuart shared his organization's work in building dashboards to track carbon dioxide emissions of virtual machines and thereby reduce the carbon footprint and environmental impact of its various workloads.
Dr. Vasileios Baousis Senior Analyst at the European Centre for Medium-Range Weather Forecasts (ECMWF)
Dr. Baousis described how cloud technologies and cloud storage infrastructures play an integral role in the "European Weather Cloud" and meteorological innovation.
Stig Telfer, CTO of StackHPC and member of the OpenStack Scientific Special Interest Group
Stig discussed multi-organization collaboration and open source innovation in scientific advancement
George Efthimiopoulos, Director of Innovation & Research Programs at Ciena
Mohammed Naser, CEO of Vexxhost, 
George and Mohammed described the role an OpenStack cloud is playing in Canada's ENCQOR 5G project. ENCQOR brought together industry leaders, service providers, academia and 800+ enterprises to collaborate and innovate in the field of 5G disruptive technologies. One example is Vexxhost's collaboration with Ciena as part of Canada's ENCQOR 5G partnership. Vexxhost's contributions to ENCQOR 5G will be to provide a fully managed service of the existing OpenStack cloud environment, partnering with Ciena.
Paul Miller, CTO of Wind River
Paul shared some of the groundbreaking uses of StarlingX and why communications service providers around the world are leveraging the industry's leading open source project in demanding edge environments to deploy and manage distributed networks.
Toby Owen, VP of product at Fungible
Toby described how Fungible is using DPUs, a new class of microprocessors, to support AI workloads and drive much higher utilization and flexibility in next-generation data centers without sacrificing performance.
Orran Krieger, Director of Massachusetts Open Cloud
Jon Stumpf, Group Head of Infrastructure Engineering at Two Sigma
Trammell Hudson, Special Projects Lead at Lower Layer Lab
Julia Kreger, Senior Principal Software Engineer at Red Hat
Representatives of OpenInfra Labs, previewed the "Open at the Bottom" proof of concept being conducted at Massachusetts Green High Performance Computing Center (MGHPCC) this year, which will test a hardware security framework designed to shift workloads on bare metal hardware elastically, securely, and rapidly.
Johannes Foufas, Senior Principal Engineer at Volvo
Johannes described how Zuul features are used as the first line of integration for all modules in the core computer of Volvo automobiles. He was joined by James Blair, Zuul maintainer and founder of Acme Gating, discussing their collaboration in getting the operational feedback from Volvo delivered upstream to the Zuul community.    
OpenInfra Summit Sessions: Staff Favorites
Zuul:
The Zuul community celebrated the 10th anniversary of the release of its open source continuous integration (CI) project gating software designed to help developers stop merging broken code. Volvo, BMW, and Workday were among the organizations on hand that showcased the value of Zuul and share their production use cases at the Summit.
No gain without pain – a story of scaling CI with Zuul
BMW presented on how they worked upstream first to improve Zuul so that it can scale to their demands. This presentation covered the value of working together with upstreams to avoid forking and improve the system for everyone. The presentation also covered in some detail the major re architecting of Zuul that went into version 5. BMW were major contributors to the zuul v5 effort and Zuul is much improved as a result. Finally, they also disclosed the scale of their Zuul system which is quite large. They said it runs 6k jobs per hour and they deploy with 9 uul schedulers.
Allison Randall covered an extremely complicated subject in a very approachable way in a short period of time. Hardware security vulnerabilities are a problem that affect all sorts of computing but particularly cloud computing. It is worthwhile for those of us in the cloud and infrastructure space to understand these problems and the trade offs involved in addressing them.
Georg Link from Bitergia hosted several great discussions on Thursday about open source community sustainability, easing contributions, and metrics around interactions, where community members compared some of the challenges and approaches to finding solutions in the OpenInfra projects with those experienced by other communities.
Red Hat sponsored a Diversity and Inclusion lunch on Wednesday providing a space for discussing relevant issues in the OpenInfra projects, followed by an opportunity later that afternoon for community members to get to know the Diversity and Inclusion Working Group (WG) participants and find out how they can get involved. During Thursday's lunch, Diversity and Inclusion WG participants ran a lunch workshop to help introduce newcomers to the OpenDev Collaboratory tools and contributor workflows:.
The Summit brought back the Security track, which was packed with some really great presentations on new and potential hardening in our projects. The Forum also had some productive discussions of ongoing security work. 
OpenStack:
The creation of the Environmental Sustainability SIG is underway! What started as a forum session is now being setup with some debate about whether it should be an OpenStack level SIG or a Foundation level working group. 
David Wilde gave an update on efforts to reignite Keystone and Barbican upstream development teams. The approaches they are taking can be applied across all project teams looking to reignite upstream development. 
The future of OpenStack upstream is being influenced by an influx of students from various universities. During the summit, Victoria Martinez de la Cruz and Stephen Finucane talked about the various programs they work with and lessons you can take and apply to your own mentoring. 
Matthew Booth gave an overview of the Kubernetes cloud provider and how it works. His talk discussed a few of the OpenStack service plugins that provide support to a Kubernetes cluster.  Kubernetes and OpenStack working together!
Kata Containers:
Kata Containers superstars Eric Ernst, Samuel Ortiz and Fabiano Fidencio introduced the audience to the newest Kata features with a fascinating demo.
The excitement for Kata Containers didn't stop at the keynotes. Fabiano & Eric's follow-up presentation "We are Kata Containers, Nice to Meet You!" was delivered to a full room of highly engaged attendees excited to hear more about the lightning-fast, highly secure container project with all the power of a virtual machine.
The fascinating, mind-blowing keynote delivered by Orran Krieger, Jon Stumpf, Trammel Hudson and Julia Kreger inspired a new way of thinking about infrastructure security. "Infrastructure shouldn't trust the guest, and the guest shouldn't trust the infrastructure" indeed!
StarlingX: 
In addition to the groundbreaking use cases for StarlingX in some of the most innovative and demanding edge environments to date, there were more talks from the StarlingX community during the Summit included:
Summit Health & Safety Update
No one reported testing positive for Covid-19 during the event. A total of seven attendees have notified us that they tested positive after the event completed, all within five days after attending the event. This accounts for less than 1% of Summit attendees.
If you tested positive for Covid-19 during the event or within five days of attending the Summit, please notify the Foundation at [email protected] so we can make sure we have the most accurate information. We will continue to keep everyone updated if more information is shared.
Thank you to all of the attendees who followed the on-site Health & Safety guidelines that we published. We appreciate your support in helping us keep our community safe.
Upcoming OpenInfra Events
If you missed any of the above sessions or announcements, check out the Open Infrastructure Foundation YouTube channel. Then, join the global Open Infrastructure community, and share your own personal open source story using #WeAreOpenInfra on social media.