A recent report finds an ongoing abundance of jobs and intense competition for professionals with open-source skills.
Calling it a "fierce market" that shows no signs of abating, the "2018 Open Source Jobs Report" from the Linux Foundation and job website Dice sounded out 750 hiring managers at corporations, small and medium businesses, government agencies and staffing firms worldwide as well as over 6,500 open-source professionals. The 13-page report is available as a .PDF at no cost but requires email registration.
Cloud/virtualization is still the most-sought after skill set by hiring managers at 66 percent, with containers coming up fast at 57 percent, more than doubling from 27 percent in 2016. Rounding out the top five technologies are security, sought by 49 percent of hiring managers, networking (47 percent) and cloud native computing (39 percent.)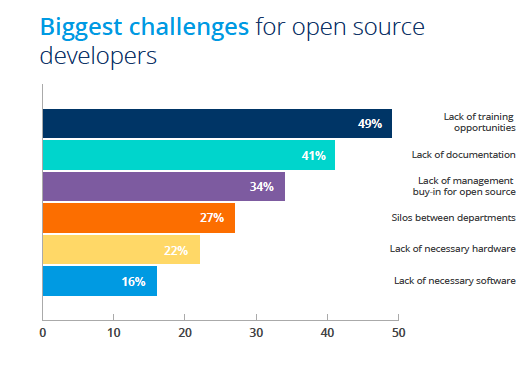 Of the roles, recruiters are most actively seeking developers. These "most wanted" professionals say that their biggest challenges are ongoing training opportunities, missing documentation, buy-in from management and clear policies for contributing to open-source projects. Professionals in open source are steady with ongoing education, with 64 percent requesting or taking courses on their own, the same percentage as 2017.
What keeps these in-demand professionals from happy and from job hopping hasn't changed over the last two years: only 3 percent  said money and perks were the best thing about their jobs, the same as 2017. Thirty percent cited the ability to work on interesting projects, collaborate with a global community (19 percent) and the opportunity to work on the most cutting edge technology challenges (16 percent) as what keeps them happy – the same percentages since 2016.
Interestingly, the outlook on diversity isn't as rosy as the job market itself. While some 70 percent of hiring managers rate their efforts on this front as "good," that opinion is shared by only 52 percent of open-source professionals. Sixteen percent of professionals rate these efforts at their company as "poor" or "extremely poor," while only eight percent of recruiters did. The silver lining: some 79 percent of recruiters are actively seeking diversity now.
Download the report here.
https://www.flickr.com/photos/nasa_appel/15190943202/ // CC
BY
Latest posts by Superuser
(see all)