Last week, InMotion Hosting, an Open Infrastructure Foundation Silver Member, announced the general availability of their new Flex Metal Cloud IaaS product. With this announcement, InMotion Hosting established a new foothold in the Infrastructure as a Service (IaaS) and Private Cloud markets.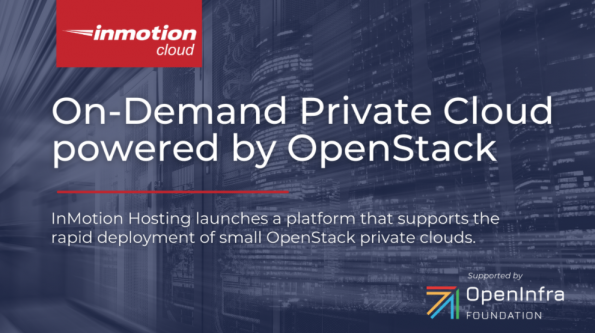 Recognizing a Need in the Hybrid Cloud Ecosystem
InMotion Hosting has recognized that OpenStack, the top open-source cloud management system backed by one of the most active open source communities, has not seen much growth within small and medium-sized businesses. OpenStack remains primarily a tool used by enterprises or large hosting and cloud providers. 
A high-quality OpenStack deployment requires a group of skilled System Engineers, including but not limited to, hardware, network, security, and Linux specialists. It is unlikely that a small business would have the resources or bandwidth to effectively deploy a project at this scale. Even with a skilled group of System Engineers and Specialists, most will not have experience with OpenStack. In order to effectively run a private cloud, it could potentially take three to twelve months to purchase the needed hardware and networking while executing the development. 
InMotion Hosting, whose foundation is based on open source technologies decided to use OpenStack to build a cost-effective cloud solution for customers who don't have the right resources. With OpenStack having built-in security and governance models, InMotion Hosting believes that it belongs in today's overall hybrid cloud ecosystem. 
InMotion Hosting's team of skilled system engineers set out to make OpenStack private clouds more accessible for small and medium-sized businesses to drive adoption. These realizations and findings inspired the launch of their new Flex Metal Cloud. 
"We attribute much of InMotion Hosting's success to open source. Since inception, our goal has been to continuously improve our technology, tools, and customers' experience. Flex Metal Cloud IaaS continues this culture of innovation," says Todd Robinson, President, and Co-founder of InMotion Hosting. "Our teams have been working diligently over the last year to make OpenStack easily accessible for smaller IT Teams. Typical pain points such as cost, resource allocation, and risk of failure are no longer an issue with our On-Demand Private Cloud. We have made OpenStack clouds trivial to deploy and easy to scale up and down on-demand."
Driving Small to Medium-Sized Businesses to Private Cloud
While OpenStack is traditionally built for enterprise infrastructure, it has been difficult for smaller teams to spin up small OpenStack clouds due to the large investment needed in time and resources. Flex Metal Cloud starts off with a three server hyper-converged cloud core that can be scaled easily to hundreds of servers, thousands of virtual machines, and petabytes of storage. The Flex Metal cloud core can be deployed in under 45 minutes while additional compute and storage can be added within minutes. See the diagram of the full possibilities of Flex Metal Cloud IaaS below.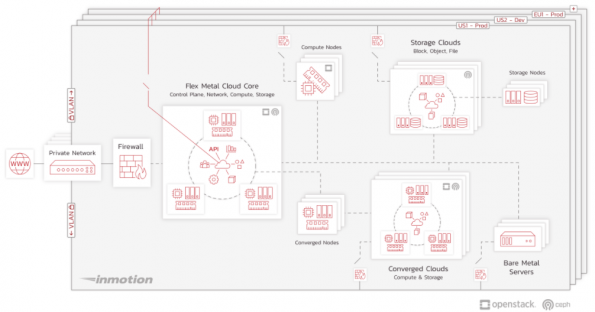 With this approach, it is now trivial to create new private clouds, or scale up or down existing private clouds. The On-Demand OpenStack cluster is completely private. The customer has the equivalent of "root" on all of OpenStack and the underlying servers. The need for experts and specialists in all areas is replaced with a safe growth opportunity for your existing staff. This philosophy will align with most business goals while lowering the company's total cost of ownership. 
On-premise private clouds will be more efficient for first deployments with InMotion Hosting's established playbooks for building and running OpenStack. They provide support for those Private Clouds, Disaster Recovery Services, and On-Demand Regions from within their Data Centers. Consulting services can now be replaced with fast Proof of Concepts to introduce and build confidence in OpenStack. Smaller IT teams are now able to control their cloud by setting budgets and scaling on-demand with up-front, transparent pricing. 
Open Infrastructure Foundation and InMotion Hosting's Collaboration
InMotion Hosting has been a Silver Member of the Open Infrastructure Foundation for over a year now. "As a non-profit organization, we are bringing hundreds of thousands of people and companies together to build and operate open infrastructure. We are excited to have InMotion Hosting as one of our Silver Members, and we are looking forward to see how they are bringing open source infrastructure to the market, so people can use it," said Mark Collier, Chief Operating Officer of OpenInfra Foundation. We have been collaborating with InMotion Hosting over the past year building up to their launch of Flex Metal Cloud. 

Mark Collier, Chief Operating Officer of OpenInfra Foundation states, "The mission of the Open Infrastructure Foundation is to build the next decade of open infrastructure software, through a community of more than 100,000 members who know how to build software like OpenStack that runs in production. "Solving the problem of making dedicated infrastructure available to smaller organizations that might lack the confidence to deploy on their own is something InMotion has designed Flex Metal Cloud to address, and we're excited to learn about their experiences implementing OpenStack Ironic as a service for bare metal, and bring those learnings back to the community."
InMotion Hosting plans to continue this collaboration with the Open Infrastructure Foundation and other members of the open infrastructure community. They plan to regularly add new features and functionality to Flex Metal Cloud to further simplify private cloud deployments, increase infrastructure flexibility, and make it a viable and cost-effective open source choice. 
Thierry Carrez, Vice President of Engineering at the OpenInfra Foundation explains, "Flex Metal Cloud provides on-demand private infrastructure, which brings cloud fundamentals like elasticity and usage billing to the cloud deployment itself. It's awesome to see InMotion Hosting's latest product use OpenStack to combine the benefits of public cloud and managed private cloud, powered by open infrastructure."
The general availability announcement from InMotion Hosting further extends the company's strategy and passion to make private cloud adoption simple for small to medium-sized businesses. By delivering an On-Demand Private Cloud powered by OpenStack, InMotion Hosting strives to increase and improve customer performance, compliance, data sovereignty, and security.
Latest posts by Ashley Delfonso
(see all)