Open Infrastructure Foundation (OpenInfra Foundation) and InMotion Hosting(IMH) have been collaborating over the last year to make open source infrastructure easily accessible to smaller businesses and teams.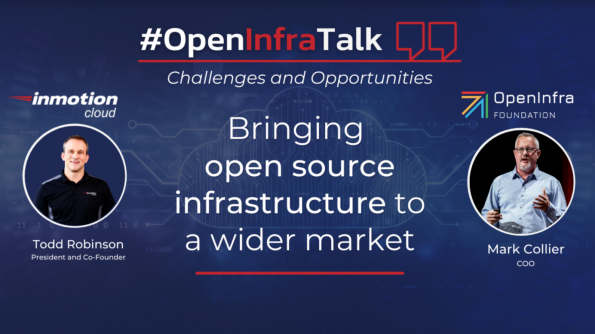 OpenInfra Foundation is a non-profit organization bringing different companies and people together to build and innovate on software for open source infrastructure – a hundred thousand people in over 180 countries are members of the community. 
InMotion Hosting is a founding Silver member of OpenInfra Foundation. Established 20 years ago, IMH is a web hosting and cloud solutions provider that uses robust infrastructure to power their end-customer products. Open source is an important part of their core philosophy and recently they started offering products directly to market that are OpenStack based. Flex Metal Cloud – InMotion Hosting's IaaS platform powered by OpenStack – allows smaller businesses and teams to easily and cost-effectively deploy small private clouds, on-demand in minutes.
Increased adoption and activity around the development of open source infrastructure 
Mark Collier, COO of OpenInfra Foundation and Todd Robinson, President and Co-Founder of InMotion Hosting, got together to chat about the challenges and opportunities of bringing open source infrastructure to a wider market. 
The COO of OpenInfra, Mark Collier, has been with OpenInfra Foundation since it started ten years ago. The foundation was built on the vibrancy and dedication of the OpenStack community and will continue to flourish from it for many years. Ten years ago, open source based infrastructure was just an idea and developers, engineers, coders and open source enthusiasts came together in this foundation to work on it. Today, it is one of the three most actively developed open source projects in the world in terms of code that's being merged every day to drive technological innovations. This has been made possible by over eight thousand developers from hundreds of organizations that have contributed to the software over the past decade. The other two open source projects are Linux Kernel and Chromium, the upstream of the Chrome browser.
Even though OpenStack is not a new technology, the adoption in the developer community is at an all time high. To the question of why there is so much activity in the development of a mature technology, according to Mark, the reason for the continued investment is the growing and accelerated demands of workloads on the infrastructure… AI, machine learning, the rise of containers, the need to run Kubernetes, workloads that come with AI, new requirements to expose GPUs and FPGAs to the underlying architecture, etc. It's still the same layered stack with the control plane, but there is so much more demand for flexible infrastructure with the underlying architectures changing constantly. This is driving the ever increasing pace of innovation and development in the open source infrastructure world.
Making open source infrastructure easily accessible to more teams and businesses
With InMotion Hosting's Flex Metal Cloud, a fully private cloud on OpenStack can be deployed in less than 45 minutes. Flex Metal Cloud's core consists of three hyper-converged servers with object storage provided by CEPH. It's easy to add additional compute and storage and like public clouds, billing is usage based.

"…historically there hasn't been a lot of natural adoption, in small, medium business for OpenStack, even though the benefits of private cloud are very clear and, and absolutely do apply in that market…"  

Mark Collier, COO – OpenInfra Foundation
In addition to being disruptive in the sense that it delivers OpenStack-as-a-Service, Mark points out that Flex Metal Cloud addresses key pain-points on both sides of the "cloud provider-cloud consumer" equation. 
On the provider side, it's about Ecosystem Enablement. VPS providers that use OpenStack for their infrastructure recognize the demand to innovate quickly in order to meet the changing nature of the market, for example, the demand for Kubernetes services. These providers are quickly finding that their ability to meet the demands of these innovative customers, or that the market is being held up because they can't experiment quickly. Providers that fall under this category could easily benefit from and use Flex Metal Cloud to set up their own lab or Proof of Concept (PoC) effectively in just a few clicks. Flex Metal Cloud removes the friction for these cloud providers by providing them the tools to experiment and innovate quickly on OpenStack that enables faster go-to-market paths. 
On the other hand for consumers and businesses that have become overly reliant on just one or two mega cloud providers, Flex Metal Cloud removes the complexity of setting up and deploying a dedicated private cloud environment on OpenStack. 
"This [Flex Metal Cloud] is what OpenStack has been needing. This enables more people to figure out a path to production with OpenStack… People now have this opportunity to tap into the power of OpenStack…"
Mark Collier, COO – OpenInfra Foundation
View the full OpenInfraTalk where Mark and Todd explore the recent growth in the adoption of private clouds and hybrid clouds, the history of OpenStack being exclusively the domain of larger organizations, their personal motivations in building a more open source world, and even more. 
Learn more about InMotion's Flex Metal Cloud here >>
Latest posts by Sash Ghosh
(see all)