OpenInfra Live is a weekly hour-long interactive show streaming to the OpenInfra YouTube channel every Thursday at 14:00 UTC (9:00 AM CT). Episodes feature more OpenInfra release updates, user stories, community meetings, and more open infrastructure stories.
Networking is complex, and Neutron is one of the most difficult parts of OpenStack to scale. In this episode of the Large Scale OpenStack segment, we explored early architectural choices you can make, recommended drivers, features to avoid if your ultimate goal is to scale to a very large deployment. Watch as OpenStack developers and operators share their Neutron scaling best practices.
Enjoyed this week's episode and want to hear more about OpenInfra Live? Let us know what other topics or conversations you want to hear from the OpenInfra community this year, and help us to program OpenInfra Live!  If you are running OpenStack at scale or helping your customers overcome the challenges discussed in this episode, join the OpenInfra Foundation to help guide OpenStack software development and to support the global community.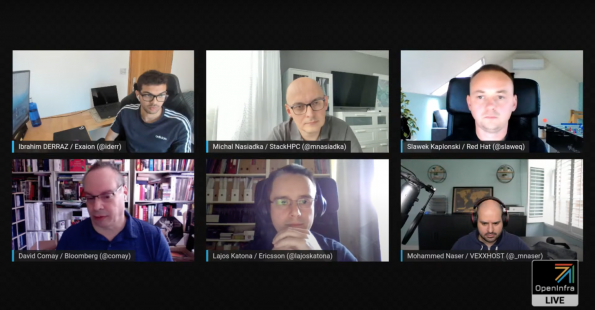 Due to its popular demand, the OpenStack Large Scale SIG is back organizing another OpenInfra Live episode with several OpenStack operators of large scale deployment, discussing different approaches to confront various operation challenges. Thierry Carrez, Vice President of Engineering at the OpenInfra Foundation and one of the chairs of the OpenStack Large Scale SIG, kicked off this episode about Neutron scaling best practices.
Questions for the panel:
The speakers in today's panel include:
Derraz asked a series of questions to the panelists about early architectural choices other users made, recommended drivers, features to avoid if the users ultimate goal is to scale to a very large deployment:
Architecture Choices:
Hardware and Performance Considerations:
Neutron in Production:
After the lively discussion on the architecture choices, hardware and performance considerations and Neutron in production, we received a few questions from the live audience:
If you are interested to hear more about how large scale users are solving operational challenges, we encourage you to join the OpenStack Large Scale SIG. 
For people who want to meet more large scale OpenStack operators and developers and learn how they upgrade or use OpenStack to build supercomputers in research and HPC, here are the past OpenInfra Live episodes you can check out:
Next Episode on #OpenInfraLive
Join us on Thursday, October 28 at 1400 UTC (9:00 AM CT) to watch the next OpenInfra Live episode: Tackling Sustainability with eco-friendly, green hardware. We will discuss how chipmakers, hardware vendors, and data center architects are all working in concert to tackle this issue. 
Like the show? Join the community! 
Catch up on the previous OpenInfra Live episodes on the OpenInfra Foundation YouTube channel, and subscribe for the Foundation email communication to hear more OpenInfra updates!