In the software-defined economy, every business is becoming a technology company, and software development, testing and deployment is becoming strategic to every organization. There's greater pressure than ever to move fast, become more lean and compete with startups across all industries.
The need for speed has driven much of the first wave of OpenStack adoption as companies adopted public cloud or added automation and self-service to their development processes and greenfield web projects. At the Vancouver Summit last year, Subbu Allamaraju, chief engineer of cloud at eBay announced that 100 percent of PayPal's transactions are running on OpenStack, and he discussed how automation has enabled his team to be more agile and innovative.
Many paths to cloud
As these companies started delivering software faster with fewer resources–while making their developers happier–they wanted to know how they could repeat that success across other areas of their business. Soon they expanded their OpenStack cloud footprint to run production web and mobile applications and other systems of innovation. Then they started to assess their legacy systems of record to see what kind of benefits cloud could bring.
Traditionally, organizations have relied on internally redundant hardware and slowly changing software to provide stability for critical systems of record. In most cases, it does not make sense to entirely rip and replace existing systems to become fully cloud native, but many organizations realized they could optimize them to run on the cloud infrastructure.
Intel started using OpenStack with newer applications, but gradually moved systems of record, including its ERP (enterprise resource planning) and CRM (customer relationship management) systems, into the cloud. Intel views OpenStack as a single unified foundation to manage the infrastructure for legacy applications and new projects.
Gartner Research notes that this strategy has become common practice: one part of an organization uses a cloud platform, finds success, and then the business expands its footprint in the cloud, including the transition of more traditional functions to a cloud platform.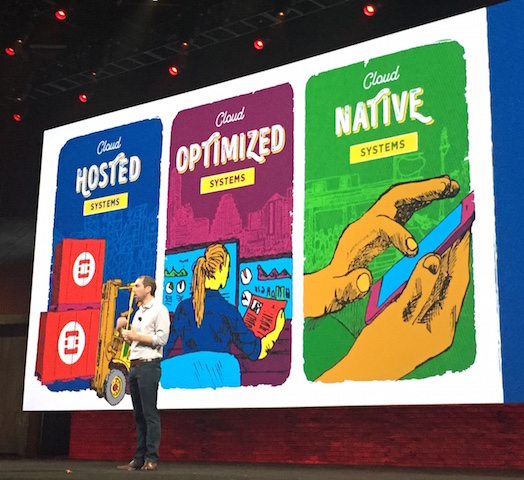 Bryce talking about the three categories of application workloads at the Austin Summit.
They define three categories for application workloads running in clouds:
Cloud hosted systems can be considered "baby steps" out of expensive hardware-based solutions. Cloud hosted systems move from dedicated, manually administered hardware to cloud provisioned bare metal and virtual servers.
Cloud optimized services use cloud capabilities to support the availability and performance of the system, such as allowing the software to repair and scale its own resources. A cloud optimized workload still runs on servers, although they may be virtualized and provisioned automatically through orchestration systems.
Cloud native systems typically have other abstractions as part of the application architecture, such as Platform-as-a-Service (PaaS) or container frameworks. Cloud-native apps, for example, aren't beholden to specific servers and storage devices, they're completely embedded in a cloud framework that hides traditional infrastructure resources.
Diversity in technology is not going away
Gartner Research calls the legacy vs. cloud native dichotomy "bimodal IT," which is basically a framework to categorize different workloads and their requirements. Unless you are in the business of optimizing infrastructure to run a single application, most organizations have a lot of diversity hidden away in their data center or across service providers.
While some emerging platforms provide benefits for developers, they risk becoming a vertically integrated island in the data center, unable to work with the breadth of technologies most organizations already have in place. Whatever technologies are present, whether it's bare metal, virtual machines, network functions virtualization (NFV) or containers, CIOs and cloud architects are eager to tie them all together. Single technology orchestration platforms won't cut it to run your entire data center. OpenStack isn't just a platform. It's a strategy—a unified framework through which you can integrate your entire infrastructure.
One of the biggest shifts in the world is the telecom industry's rapid transition from traditional hardware to cloud infrastructure. For decades, the industry relied on expensive, single-purpose hardware, which was inflexible but highly reliable.
Today, global telecoms have shifted to using NFV, moving their network services onto cloud resources. The fact that OpenStack is scalable and is proving itself strongly reliable has created a tipping point where cost and agility are beating traditional infrastructure as the mode of choice in telecom.
"Many of our competitors remain stuck in their hardware-intensive environments," said John Donovan, chief strategy officer and group president at AT&T technology and operations. "I believe economics will always flow to innovation."
At the recent Open Networking Summit, Donovan said AT&T has migrated 60 percent of its apps to the cloud, doubled its use of open source software in the last year, and realized 50 percent cost savings. He added that projected savings range from 50 to 70 percent. This week, there are more than 20 sessions featuring the world's largest telecoms talking about why they rely on OpenStack for NFV.
Platform for the next decade and beyond
OpenStack is not a single product. It's a framework with standard APIs that can integrate dozens of today's top compute, storage and networking options, while also accelerating your ability to adopt emerging technologies. When was the last time you had to deal with fewer technologies and a simpler IT landscape? As we look at the trends that are driving business value across many industries–big data analytics, containerization, continuous delivery, NFV, the Internet of Things, and more–it's clear that our industry will continue to be an exciting, diverse and challenging environment.
The greatest challenge for IT leaders might be their own organization's tug-of-war over competing interests, as everyone moves rapidly to find the right tools for their needs. As a bridge between existing applications and the technologies that will matter most over the next 10 years, OpenStack offers a strategy to align people and projects on a consistent platform, no matter the system they choose.
Data center diversity was a key message in the recent OpenStack Austin Summit. Bryce elaborates on the idea in the video below.
Jonathan Bryce is the OpenStack Foundation executive director.
Latest posts by Jonathan Bryce
(see all)