While access to the internet and 4G speeds have continued to improve, the speed of those networks are expected to decline for 3.3 billion people (¾ of the world's population). This is the digital divide.

Enter Magma, an open-source software platform that gives network operators an open, flexible and extendable mobile core network solution. The community's goal—bring more people online to a faster internet.
But how?
Magma connects the world to a faster network by enabling service providers to build cost-effective and extensible carrier-grade networks. Magma's disruptive approach lowers the cost of ownership of your entire mobile network. From CAPEX to OPEX, from RAN to Backhaul.
At the Magma Developers Conference last month, over 700 community members from over 50 countries gathered virtually to hear updates about the project roadmap and learn from production use cases.
The event was kicked off by announcing the neutral governance created for the Magma project that is managed by the Linux Foundation. Participation includes Arm, Deutsche Telekom, Facebook, FreedomFi, Qualcomm, the Institute of Wireless Internet of Things at Northeastern University, the OpenAirInterface Software Alliance, and the Open Infrastructure Foundation (OpenInfra Foundation).
"We have seen significant traction since [Magma] was open sourced at Mobile World Congress in 2019, said Shah Rahman, software engineering manager at Facebook. "Magma is clearly no longer seen as a Facebook project; it is now a community project."
With the evolution of networking, Jonathan Bryce, executive director of the OpenInfra Foundation, talked about how this move to a neutral, independent community is a huge step for Magma, the networking space, and the downstream impacts.
"Over the last decade, networking capacity and availability has increased, but has not been evenly distributed," said Jonathan Bryce,. "At the OpenInfra Foundation, we evenly distribute technology to everyone in the world and this is what Magma represents. Magma brings an opportunity for all of us to deliver core network functions in a way that's easier, cheaper, smaller scale to be used in smaller areas and will directly meet the goals of more availability. And what's most exciting is that it will lead to more innovation."
Not only is Magma making strides in growing and diversifying the community, but organizations are already running the open source mobile packet core in production. Two organizations presented their use cases at the conference, and it seems like new users are popping up on the Slack workspace daily sharing how they are trying to run Magma in production.
WiConnect Wireless delivers fiber, cable, and wireless-based internet in the southwest region of Wisconsin covering seven counties with over 232 wireless sites. Prior to deploying Magma, LTE was sporadically used in areas that needed greater tree penetration. Their team's goal was to increase network redundancy by adding a Magma Access Gateway at each tower site. After migrating all of the existing sites to Magma, the team is actively installing new sites using Magma EPC Access Gateway for each site.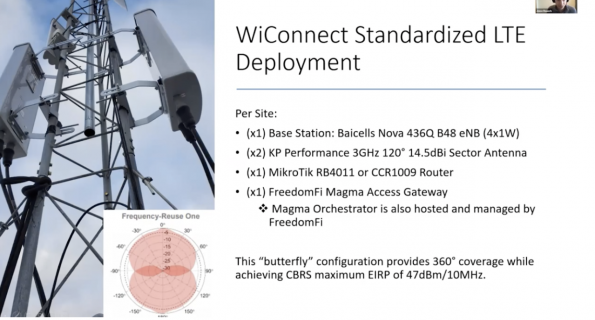 MuralNet works with native communities across Native America to design, build and implement sustainable tribal networks. They needed a way for critical communications and monitoring cultural resources. Their communities are on the unfortunate end of the digital divide: they do not have wide broadband access for all homes or all students, especially with the distributed learning needed to battle COVID-19. Private LTE networks powered by Magma now allow tribal nations to control their internet access. Magma enables small rural tribes with minimal resources to manage and operate on the same level as any other nation state. The Magma user interface and orchestrator allows them to manage their own networks with minimal training.
Summaries of conference sessions will be available on the Magma blog soon, and you can watch them on the Magma Developers Conference YouTube playlist now.
If you want to learn more about Magma or participate in the community, join the mailing list and Slack.
Latest posts by Allison Price
(see all)