OpenInfra Live is a weekly hour-long interactive show streaming to the OpenInfra YouTube channel on Thursdays at 14:00 UTC (9:00 AM CT). Episodes feature more OpenInfra release updates, user stories, community meetings, and more open infrastructure stories.
25 releases, 25 million cores, and 12 years later, the #OpenStack community is thriving. This week's OpenInfra Live episode gathered community members from France, China, South Korea, and Vietnam as they discussed the growth of OpenStack in their region over the past 12 years. In addition, learn about how the OpenStack release naming process will continue following the Zed release!
Enjoyed this week's episode and want to hear more about OpenInfra Live? Let us know what other topics or conversations you want to hear from the OpenInfra community this year, and help us to program OpenInfra Live!  If you are running OpenInfra at scale or helping your customers overcome the challenges discussed in this episode, join the OpenInfra Foundation to help guide OpenStack software development and to support the global community.
Soumaya Msallem, an organizer from the French user groups, kicked off the episode with some history on the user groups in France. The first user groups were established in 2012 and can now be found in Paris, Lyon, Toulouse, Rennes, and Strasbourg. Seongsoo Cho followed Soumaya's presentation with the history of user groups in South Korea as well as shared some information on the upcoming OpenInfra Days Asia (July 23rd) and OpenInfra Days Korea (November 1). Tuan Luong, from the Vietnam User Group, shared information on the upcoming OpenInfra Days Vietnam (August 27). Lastly, Horace Li told us about OpenInfra Days China (August 5-6).
If you are looking for ways to get involved in your community, find an OpenInfra User Group in your community. Also, check out all the upcoming community events happening near you or globally. Want to organize an event or start a local user group in your area? Email us at [email protected].
Kendall Nelson ended the episode with the special announcement of the next OpenStack release name. We are so excited to announce the OpenStack Antelope release for 2023!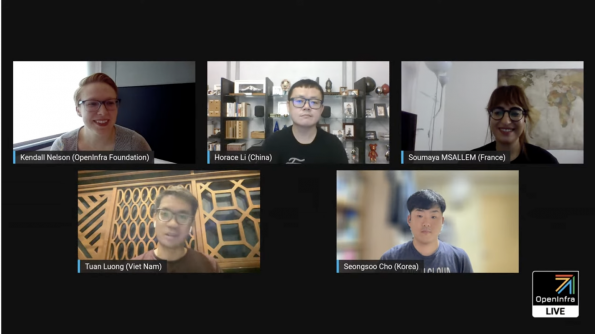 Like the show? Join the community! 
Catch up on the previous OpenInfra Live episodes on the OpenInfra Foundation YouTube channel, and subscribe for the Foundation email communication to hear more OpenInfra updates!
Latest posts by Helena Spease
(see all)