In just a few days, stackers from around the world will meet up at the Austin Summit.
There are a record 26 Summit tracks plus hundreds of talks, workshops and happenings, including some great case study sessions from the likes of AT&T, Workday and the National Science Foundation.
If your head is already spinning, we've got you covered. Superuser is coming to Austin with a special print edition that highlights some of the key themes outside those tracks (plus lots of fun content about the Summit and the city).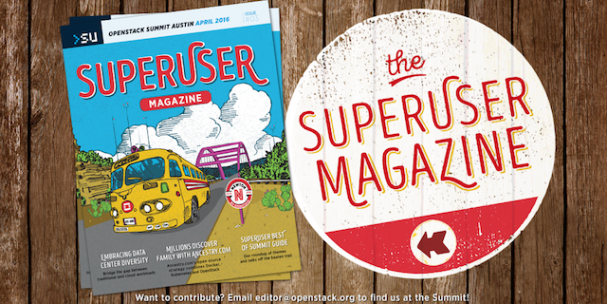 Can't make it to Austin? No worries. Bookmark Superuser (or check out the OpenStack Foundation YouTube page) to watch the videos of Summit sessions.
Here are our picks for some of the user talks that you shouldn't miss.
British Tax Authority HMRC's OpenStack Journey
The British Tax Authority (HMRC) recently introduced an Openstack cloud as the second hosting provider to its Digital Tax Platform. This open source platform-as-a-service (PaaS) project has revolutionized the government's ability to interact with British taxpayers and facilitated a rate of change unprecedented in the government. The rapid introduction of DataCentered's Openstack Cloud has allowed the Tax Platform to create a multi-active platform which spans both VMware and Openstack clouds and multiple suppliers. Tim Britten, product owner for web-operations on Openstack, will tell how his organization was able to spin up a second active side providing the organization with geographic, supplier and technological resilience ahead of the tax return peak, taking in over £343 million (about USD$487 million) in 24 hours.
Tuesday, April 26 • 4:40 p.m.– 5:20 p.m. • Austin Convention Center – Level 4 – MR 18 A/B
Open Source NFV: Lessons learned from end users
Many of the world's largest communications companies and enterprise network operators—including Orange, Docomo, AT&T and China Mobile—are embracing NFV via open source projects like OPNFV and OpenStack. Come hear leading telecoms discuss emerging NFV use cases, proof-of-concept and testing and what results they're achieving.
Wednesday, April 27 • 5:20 p.m. – 6:00 p.m. • Austin Convention Center – Level 4 – Ballroom D
How Burton Snowboards is carving down the OpenStack trail
In this session, Mario Blandini, SwiftStack, VP marketing and Jim Merritt, senior systems administrator, will share how Burton discovered OpenStack object storage as a solution and the criteria that went into choosing to deploy it for both immediate and future needs. It will cover how they have utilized our private cloud after the initial deployment. Like Burton, you may also have applications running in your environment that already support object storage APIs like Swift and S3.
Thursday, April 28 • 1:30 p.m. – 2:10 p.m. • Austin Convention Center – Level 1 – Ballroom C
Tanks in the clouds
G-Core, a global IT solutions provider, moved its G-Core Innovations IT infrastructure (DCs) to OpenStack from VMware. With Warga.m.ing as a key client, this solution will support a multi-million user base, including "World of Tanks" and "World of Warships." The case study describes the basic architectural solutions of the project.
Thursday, April 28 • 2:20 p.m. – 3:00 p.m.• Austin Convention Center – Level 4 – Ballroom G
Cover Photo by StartTheDay // CC BY NC
Latest posts by Superuser
(see all)