TOKYO — An OpenStack community 5,000-members strong gathered this week for the Summit. It's impossible to sound out everyone, but here's a sample of voices and what they got out of the four-day marathon. Hope to see you next time at the Summit in Austin!
What did you think of the Design Summit?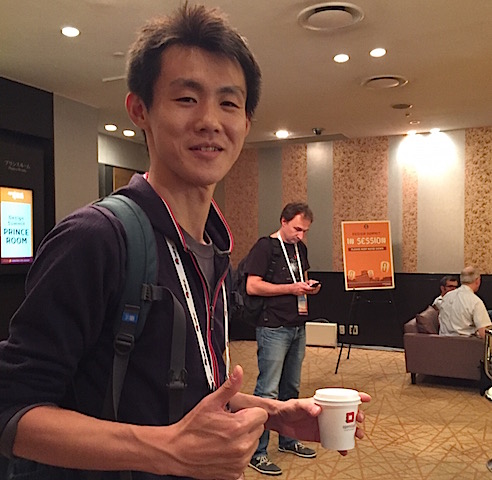 Masahito Muroi, engineer at NTT's Software Innovation Center, Tokyo.
The developer's lounge is good, better than before. We have big groups and it's a big room that can hold a lot of people, so we had a lot of meetings there. The time slots for the Design Summit are shorter than we expected, we have a lot of things to discuss, but only 2-3 hours to do it. It's not enough time to get through everything! I'm now contributing to the Congress project, so those meetings were really important to me.
What's it like to host the OpenStack community here in Japan?
Overall it's good. It's a lot of work for us because we live here and don't leave our normal lives like you do when you travel. We are happy to have you here, and introduce you to a different culture. It was good for the diversity of OpenStack in general. I'm looking forward to Austin, it's always interesting for me to see new places and I have never been there.
Why is the Summit useful for you?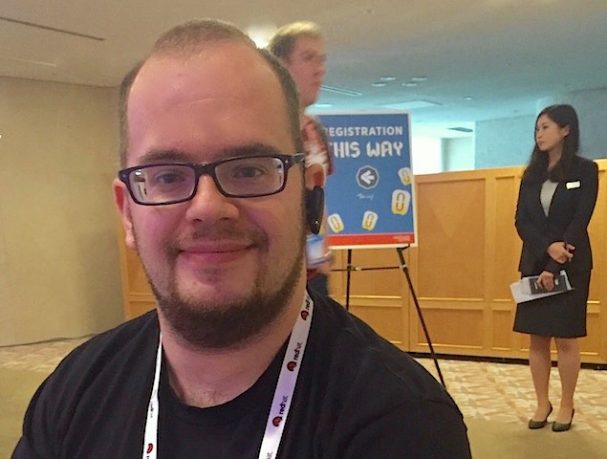 Sven Michels, CEO of sectoor GmbH, a German hosting and consulting company.
You can ask pretty much anybody questions. Even big companies don't hide anything from you, they play with an open hand. If you run your own OpenStack deployment, you will have noticed bugs, glitches, problems, whatever. When you come to the Summit, you notice that other people have the same problems — we all have the same issues in the end. If a company has found a solution, they will share it with you. The community is about making OpenStack better — and you can't do that by hiding stuff.
You've been to a number of Summits, what's your experience been?
As the community gets bigger, the venues get harder for me to navigate in a wheelchair. Each time it's a little more challenging. Here in Tokyo, there are some ramps that are too steep to go up or down without assistance and this carpet is awful. I would always rather be able to get around without help. Every time though, the organizing team at FNTech has been quick to answer my questions and help sort it out, so I keep coming…
What was the most memorable session you attended?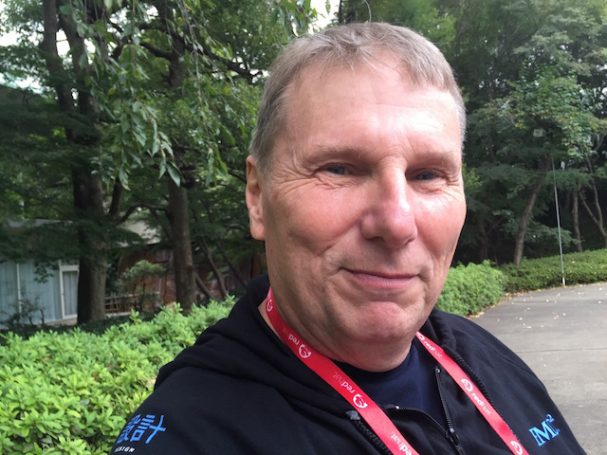 Rodger Burkley, principal product marketing manager, EMC.
We had a session called "Battle of the Titans" where we were doing a side-by-side comparison of ScaleIO versus Ceph, so people mistook our demo to mean we were trashing Ceph. We were trying to say Ceph is great, but ScaleIO is even faster, better to use, etc. It's only natural because Ceph is object-oriented for data and it does do block data (but through a non-native approach with Rados block device) but ScaleIO is native so it's a lot faster. There was a lot of discussion and some people might have thought that it was contentious, but Randy Bias handled it very well…He was just saying, "this is our test, go and try it for yourself." There is definitely a Ceph bias, and that's obviously good, it's healthy to have this kind of discussion. What really impresses me about this forum is that it's not really about companies coming here pushing products commercially, it's the architecture and the spirit of it.
You've been to half a dozen Summits, how have you seen OpenStack change?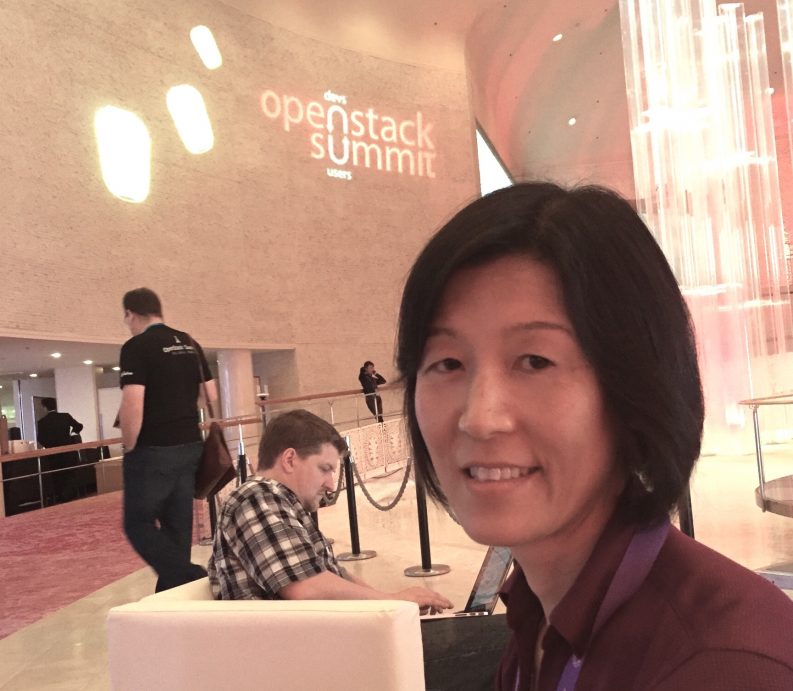 Wendy Cartee, vice president of product management and marketing, PLUMgrid.
There's an amazing amount of momentum…The technology is phenomenal, the contributions the community puts into OpenStack are absolutely incredible. To be here in Japan, to see this kind of momentum in Asia-Pacific is just overwhelming. I'm glad to see so many people come to this event from so many countries and represent this worldwide community of people who are contributing the best ideas and making core contributions to the code.
What did you take away from the keynotes?
The confirmation that mobile is changing the world. We frequently hear about how software is eating everything, and lots of that is mobile…The carriers are constantly looking at mobile connectivity, bandwidth and data consumption, they constantly have to innovate — 3G to 4G and now to 5G and LTE. Having that ability to build a mobile infrastructure using 5G technology is extremely important for the carriers. For them to build that in an economically feasible way, they need to do that with software design technologies and that comes back again to OpenStack. For software-defined compute, storage, and networking you need to be able to build a scalable infrastructure to deliver 5G services and the Internet of things. 50 billion devices will be connected to the Internet by the year 2020…For service providers to scale infrastructure to deliver that service, they have to build a cloud infrastructure and OpenStack is going to be at the heart of the technology.
You've participated in the Women of OpenStack events, what do you get out of them?
In general, there's so much energy and optimism…This time, there was a woman from EMC, I believe a core contributor for Cinder, who talked about her journey with OpenStack. It was phenomenal to hear her share that knowledge with the women of the community who are in different phases of working with OpenStack. It is always refreshing to hear the stories and compare my journey with theirs. It's really energizing to be part of the Women of OpenStack community…
As a project team lead (PTL) for OpenStack, what's your takeaway from the Summit?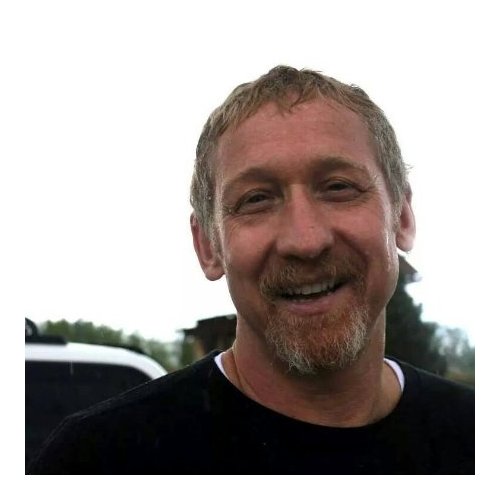 Piet Kruithof, PTL – OpenStack UX and senior UX architect, Hewlett-Packard.
There's a stereotype that communities which are heavily focused on engineering and software development do not care about usability. In the course of the last few Summits, we've found the opposite: the community is hungry for usability, hungry for good design.
If you are a developer, and you're going to spend all that time writing the code and drinking all those Red Bulls and staying up all night — you want people to appreciate your code. To do that, you have to make sure your front-end is so usable that people are delighted by that experience. For me, that is really exciting…
What would you like to see from the next Summit?
Hmmm. I'd like to see more barbecue in Austin…Seriously, though, that's a difficult question from my perspective. I would like to see more sessions with operators giving feedback. I don't know that we are engaging operators effectively. We'd like to get operators with the project team members in a room and do an analysis, take their comments and get high-level themes. So, from those 200 comments we end up with three themes. I'd like to see more of the interactive, collaborative stuff.
Photos: Nicole Martinelli, OpenStack Foundation.
Latest posts by Nicole Martinelli
(see all)