There's really not another event like it. The OpenStack Summit offers a unique blend of listening to technical talks, drafting designs with teammates you usually talk to online, and celebrating a release well-made. I hadn't come to this realization until someone outside of the design summit pointed it out: that she had never seen another conference quite like it.
Depending on your role and goals, you can proactively shape your Summit experience. I've attended Summits since the one held in San Antonio near Bexar County for the Bexar release, the second release of OpenStack. Here are some ideas for you to shape your Summit experience to meet your needs.
Audience
Realize that if it's your first Summit, you're probably in the same category as half of the other attendees. Looking back at the last couple of years of Summits, in 2015, Vancouver had 54 percent first-timers, in 2014 Paris had 58 percent first-timers, and early 2014 in Atlanta there were 65 percent first-timers. If you feel clueless at first, it's okay! Make the Summit yours.
Preparation and packing
When you travel to any new place, try to think through the steps to get to your hotel from the airport. And then, once you're at your hotel, what are the travel options? How do you want to get around, what do you want to see? The Summit site has great travel information and a city guide.
Try to soak in the local culture as much as you can. Try the local food, music, buildings, or natural spaces. I live in Austin and love our weird city. As an Austinite, I'd better recommend the breakfast tacos and the barbecue, especially the brisket. You'll want to pack your layers for both indoor and outdoor temperatures. The weather can vary from the low 60s F to the low 80s F and the convention center has powerful air conditioning systems.
Bring your laptop, charger, walking shoes, and layers. All will be useful at one point or another at the Summit. Check out http://do512.com/mustdoinaustin for great ideas of sights to see in Austin.
Goals
Have some specific goals in mind for the week of the Summit. Do you want to understand a part of OpenStack that eludes you right now? Do you want to be sure to connect with your team? Are you looking to find a customer story or a compelling use case? All of these goals can be met at the Summit.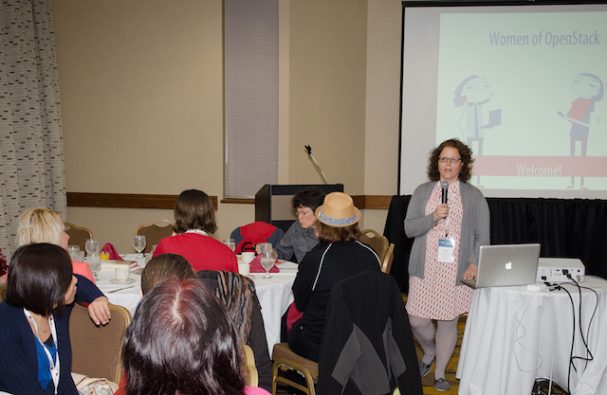 Gentle speaking at the Women of OpenStack (WOO) breakfast at the 2013 Portland Summit. Photo: Aaron Hockley
Schedule
Get your schedule started now. Have an idea of how the week is going to shape up. Which days are busy? What talks are super important to see in real-time? Which parties do you not want to miss? Make sure your schedule enables you to meet your goals.
Social systems and social coding
Code or write side-by-side with someone, laptops out, questions asked, answers sought, curiosity piqued. I've found the developer lounge works for this sometimes, but I've also worked with others in hotel lobbies late at night.
Watch out for that one guy who doesn't drink all night except for water. It's also a great tactic to try one night yourself to listen and observe. I'm not calling for espionage but for real observation and social understanding in our time together.
Go out with your favorite team mates and do something unique in the city you're in. One of my favorite memories of late was riding the giant Ferris wheel in Atlanta with Cindy Pallares and the Zaqar team. I also absolutely loved figuring out the Paris subway system with doc team members. Admittedly, sometimes I simply follow others who figured out the subway system, but those are some of my favorite team moments.
Seek out that one person who you've admired this past release and let them know you appreciate their work. It could be the translation team or the election officials, or a Foundation member who you know worked tirelessly in the background to make a piece of the event flawless.
While you want to take advantage of the random conversations in the hallway track, also plan ahead enough that you meet the people you want to during the week. Don't let the opportunity to be in the same time zone and place pass you by. I'm already setting up coffee and lunch opportunities to connect, weeks in advance of the Summit.
If you had a heated discussion or even an argument on IRC with someone, look for a chance to talk to them face-to-face to make sure they know you're not holding a grudge. You're not holding a grudge, right? That's right. The Summit is the time to re-connect with team mates, learn as much as your brain can hold, and celebrate six months of hard work.
_Anne Gentle is a member of the OpenStack Technical Committee and a product manager at Cisco. You can also check out her blog or follow her on Twitter.
Cover Photo from the Tokyo Summit // Elizabeth Krumbach Joseph CC BY NC
Latest posts by Anne Gentle
(see all)