OpenStack celebrates its 6th birthday this month.
There are parties from Argentina to Vietnam; find one near you from OpenStack's worldwide list and raise a glass.
We're also celebrating with the OpenStack community with short interviews from around the world to offer a glimpse of OpenStack's impact on a local level.
Our first interview features one of the newest User Groups. Yusuf Rajah founded Durban DOUG – Durban OpenStack User Group just three months ago but members are so excited about what the technology can bring to their country that they organized a birthday party July 8. From a custom cake and t-shirts to a raffle to give away a free Certified OpenStack Administrator exam, DOUG found creative ways to celebrate.
In a 10-minute Superuser TV segment, Rajah, a technical consultant with Tactical-DevOps, describes the difficulties faced by rural communities who need technologies but have very limited access to it and how OpenStack as an infrastructure to develop technologies on would benefit many communities in similar situations.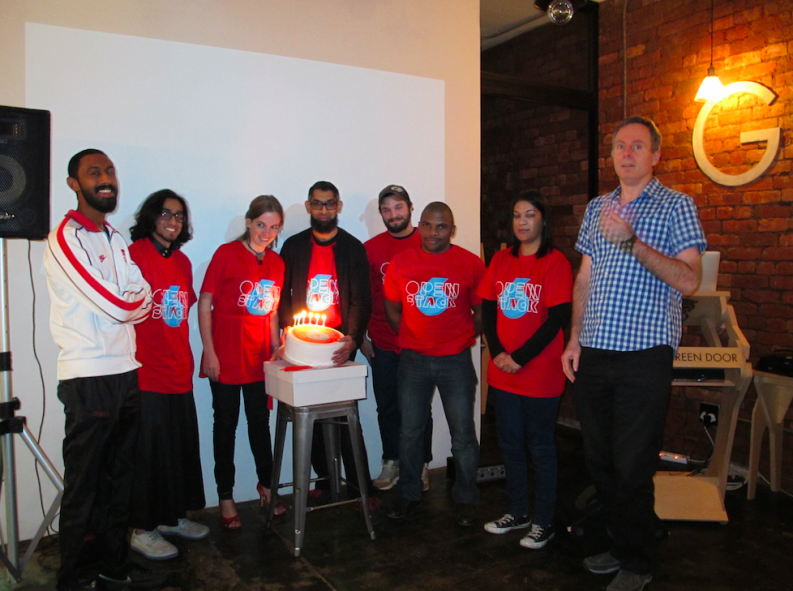 "In our country's history, we've been through a lot when it comes to being able to communicate with each other; we were literally kept physically apart," he said. "We've got all of those hoops to jump through, and I think technology, especially like OpenStack is a fantastic platform to start bringing people together in a creative way."
Though the technology runs in the cloud, he says that face-to-face contact has been his best recruiting tool so far. He went to local stores in Durban, the second most populous urban area in South Africa, and put posters up so that people would see the name and ask about it.
"There are a lot of barriers to entry for the technology, so I have to do a lot of explaining first," he says. "Once people get it, they understand that this is something we need to pay attention to because it's actually quite an important piece of technology that we need to be a part of."
While Rajah's grassroots work still has many rivers to cross, he remains devoted to the task of educating his local community around the benefits, use cases of OpenStack and more broadly, cloud technology.
"It's a feat of engineering. It's not just code, this is a whole community."
Don't see a local user group or birthday celebration? Get involved and learn how to start one in your local community.
Latest posts by Superuser
(see all)