The next time you wake up in a cold sweat from a nightmare where robot overlords have taken over your life, remember that dev-ops is still mostly manual labor.
While it's definitely better to automate all the things, it's still not common practice. According to the recently released "State of Dev-Ops: Market Segmentation Report" from Puppet, some two thirds of the 27,000 global participants surveyed are still relying people power for things like change approval processes, a situation researchers call "the last horizon for the 'human-knows-best' function."
Just how hands-on you are at work depends in part on what industry you're in and the function, whether it's configuration management, testing, deployment or change approval. What's surprising is that even in fields like media, tech, telcos and retail none are under 50 percent for relying on humans to oversee change approval processes. That figure creeps up to 66 percent and 64 percent for education and manufacturing, two fields ripe for disruption but clearly not there yet.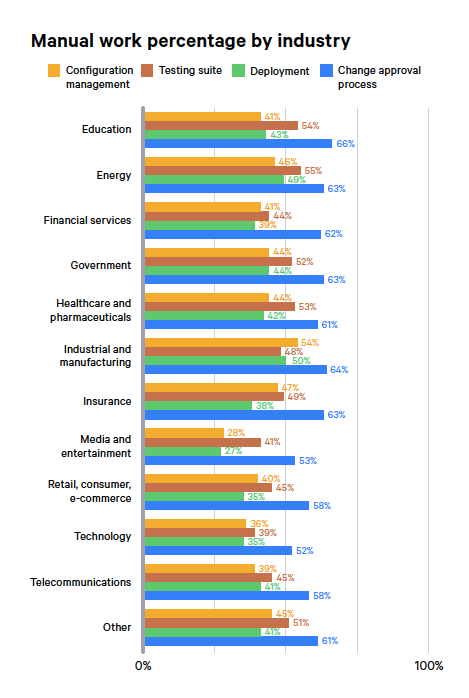 The media, tech, telco, retail, insurance, healthcare and financial fields have numbers in the 30-40 percent range when it comes to human intervention for configuration, testing or deployment. Those numbers hover in the 40-50 percent range if the field is education, energy, government or industry.
Report authors say they were surprised by the fact that companies with 10-19 employees automate more than their super-sized counterparts and the more servers companies have, the less they automate.  (Is it a simply a case of having to do more with less?) Companies with 100-499 servers had the lowest percentage of manual configuration management (36 percent), but respondents in charge of 100,000+ servers had the lowest levels of manual testing (38 percent) and change approval (52 percent). "Perhaps more interesting is the fact that no matter a company's size or its number of servers, testing and change approval processes account for most manual work."
The 21-page report also covers where the dev-ops journey starts in companies and the impact on IT performance. You can check out the entire report — free with email registration — here.
And let us know in the comments (or over email: editorATopenstack.org) if this squares with what's going on at your company and whether you think it will change any time soon.
Latest posts by Superuser
(see all)