More than 4,600 developers and users — an attendance record — have gathered in Paris at the Palais des Congrès to share best practices, user stories and plan the 11th release of OpenStack cloud software, Kilo, due in April 2015. Here's a recap of today's events.
Fall 2015 OpenStack Summit City Announced
The OpenStack Foundation announced today that the October 2015 Summit will be held in Tokyo! The May 2015 will be held in Vancouver, as previously announced.
Superusers Tell Their Stories
Mark Collier, COO of the OpenStack Foundation, kicked off the morning with a presentation highlighting the distribution of power made possible through cloud computing and the proliferation of cheap, mobile access devices. OpenStack is playing its part in this transformation at companies and organizations that are using the software to build clouds that give software developers rapid access to the resources they need.
Tim Bell of CERN then gave the general session audience a review of his institution's hyperscale use of OpenStack to support physicists conducting modeling and other research using data derived from the Large Hadron Collider.
Their OpenStack deployment currently comprises more than 75,000 cores and adds 27PB per year. By the end of Q1 2015, he expects to have more than 150,000 cores in his OpenStack cloud. By 2023, data stored annually is forecasted to rise to 400PB, with a 50x increase in compute power across data centers in Geneva and Budapest, linked by dual 100GbE connections.
Next, Rajeev Khanna of Expedia explained how his company is using OpenStack to free developers to innovate by giving them rapidly deployable resources via a cloud covering three regions and 20,000 instances of capacity. Hoarding of VMs – once a budget-breaking problem – is no longer an issue, because developers know that released instances can be quickly re-provisioned if needed.
Weston Jossey of Tapjoy was the next Superuser to take the stage; he explained how his company deployed its OpenStack cloud in June, boasting zero downtime since launch. Supporting complex data modeling apps built with Hadoop and HBase, Tapjoy's initial OpenStack deployment has 348 nodes spread over three racks. Weston challenged the OpenStack community to embrace a goal of developing 10,000 different design variations, giving new OpenStack users a variety of blueprints from which to choose.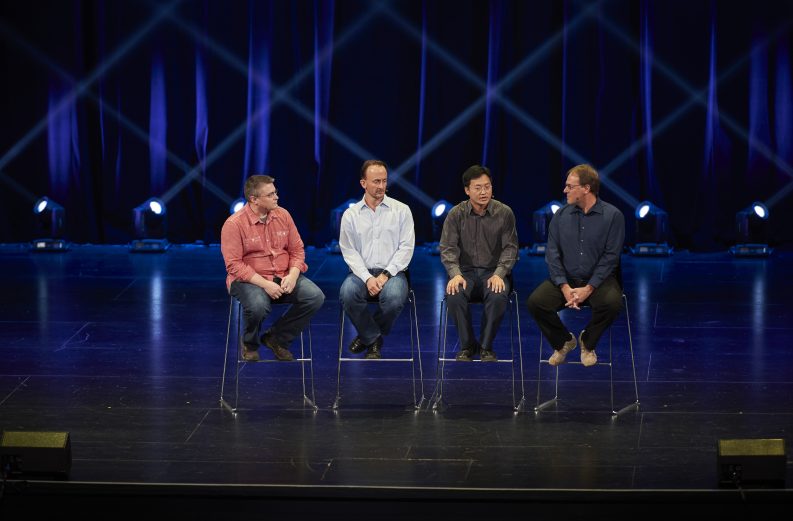 A panel of carriers wrapped up the morning general session for a discussion on NFV, or Network Functions Virtualization. The panelists were Markus Brunner of Swisscom, Toby Ford of AT&T and Xiaolong Kong of Orange Labs. The panel was moderated by Michael Still, project technical lead for OpenStack Compute (Nova) and a senior engineer at Rackspace.
The panel took questions from the audience via Twitter. Check out the session video to reveal their answers.
Read More:
Latest posts by Superuser
(see all)