Each release cycle, OpenStack project team leads (PTLs) introduce themselves, talk about upcoming features for the OpenStack projects they manage, plus how you can get involved and influence the roadmap.
Superuser will feature these summaries of the videos weekly; you can also catch them on the OpenStack Foundation YouTube channel. This round of interviews covers the OpenStack Client, Documentation.
OpenStackClient
What: OpenStackClient (OSC) is a command-line client for OpenStack that brings the command set for Compute, Identity, Image, Object Store and Volume APIs together in a single shell with a uniform command structure.
Who: Dean Troyer, PTL. Formerly with NASA, Troyer worked on OpenStack before it formally existed. Now he's a senior cloud software engineer at Intel Corp.
Burning issues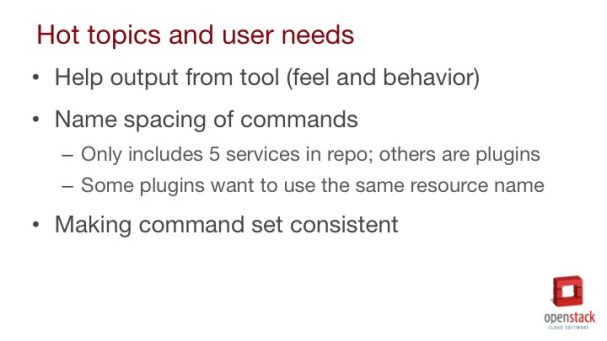 "One of the things we talked about the most [in Tokyo] was the 'help' command," he said. There's a long list of things we need to address and we're still sorting it out, that's one of our goals for the next cycle."
What's next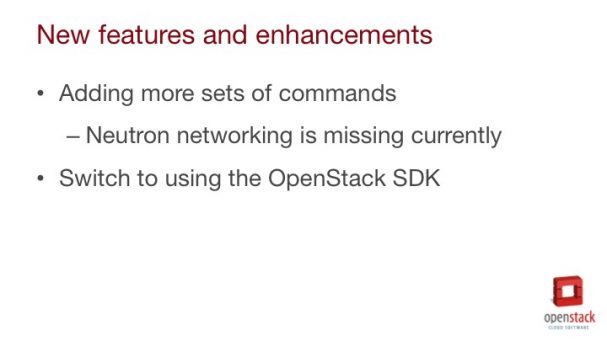 Smoothing out the user experience is also a priority, he added. Troyer also says he hopes to work with OpenStack UX to get user feedback in this cycle.
What matters in Mitaka:
Performance improvements.
"The place we see this most is developers in DevStack, [we're] trying to reduce the time it takes to load," he said. "You should be able to type 'openstack flavor list' and not have to wait four seconds to get a response."
Get involved!
"Like every project out there, we could use new contributors…especially on the newer projects that don't have legacy client issues…Getting involved with some of those newer projects is helpful."
Use Ask OpenStack for general questions
For roadmap or development issues, subscribe to the OpenStack development mailing list, and use the tag [OpenStackClient]
Documentation
What: OpenStack Docs,which provides documentation for most of OpenStack's projects. Some two-thirds of all OpenStack users refer to docs once a week, if not more.
Who: Lana Brindley, PTL. Day job: Senior manager, information development, Rackspace.
Burning issues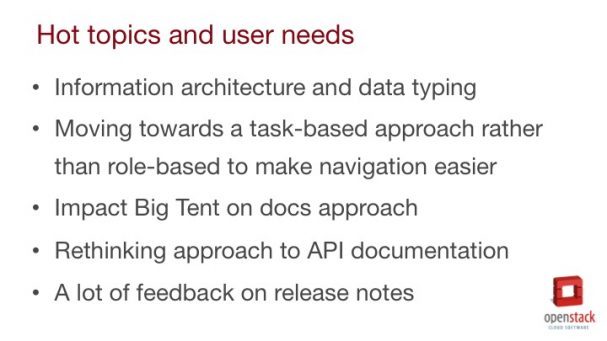 About these, she added: "We want to make sure we're good community citizens we want to increase our support for teams who want to include information about their products in the official docs…Big tent has changed the way we look at projects and we want to make sure we're supporting each product team in the best way possible."
What improvements are you working on
"We're working on feedback that the Web Application Description Language (WADL) system isn't working so well for API docs, so we're working on that. Anne Gentle has been working on an ID since Vancouver that we're now ready to implement, that will switch us to Swagger instead," she said.
"We also got a lot feedback on release notes, it was surprising for me. So we've been working with a few different people to understand that problem better and we have some exciting ideas for improvements…"
What's planned for Mitaka?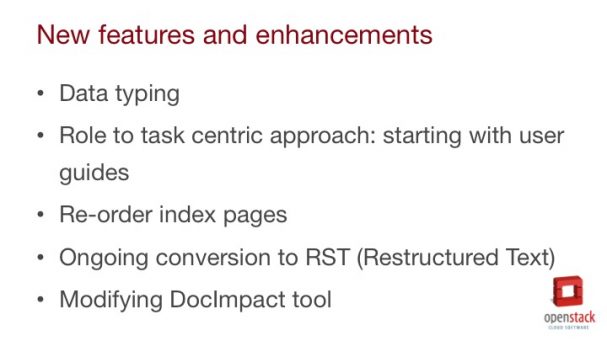 Navigation of the docs takes priority, she said. Some of the books are easier to move from role-based to task-based data typing, so "we're going to start with one of the easier ones, the user guides, to see how that works."
The overall theme for work on the next release is manageability with an additional focus on collaboration, Brindley added.
"Because Liberty was my first release as PTL, I'm still learning what makes a good release," Brindley said. "It was great to hear feedback from the docs team on what went well and what didn't go so well, so we can implement those changes and hopefully improve in Mitaka…"
Get involved!
Brindley underlined that the docs team is always looking for technical writers, developers (even those who don't think they're good writers.) She also added that docs is developed just like code, so OpenStack active technical contributors (ATCs) already have the skills to help out.
Join the OpenStack Docs mailing list.
Participate in the weekly meetings: held on #openstack-meeting every Wednesday at alternating times for different time zones:
APAC: Wednesday, 00:30:00 UTC #openstack-meeting
US: Wednesday, 14:00:00 UTC
Cover Photo // CC BY NC
Latest posts by Nicole Martinelli
(see all)