BARCELONA — On the final day of the Barcelona Summit, the Community Contributor Awards gave a special tip of the hat to those who might not be aware that they are valued.
These awards are a little informal and quirky but still recognize the extremely valuable work that everyone does to make OpenStack excel. These behind-the-scenes heroes were nominated by other community members.
There were three main categories: those who might not be aware that they are valued, those who are the active glue that binds the community together and those who share their knowledge with others.
OpenStack community manager Tom Fifield handed out the honors after the Summit feedback session.
All ready for @OpenStack community awards presented by @TomFifield #WeAreOpenStack pic.twitter.com/fHzWqJZfds

— Edgar Magana (@emaganap) October 28, 2016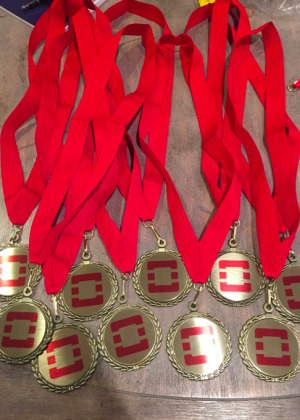 You are our heroes! Shiny, shiny OpenStack Contributor medals.
Hero of the People
Winner: Colette Alexander
"Alexander has been tirelessly pushing for implementing servant leadership within the OpenStack Community, by organizing training and constantly encouraging leaders in our community to question their practices. She understands the mechanics of our unique environment and provides advice to everyone while keeping a light and engaging tone."
The Duct Tape Medal
Recipients of this medal (and its mandatory accompanying duct tape and MacGyver wig) appear to be able to fix anything, somehow.
Winner: Anita Kuno
"Kuno is one of the unsung heroes that toils on infrastructure, supports the third party CI's, follows new IRC meetings and helps teach newbies how to get value from IRC, keeps everyone civil, coordinates and organizes all sorts of efforts……etc, etc, etc. Has been an elections official multiple times, always tries to be helpful…..yada yada She does a yeoman's work and is almost everywhere. I believe she is very valued, but doesn't hear about her value enough. She definitely deserves recognition."
The Don't Stop Believin' Cup
Reserved for some of our newest users, who've made an impact already, but might benefit from the encouragement of this some-time OpenStack anthem.
Winner: Marcela Bonell
Mentor of mentors (Hackathon): Her work with the mentors was crucial for a successful hackathon
Over 100+ hours in evangelism work, for increasing OpenStack's adoption in Latin America
Educate Mexico's community about OpenStack + Cloud Apps through her training + conferences in Universities and key events
~12 Tech Talks in many development communities, Universities and the Campus Party about OpenStack and Cloudaware applications, with +300 attendants to her talks.
Her contribution to OpenStack about cloud app development: My First App released for Shade SDK"
The key to Stack City
Winner: Emilien Macchi
Macchi turns every community he touches, every team he interacts with into something better. "He is hard-working, helpful, always volunteer for mentoring. He engages and helps beyond team limits, and does all that while keeping it fun. A true OpenStack citizen. We need more Emiliens!"
The "Does anyone actually use this?" trophy
It turns out that not only do people use OpenStack, some of those who do put in effort to assist with the sanity of the collective.
Joint Winners: Matt Kassawara, Megan Rossetti
"Kassawara spends A LOT of time in the irc channel helping new (and old) users with their questions. His contribution to the official docs as well as his patience and desire to help deserve an award, for sure."
"Rossetti works tirelessly across the product working group, user committee initiatives (AUC effort for example), Women of OpenStack and other efforts in the community to advance OpenStack as a welcoming open platform for operators and developers. Megan regularly bridges efforts across the community and works with the active technical contributors to make sure everyone is on the same page."
Bonsai caretaker
These people keep pressing the button to feed the Tamagochi.
Winner: Kevin Benton
"Every Neutron developer has heard about Kevin Benton. He seems to be online 24/7 on IRC or Gerrit. He reviews every patch developers add him as a reviewer or ping him on IRC. He also works on blueprints and many critical bugs himself. He understands Neutron very well, even in details that other experienced core reviewers might overlook. He is nice and willing to mentor young developers as well. He never challenges other developers' design, but helps them to find as good solutions as he can. I think he well deserves this award."
Reality check
Joint Winners: Chris Dent, Eoghan Glynn
Dent "is one of the few individuals who actually questions what the Technical Committee does. The TC has long consisted of members of the same group of individuals and thus never held accountable to what they do or don't do. Chris highlights potential shortcomings in a diplomatic manner that would easily be ignored as the TC loses relevance in the community."
"Glynn manages multiple Red Hat community teams including Nova… so basically he manages Nova. He is also one of the few people to call out the technical committee rather than be a 'yes man'."
The Nathanial Perez prize for behind-the-scenes efforts
Is their hair blue, or pink? We don't know exactly, but they work in the shadows fixing problems we didn't even know existed.
Winner: Shamail Tahir
"I don't think there is a possible way to value Tahir as much as he deserves. Not only does he take on large community initiatives, like leading the Product Working Group to become a productive working group that really impacts the larger community, but he also jumps in on Superuser TV to help OpenStack experts knowledge share, he is creating a COA study guide to help bridge the knowledge gap and he jumps in anywhere he can to help increase OpenStack awareness and adoption.
Tahir is a dynamic force in the community on a host of projects and working groups, and particularly in the Product Work Group spearheading the roadmap. Under his leadership, the road map has grown by leaps and bounds, bringing together brings together a dozen working group volunteers and more than two dozen PTLs to give users confidence in where OpenStack is going and growing. He contributes to those efforts.
In addition to his work on the road map, he also actively participates in developing content and interviews for Superuser TV, and he originated the Newton Design Series group of webinar-based interviews with PTLs. His deep insights into the new features and enhancements have been exceptionally valuable for the community and the foundation. Plus? He works crazy hard, and is one of the nicest and most positive people in the community. We literally can't do the road map or product release without him.
He's also that person who jumps in when a project needs additional support to get across the finish line. I think that his sincere passion really shows itself when he gives every ounce he can to make OpenStack successful.
Shamail has also co-lead the AUC working group over the past cycle.The group has been working and defining ways to embrace those who are not contributing code to OpenStack and are therefore currently not officially recognized as part of the OpenStack community."
Congrats to @MegRossetti for winning the "Does anyone use this?" @OpenStack Community Contributor Award, well deserved! pic.twitter.com/A1AgbUZwRf

— Andrew Mitry (@amitry) October 28, 2016
congrats @ShamailXD on the very well deserved @OpenStack community award!!! "he jumps in and leads all over the place" #truth

— Rob Hirschfeld (@zehicle) October 28, 2016
Latest posts by Isaac Gonzalez
(see all)