In November, the OpenInfra User Group Sweden hosted OpenInfra Forum #13! The OpenInfra community in Sweden is a thriving ecosystem of open source enthusiasts who are supported by local community organizers Daniel Byström and Stefano Cucchiella.
The meetup was a huge success with support from Digitalist Sweden AB who provided the venue, coffee, pizza and beer!
The meetup included three presentations from community members including Christian Petersson (Founder & solution architect at IssTech AB), Mikke Schirén (Tech lead Digitalist Net Services) and Jens Alm (CEO at Prorenata AB). Below you can find a summary and slides from each of the speakers' presentations.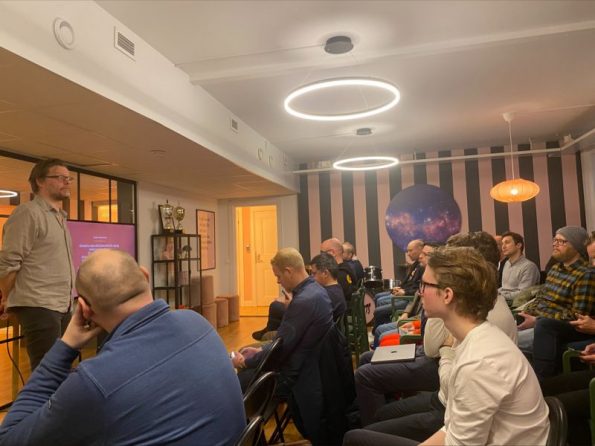 Ransomware is not working for Containers | Christian Petersson | Founder, IssTech AB 
"I'm the nut guy who thinks it is fun to work with backups, and looking at AI to kill my own job.
We will do a short introduction on how containers work, how we see developers save the data, how developers forget backing up data is important and where the data can be lost. We will take a look at what kind of data is important for us and how to protect that data."
Right and left of security, how to handle applications with DefectDojo and open source scanners | Mikke Schirén | Tech lead, Digitalist Net Services
"I started my web journey in the 90s and stumbled on PHP. There my open source experience started. For the last 12 years, I have been working at Digitalist in various roles, I am not a security expert in any way, but I do like to work with security. And love open tech.
With a growing amount of microservices and setups, we started to investigate how to handle the security process for our services and sites. There are many open-source scanners for various types of scenarios that need a process for collecting and working with the findings, we ended up using OWASP DefectDojo for that. This will be a short demo and hopefully a discussion about how to handle some of the security issues we have in open tech."
Sensitive data in a Swedish public cloud – how, when and why? | Jens Alm | CEO, Prorenata AB
"I was so frustrated by the status of medical software that I built a medical record system, and accidentally started a company."
In 2019, Prorenata AB, a SaaS provider of medical journals for schools in Sweden, started a project to move all its server operations from AWS to a Swedish provider. Prorenata's founder, CEO and lead architect, Jens Alm will tell the story of how they implemented a compliant solution for handling sensitive data based on open source technologies and Swedish public cloud providers.
Latest posts by Helena Spease
(see all)