Aside from hosting global events to gather the open infrastructure community, like the OpenInfra Summit, the OpenInfra Foundation also supports numerous local events around the globe. A few weeks ago, the OpenInfra User Group Sweden hosted OpenInfra Forum #11!
The meetup was a huge success with support from Kindred Group who provided a venue for the group to meet and coffee as well as support from Binero who provided burgers and beer for the group.
In addition, a special thank you goes out to Daniel Byström from Elastx and Stefano Cucchiella from CanaryBit for organizing the event!
The meetup included 4 presentations from community members including representatives Dr. Nicolae Paladi (CEO and Co-founder of CanaryBit), John Johansson (Sr. Linux System Engineer at Redbridge/Binero), and Rodrigo Hernandez (Product Manager SiteReliability Engineering at Kindred Group). Below you can find a summary and slides from each of the speakers' presentations.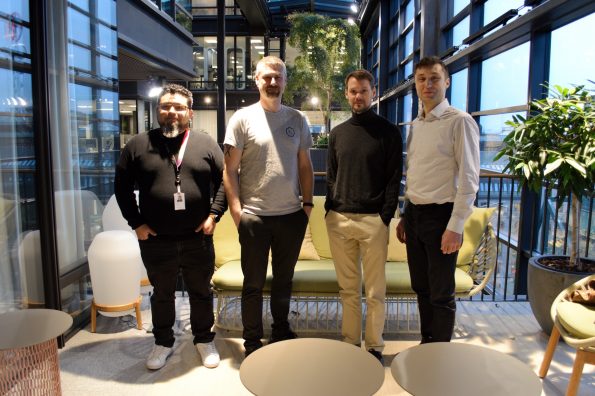 Confidential Digital Asset Collaboration | Dr. Nicolae Paladi | CEO, CanaryBit
"My name is Nicolae Paladi, I am the CEO of CanaryBit. At the OpenInfra Meetup I presented the current status of confidential computing, including hardware and software support. The presentation introduced the main vendor implementations of cloud computing, discussing their advantages and drawbacks.
I also presented potential application scenario for applying confidential computing for secure data collaboration in the gaming industry.
One of the goals of this presentation was to raise awareness among cloud providers about server hardware capabilities for confidential computing. As they upgrade they hardware, they should enable it and make it available for customers. OpenInfra is a perfect Meetup for reaching out to the cloud computing community in Stockholm."
Supercharge your OpenStack with OKD | John Johansson | Sr. Linux System Engineer, Redbridge
"In the Open Source world, there is a strong "Do It Yourself"-spirit which is a nice feeling but there are drawbacks, like the time and resources this can take. That is why you want to choose a feature-complete Kubernetes distribution like OKD when you are starting your cloud-native journey.
My presentation and demo were around OKD, Redhat's Community release of OpenShift. I wanted to share the work being done at Binero Group with the community and at the same time, showcase some features of OKD.
In the demo part of the presentation, I showed how easily developers can work with the functionality in the intuitive web interface for OKD to build orchestrated container images for microservices when refactoring a monolithic application. The demo was performed on an OKD-cluster running on Binero Cloud, our public cloud built on OpenStack."
See the demos from Johansson's presentation:
Monitoring at scale with Open Source tools at Kindred | Rodrigo Hernandez | Product Manager, Kindred Group
"Rodrigo's presentation topic was "Monitoring at scale with open source tools". He described some of the tools that can be used to monitor infrastructure, and how OpenStack provides a way to easily deploy, scale, and configure them, with a live, working demo! He also went through the pros and cons of using open source tools for large environments."
Lastly, we were joined by another speaker, who spoke on using smartcards and certificates in Linux and how they needed to modify openssh to achieve it.
Interest in more local events?
Take a look if there is a local user group in your area. Don't see one and want to start one? Reach out to [email protected] to learn how to start an OpenInfra user group!
Latest posts by Helena Spease
(see all)